Society News
Meet the 2022 Sewer scholarship winners
The American Society for Biochemistry and Molecular Biology is pleased to announce the 2022 recipients of the Marion B. Sewer Distinguished Scholarship for Undergraduates.
The ASBMB's Maximizing Access Committee (formerly known as the Minority Affairs Committee) created this award in 2016 to support undergraduate students who demonstrate an interest in the fields of biochemistry and molecular biology and enhance the diversity of science. This year, thanks in part to a generous donation from New England Biolabs, the ASBMB is awarding ten $2,000 scholarships that will be applied to undergraduate tuition costs.
The award honors Marion B. Sewer, an ASBMB member and past chair of the MAC who died in 2016 at age 43. Sewer was a principal investigator on projects devoted to increasing participation among historically underrepresented groups and furthering student training. Within the ASBMB, she organized the MAC's Interactive Mentoring Activities for Grantsmanship Enhancement workshop for postdoctoral fellows and early-career scientists, known as IMAGE, which addresses disparities in scientists' ability to secure federal research grants. She also wrote about issues that historically underrepresented scientists face, such as impostor syndrome.
Here, the 10 recipients of the 2022 Sewer scholarship describe their personal goals and how they promote diversity. Their statements have been edited.
Moyofoluwa (Rachel) Aguda, University at Buffalo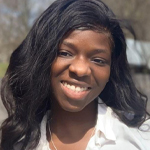 My career goal is to become a physician–scientist working directly with patients while seeking applicable knowledge that can improve health through research. As a physician–scientist, I hope to bridge the communication gap between research, patients and their health treatment plans, while encouraging the rise of more physician–scientists. After graduation, I will take a gap year to fulfill my obligation to the National Institutes of Health as a trainee before applying to M.D.–Ph.D. programs.
Rita Anoh, Mount St. Mary's University

After graduating with a double major in biochemistry and French, I intend to pursue my Ph.D. in biochemistry and structural biology and explore other areas of interest such as genetics and molecular biology during my training. As a scientist, my goal is to make science more accessible and to be a good mentor to trainees. I am passionate about not only inviting those from underrepresented backgrounds but also maintaining their active presence in the science community and fostering meaningful and productive experiences.
Sara Gallegos, Virginia Polytechnic Institute and State University

My professional aspiration is to advocate for easier access to science, technology, engineering and mathematics and provide mentorship for others seeking it. As a part of this, I would like to see literature and research more accessible and understandable to the general public. I have been proud to serve underserved communities at Virginia Tech. As a Howard Hughes Medical Institute student fellow, I represent members of historically underrepresented groups within the biochemistry department and attend student-led panels on how the university can advocate for diversity, equity and inclusion within STEM fields.
Natasha Garcia Rodriguez, University of Texas Rio Grande Valley

My goal is to attend naturopathic medical school at the Sonoran University of Health Sciences and continue gaining research experience at the Ric Scalzo Institute for Botanical Research. After completing these goals, I will be able to contribute a unique perspective to both naturopathic medicine and research, and I hope to serve as an ethnic minority woman health professional and researcher in my community, making a positive and productive impact on patients, students and science.
Michelle Haigbea, College of the Holy Cross

My career goal is to become a pharmacist and use my pharmacy degree to act as a trusted link between medical doctors and patients. Pharmacists double check the dose of medication and its interactions with other medications to improve patient experience and health. Pharmacists are among the most accessible health care professionals because they commonly work in community settings. With the busyness of life and the rise of many diseases and illnesses, I wish to be a professional who is accessible over the counter, with or without appointment.
Phinn Markson, Edgewood College

I am a first-generation community college transfer student and a biology major. I intend to go on for a Ph.D. in research at the intersection of life sciences, data sciences and social sciences so I can facilitate increasing diversity and equity in research by decreasing bias in data collection. The life sciences hold solutions to numerous threats to humanity. To accomplish these solutions, life sciences must acknowledge the historical role we have played in structural sexism and racism. I hope to work toward this end by bridging data gaps and creating more equitable research questions.
Taylor McGee, Hampden–Sydney College

My primary research interest is anti-HIV cell therapy, and I will be applying to relevant Ph.D. programs and international fellowships. I would like to be a professor and be able to provide holistic and transformative mentorship experiences in much the same way that my professors have provided meaningful, transformative experiences for me.
Katie Nuñez, Towson University

After graduating with a degree in molecular biology, biochemistry and bioinformatics, I plan to pursue a postbaccalaureate fellowship at the National Institutes of Health to gain experiences with translational research. I then will apply to doctoral programs for immunology or molecular biology. I plan to remain in the field of immunology or branch into molecular medicine as a researcher, as I enjoy my current research surrounding septic shock. Figuring out the inner workings of the human immune system and exploring research and treatments of the disease has been very rewarding.
Sam J. Shepard, University of North Carolina at Asheville

As an aspiring physician–scientist, I hope to take an interdisciplinary approach to better understanding and treating diseases. Additionally, as a trans scientist with core values of anti-racism and anti-oppression, I am committed to building inroads for historically excluded groups to excel in and enjoy science and medicine. My scientific interests center around the cellular mechanisms of cancer, immunology and the mitochondria. I am currently looking for postbaccalaureate research opportunities to explore these interests further before applying to MD-PhD programs.
Myrah Sheriff, University of Texas at Austin

I plan to attend medical school to pursue a career as a pediatrician. My choice of career is largely due to my own experience with having surgery on my face at a very young age. I always have wanted to provide medical care to young children, and I have a sincere interest in helping patients cope with the repercussions of surgery, both positive and negative. I am interested in spreading education about medical resources and improving access to primary care physicians, especially in my father's village of Assin–Fosu, Ghana. I would love to set up a donation program where secondhand equipment from the U.S. could be sent to improve conditions in developing nations.
Enjoy reading ASBMB Today?
Become a member to receive the print edition monthly and the digital edition weekly.
Learn more
Get the latest from ASBMB Today
Enter your email address, and we'll send you a weekly email with recent articles, interviews and more.
Latest in People
People highlights or most popular articles