Interview
Meet Nick Davidson
He's an expert in gastroenterology and lipid-related liver conditions
Nick O. Davidson is the division chief of gastroenterology at Washington University in St. Louis, where he has presided for more than a decade, and he has had professorships there in the departments of medicine, pharmacology and molecular biology, and developmental biology. He joined the associate editor ranks of the Journal of Lipid Research last summer and has been providing his expertise in gastroenterology and lipid-related liver conditions such as hepatic steatosis to the journal, which has, in turn, expanded its scope in that currently hot area of lipid research.
Davidson is a unique addition to the JLR leadership in that he is one of only a few associate editors who not only run their own laboratories but also are practicing physicians. In this interview, Davidson tells us about his career path, spanning from the early days as a bright-eyed student keen on biology in Liverpool, England, to the early days of his research career at Rockefeller University working with Dr. E.H. "Pete" Ahrens Jr., a founder of JLR, to the gene expression and regulation research he and his team are hard at work on now in St. Louis.
You were born and grew up in Liverpool, England. What began your interest in science? Was there a defining moment in your childhood or young-adult life that made you decide on a career in science and medicine?
My father was a physician and encouraged my interest in science growing up. I had an inspirational biology teacher in high school, Frank Swallow, who helped develop an interest in developing experimental approaches to fundamental questions. A key moment was when the axolotl (a type of salamander) in the biology lab lost a limb and we got to observe its regeneration.
What about gastroenterology intrigued you, and how did you come about choosing it as your specialty in medical school?
Gastroenterology is so engaging because the specialty encompasses an array of organ systems and pathophysiology. I was fortunate in medical school to have wonderful teachers and mentors, including Roger Williams, one of the founding fathers of liver transplantation. Dr. Williams' scientific investigation into the etiology and management of liver failure stimulated my interests in hepatic lipid metabolism.
You received your medical degree at Kings College Hospital Medical School in London before coming to America and taking a position in the laboratory of cholesterol metabolism at The Rockefeller University in New York, working with Ahrens. Later, you completed your gastroenterology fellowship at Columbia-Presbyterian Medical Center. What helped you make the decision to leave England and continue your career in the U.S.?
I was extremely fortunate to find my way to Pete Ahrens' lab at Rockefeller. Dr. Ahrens was on sabbatical in Cambridge, and I wrote to him regarding my interests in understanding hepatic lipid metabolism. Dr. Ahrens wrote the original description of primary biliary cirrhosis, detailing the hepatic and serum lipid abnormalities accompanying cholestasis. We met, and he invited me to join his lab as a clinical scholar. I spent three years primarily engaged in clinical investigation of cholesterol absorption and bile acid metabolism using isotopic and balance methodology.
How would you describe the research focus of your lab?
We focus on two areas of biology. The first area is post-transcriptional regulation of gene expression, specifically RNA editing. We are very interested in the biology of mammalian C-to-U RNA editing and the targets of the enzymatic machinery that mediate cytidine deamination of the apolipoprotein B (apoB) transcript. The field of RNA editing is undergoing a renaissance with the introduction of massively parallel RNA sequencing technology, and we are excited to have new tools to explore this biology in more depth. We hope to identify new targets for C-to-U RNA editing and to understand the role of Apobec-1 and its partners in intestinal biology, including inflammation and cancer.

The second area concerns the regulation of intestinal and hepatic lipoprotein assembly and secretion, specifically the genetic restriction points in chylomicron and very low density lipoprotein production. We are interested in the metabolic compartmentalization of fatty acids and neutral lipid substrates and their trafficking into storage or secretion competent particles. Within the liver, a major focus is toward understanding the mechanisms for compartmentalization of cholesterol for trafficking to the basolateral versus canalicular membrane and the factors that influence the development of gallstone formation.
For 12 years you were part of the faculty at the University of Chicago Medical Center. What do you feel were your most important contributions to science during your time there?
Our most significant contribution was the expression cloning of Apobec-1, the catalytic subunit of the apoB mRNA editing enzyme. We used Xenopus oocytes to express cDNAs from rat enterocytes to identify Apobec-1, the enzyme responsible for C-to-U RNA editing of apoB and the production of apoB48. We subsequently generated a knockout to verify its requisite role in vivo.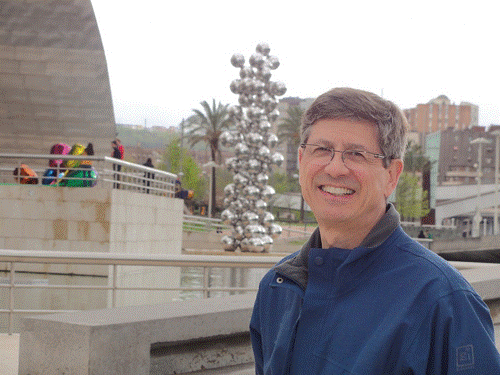 Davidson visits the Guggenheim Museum Bilbao, a museum of modern and contemporary art, in Spain in April.
You have been the division director of gastroenterology at Washington University in St. Louis since 1998 and have had professorships in medicine, pharmacology and molecular biology, and developmental biology. Can you tell us how all these different roles you have had connect to one another?
I am very fortunate to have had the opportunity to participate in a range of research activities, including basic bench science, but also to develop my interests in the genetics of hereditary and familial gastrointestinal cancers. With the emergence of new sequencing technologies and the explosion of interest in the microbiome in human disease, including GI diseases, my various roles and obligations in clinical and basic science departments frequently intersect over the course of each day.
How have you managed to juggle running your lab and treating your patients?
I am very fortunate to have wonderful colleagues and trainees whose interests and motivations are entirely responsible for our successes. We have tried very hard to maintain a philosophy of advancing both the science and practice of medicine in digestive and liver disease, engaging our clinical faculty as well as the scientists who conduct more basic research.
What direction do you see the field of gastroenterology going in the next five to 10 years?
In terms of academic gastroenterology, the science will continue to reflect advances in genetics and genomics, fueled by both technical sequencing developments and computational/bioinformatics methodology. In addition, the field of metagenomics and the role of the microbiome and virome in human disease will continue to expand and assume increasing significance.
Similarly, what advancements in your field do you hope to see in your lifetime?
I hope to witness greater understanding of an integrated view of lipid homeostasis in signaling, inflammation and carcinogenesis.
What kind of advice would you give to aspiring scientists and doctors?
The most important factors for me personally have been the availability and accessibility of mentors. Find a mentor and ask a lot of questions. Start with thinking through the attributes of a role model, someone whose career and daily activities seem interesting, and then try to engage him or her in understanding the challenges and obstacles they faced and how they navigated a path to their current position.
When not in the lab or at the hospital, how do you spend your free time?
I spend time exercising and have a regular workout regimen several times a week. In addition, I am a huge fan of professional football … er, soccer … and spend time watching English Premier League and Champions League games with an international group of colleagues and friends.
What is a fact about you that might surprise your peers or colleagues?
As a medical resident in England, I wrote, directed and played the leading role in a musical based on the life of Napoleon Bonaparte.
Last question, for the soccer fans: Liverpool or Everton?
Liverpool.
Enjoy reading ASBMB Today?
Become a member to receive the print edition monthly and the digital edition weekly.
Learn more
Get the latest from ASBMB Today
Enter your email address, and we'll send you a weekly email with recent articles, interviews and more.
Latest in People
People highlights or most popular articles