Interview
'A different career almost every three years'
Five questions with Genentech principal scientist Christian Cunningham
Christian Cunningham talked to ASBMB Today about his career journey to principal scientist of early discovery biochemistry at Genentech. He also offered some advice for people interested in industry careers. This interview has been condensed and edited.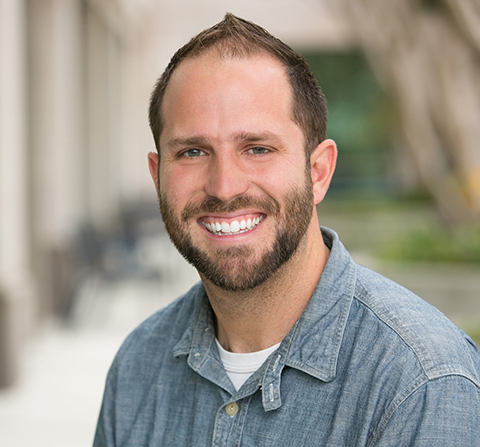 Courtesy of Genentech
Name: Christian Cunningham
Current: Principal scientist, early discovery biochemistry, Genentech
Career path: Bachelor's at University of California, Berkeley; Ph.D. in biophysics at UC San Francisco, and postdoctoral research at Stanford University
First job outside of academia: Senior research associate, Genentech
Favorite molecule or protein: Cyclosporine. "This is a classic macrocycle answer. Cyclosporine is a natural cyclical product that has the ability to cross a cell membrane. Nature has figured out how to get a large molecule across the cell, and that molecule is the foundation for a majority of the research that we do."
How did you get started in science?
I did my bachelor's at UC Berkeley. I'd always wanted to try and be in a lab, but I could actually never get into one until my third year. Prior to that, the closest I got to a lab was working the dishwashing facility in our organic chemistry stockroom at Berkeley. So, I did that actually for two years, and I washed dishes to try and get lab experience.
You were determined to get in a lab and ultimately succeeded.
I was an undergraduate researcher in Professor Robert Glaeser's lab looking at membrane protein crystallography focused on a technology known as the lipidic cubic phase, which is still widely used. It was still in its infancy back then. The idea was to use lipids in order to get membrane proteins to self-associate and form crystals so that we can solve their crystal structures because sometimes the detergent micelles prevented crystal formation. I worked with Robert Glaeser for two years and he helped me decide to continue my studies and go to graduate school; he's still one of the best mentors of my life.
I went to (UC San Francisco), and there I joined the lab of David Agard, who is still a foundational mentor in my career. I was a biophysics (graduate) student, and I studied the structural conformational dynamics of a protein chaperone known as HSP90, trying to understand how proteins fold, a very basic biophysics question. That's where I really learned my skills in structural biophysics, conformational dynamics of proteins.
You have been at Genentech for 10 years. Tell me about your work.
I have had a different career almost every three years at our company.
I joined as a mechanistic biologist. My very first project was partnering with our neuroscience group, and we discovered a new ubiquitin base that was associated on the mitochondria of neurons that seem to have some pathologies related to Parkinson's. This started off as a genetic screen that evolved into a mechanistic profiling of that enzyme. That was my first three to four years.
Then I ended up moving over into oncology at Genentech, so that's kind of my middle three to four years. We were really interested in trying to drug the Hippo pathway for oncology. It's a brilliant pathway, and I was asking a very easy question: Can we disrupt the co-activator from turning on transcription? But what I uncovered is that this protein is lipidated in its core.
Then I spent the next three years trying to figure out the role the lipidation played in signaling, so just following the science. It had effects on our drug-discovery strategies. During this time, I also was fortunate to join a collaboration business deal with an external company, looking at a newer modality known as the peptide-based macrocycle. These are similar to natural products found throughout nature, but, with newer technology developments, we are poised to help enable drug discovery for hard-to-drug targets.
And, so, the question that my group now focuses on is trying to understand if peptides and peptide-based modalities can be the next broad class of modalities for drug discovery.
Since you are working from home, how have things changed since the pandemic?
My staff were working shifted schedules from 6 a.m. to 1 p.m. and then 1 p.m. to 9 p.m. to make sure we could have the right lab densities. We had to leverage a lot of international contract groups to facilitate science abroad for us when we were shut down. Our (contract research organizations) really did an incredible job enabling our research, allowing our researchers to design experiments from home to continue, to move our science forward.
At the end of 2020, we were able to get rid of the shifting and allow people more freedom to work onsite, which helped a lot. Obviously, with the prolonged nature of COVID, balancing the mental well-being of our staff who are working under stressful circumstances with the constraints of our internal deliverables became a central focus for us at Genentech.
Our remedy, which was quite nice, included companywide protected time. No one was allowed to have meetings between the hours of noon and 2 p.m. to allow people both at home and onsite to have dedicated time to work. One of the things I personally miss during COVID is the ability to quickly catch up with my lab without a dedicated meeting. For that, I created drop-in meetings on my calendar so that people can just grab 20 minutes of my time every hour between 1 and 2 p.m.
What advice do you have for scientists interested in industry careers?
First off, you have to apply. I'm not saying apply for something that doesn't make sense, but apply for something that excites you, even if you're not perfectly qualified. If it's an area of science that you're intrigued by, toss it in there. It doesn't hurt.
Leverage social networking, like LinkedIn. I get tons of LinkedIn requests. My job is to recruit the best scientists in the future, not to just have the employees that I have now.
The other one is the interview. When you get into the interview, everyone gets so worried about that one-hour seminar that you have to do. I love that one-hour seminar, and I wish people loved it more. Do you know why? Because you are the expert in the room on your topic, and it is the one time you are driving the show. And, to me, that presentation is so critical.
Enjoy reading ASBMB Today?
Become a member to receive the print edition monthly and the digital edition weekly.
Learn more
Get the latest from ASBMB Today
Enter your email address, and we'll send you a weekly email with recent articles, interviews and more.
Latest in Careers
Careers highlights or most popular articles