Award
Voelker's work, integrity draw praise
He won ASBMB's Avanti Award in Lipids
Dennis R. Voelker, director of research of the pulmonary division in the department of medicine at National Jewish Health and a professor of biochemistry and molecular genetics at the University of Colorado, Denver, will receive the Avanti Award in Lipids from the American Society for Biochemistry and Molecular Biology. The award recognizes his work on lipid metabolism, nonvesicular phospholipid trafficking and phospholipid regulation of innate immunity.
Voelker has made "seminal contributions" to the field of lipid biology, George M. Carman of Rutgers University wrote in his nomination letter, adding that he has collaborated several times with Voelker "because of his expertise and keen insight into the molecular genetics and biochemistry of lipids."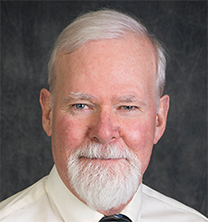 "It is an honor to receive the Avanti Award in Lipids, and I am indebted to my mentors, Ten-ching Lee, Fred Snyder and Eugene P. Kennedy for providing exceptional training. I also must recognize the students and fellows whose insights and dedication have been an essential part of my laboratory."
— Dennis R. Voelker
The Voelker group has focused for 37 years on such topics as phospholipid-protein interactions, lipid metabolism, lipid transport and lipid enzymology, using a variety of techniques in virology, biochemistry and molecular biology. His early research provided insight into the mechanisms of phospholipid transport between organelles, especially between the endoplasmic reticulum and mitochondria. Phospholipids are major constituents of cell membranes, consisting of a hydrophilic head group linked by a phosphodiester to a hydrophobic segment containing esterified fatty acids. The amphipathic nature of phospholipids enables them to spontaneously form bilayer structures, which are the hallmark of biological membranes. Using biochemical and genetic approaches, Voelker's group has identified genes and proteins important for the phospholipid aspect of membrane assembly.
Most recently, the Voelker lab has made important advances in understanding how phospholipids inhibit innate immune processes and respiratory viral infections. The lab found that there are high-affinity interactions between anionic phospholipids and enveloped respiratory viruses, such as respiratory syncytial virus and influenza A virus, that inhibit viral infection.
These phospholipids also bind to Toll-like receptors, which are crucial for triggering inflammatory processes of the innate immune system. This interaction inhibits the inflammatory response that accompanies infection and injury, thereby protecting the lungs from the damaging effects of prolonged inflammation.
In addition to Voelker's outstanding research, Carman mentioned his superb mentorship. Several of Carman's students worked with Voelker, whose "guidance in research excellence and communication propelled their careers in academia or the pharmaceutical industry," Carman wrote.
Richard J. Martin, chair of the department of medicine at National Jewish Health, described Voelker in a letter supporting the nomination as an integral member of their research community. "At National Jewish he is highly regarded by faculty, fellows and students for his scientific acumen, integrity and insight," Martin wrote, adding that Voelker's presentations there are "heavily attended and reach all researchers from basic to clinical in an engaging and enlightening scientific manner."
Voelker earned his Ph.D. from the University of Tennessee-Oak Ridge National Laboratory Graduate School of Biomedical Sciences in 1978. He completed his postdoctoral training at Harvard Medical School in 1981, afterward becoming an assistant professor in the department of biochemistry, biophysics and genetics at the University of Colorado Health Sciences Center as well as an assistant faculty member in the department of medicine at the National Jewish Center for Immunology and Respiratory Medicine. Voelker was promoted to full professor in 1994.
Voelker receivee his award during the 2018 ASBMB Annual Meeting in San Diego, and delivered an award lecture on phospholipid regulation of inflammatory processes and viral infection.
Enjoy reading ASBMB Today?
Become a member to receive the print edition monthly and the digital edition weekly.
Learn more
Get the latest from ASBMB Today
Enter your email address, and we'll send you a weekly email with recent articles, interviews and more.
Latest in People
People highlights or most popular articles