Award
Tonks honored for seminal work on protein tyrosine phosphatases
He won ASBMB's Stadtman Distinguished Scientist Award
Nicholas Tonks, the Caryl Boies professor of cancer research at Cold Spring Harbor Laboratory, has won the American Society for Biochemistry and Molecular Biology's 2019 Earl and Thressa Stadtman Distinguished Scientist Award for his three decades of outstanding research in the field of protein tyrosine phosphatases, or PTPs, enzymes that regulate the signal transduction cascades of many cellular processes.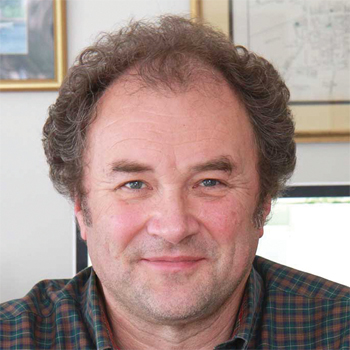 "I am honored to receive this award, which I hope will help to draw attention to all of the outstanding research being performed on the PTP family of enzymes. These are exciting times as new biological functions and links to disease are being defined for the PTPs. Hopefully, we will soon witness the first drugs that target these enzymes for the treatment of major human diseases."
— Nicholas Tonks
Bruce Stillman, president and CEO of Cold Spring Harbor Laboratory, nominated Tonks, calling him "a pioneer and a consistent leader in the field." David Barford of the Medical Research Council Laboratory of Molecular Biology wrote in support of the nomination, "Tonks is a member of a select group of scientists responsible for establishing and developing a new research field of immense importance and significance."
Tonks received a bachelor's degree in biochemistry from Oxford University in 1981 and a Ph.D. from the University of Dundee in 1985, working with Sir Philip Cohen.
Little was known about tyrosine dephosphorylation when Tonks started his postdoctoral work with Edmond Fischer at the University of Washington, where Tonks discovered and characterized the first PTP, known as PTP1B. Tonks and collaborators also showed that the membrane-spanning lymphocyte common antigen CD45 was a PTP, advancing the field of immunology.
After Tonks joined the faculty at Cold Spring Harbor in 1990, his lab showed that PTEN, the major tumor suppressor protein mutated in many cancers, had PTP activity, and he characterized further the importance of its lipid and protein phosphatase function. Throughout his independent career, Tonks has advanced the PTP field in diverse cellular pathways.
His lab helped lay the groundwork for PTP1B as a therapeutic target for a range of human diseases. In collaboration with others, they determined the crystal structure of PTP1B, deciphering the mechanisms of PTP catalysis and substrate recognition, and then designed substrate-trapping mutants that other researchers used to identify physiological PTP substrates.
In their second decade, Tonks' team discovered how PTP1B is regulated: Hydrogen sulfide, a gaseous signaling molecule with membrane permeability, regulates PTP function as part of the unfolded protein response to endoplasmic reticulum stress, an essential process implicated in many diseases. They also discovered that PTPs can be inactivated reversibly by oxidation and developed methods to assay PTP redox state. This mechanism plays a role in insulin signaling, providing a therapeutic target for diabetes.
Tonks has pursued the therapeutic potential of his discoveries. His lab showed that small molecule inhibitors of PTP1B could have therapeutic use for Rett syndrome, and he led an early-stage human trial to show that PTP1B allosteric inhibitor MSI-1436 (trodusquemine) is a therapeutic target for HER2-positive breast cancer.
"Nick Tonks has been a major figure in biochemistry and signal transduction for nearly 30 years," Benjamin Neel of New York University wrote in a letter supporting the award nomination. "He shows no sign of slowing down, and indeed, his most important work may yet be to come."
Enjoy reading ASBMB Today?
Become a member to receive the print edition monthly and the digital edition weekly.
Learn more
Get the latest from ASBMB Today
Enter your email address, and we'll send you a weekly email with recent articles, interviews and more.
Latest in People
People highlights or most popular articles