Member News
Protein society awards;
Parise named dean;
remembering Bud Patterson
Three ASBMB members win Protein Society awards
The Protein Society earlier this month named three members of the American Society for Biochemistry and Molecular Biology as winners of its annual awards. Karen Fleming of Johns Hopkins University, Stephen Sligar of the University of Illinois at Urbana–Champaign and Catherine Drennan of the Massachusetts Institute of Technology were set to receive their awards at the World Conference on Protein Science in June in Japan, but the meeting has since been canceled in response to the COVID-19 pandemic.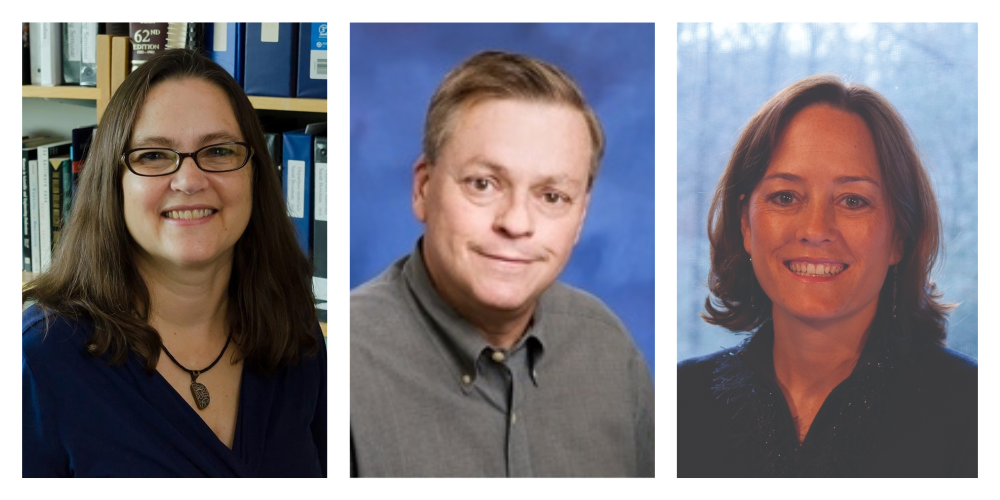 Pictured, from left, are Protein Society award winners Catherine Drennan, Stephen Sligar and Karen Fleming.
Karen Fleming, a professor of biophysics at Hopkins and a pioneer in the study of membrane-protein folding, won the Carl Brändén Award. It honors a protein scientist who has contributed significantly to science, education and/or service.
Fleming is an associate editor for the ASBMB's Journal of Biological Chemistry, served on the ASBMB Council from 2014 through 2017 and co-founded the Gordon Research Conference on Membrane Protein Folding. Earlier this year, Fleming received the first annual Sharona Gordon Award conferred by the Society of General Physiologists for her work to support gender equity in science.
The Brändén award is sponsored by Rigaku Corp. Several ASBMB members have won it in past years, including Billy Hudson at Vanderbilt (2017), C. Robert Matthews at the University of Massachusetts Medical School (2015), Stephen White at the University of California, Irvine (2014), Sheena Radford at the University of Leeds (2013), Helen Berman at Rutgers University (2012), Michael Summers at the University of Maryland, Baltimore County (2011) and Bruce Alberts at the University of California, San Francisco (2010).
Stephen Sligar, who chairs the biochemistry department at the University of Illinois at Urbana–Champaign, won the organization's Christian Anfinsen Award for methodological advances in the field of protein sciences.
The award is named after Christian Anfinsen, who received the Nobel Prize in chemistry in 1972 for his work on enzyme structure. It recognizes "a technological achievement or significant methodological advances in the field of protein sciences."
Sligar won the award for discovering and developing nanodiscs, lipid-membrane patches stabilized by a belt of membrane-scaffolding proteins. In its announcement, the Protein Society said, "Sligar's commitment to wide dissemination of the nanodisc technology has led to its use by hundreds of laboratories, amplifying the impact of his advances and broadly benefitting the field of protein science."
For that work, Sligar also won the ASBMB's 2016 Herbert A. Sober Lectureship, which recognizes outstanding biochemical and molecular biology research, with a special emphasis on the development of methods and research techniques. (Watch his lecture.)
The Anfinsen award is sponsored by the Protein Society. Several other ASBMB members have won it in the past, most recently Anthony Kossiakoff of the University of Chicago (2019), Sachdev Sidhu of the University of Toronto (2015) and Barry Honig of Columbia University (2012).
Catherine Drennan, a professor at MIT and a Howard Hughes Medical Institute investigator, won the Dorothy Crowfoot Hodgkin Award for making "enormous contributions by solving high-resolution structures of proteins and protein complexes that enhance our understanding of the biology of metalloproteins."
The award is named after Dorothy Crowfoot Hodgkin, who used X-ray crystallography to determine the structure of vitamin B12. Hodgkin won the 1964 Nobel Prize in chemistry.
Drennan has made numerous important scientific contributions. The Protein Society, in its announcement, pointed in particular to her determination of the first structure of cobalamin-dependent ribonucleotide reductase, one of the three enzymes that catalyze the final step in production of deoxyribonucleotides in all organisms. "Drennan's insights are solidly etched into textbooks and the fabric of our field," it said.
Drennan is a former member of the ASBMB Education and Professional Development, a past ASBMB annual meeting session organizer, and a past winner of the ASBMB–Schering–Plough Research Institute Award.
The Hodgkin award is sponsored by Genentech. The following ASBMB members have won it in recent years: Hao Wu at Harvard Medical School (2019), Susan Marqusee at the University of California, Berkeley (2018), Manajit Hayer–Hartl (2017), Rachel Klevit at the University of Washington (2016), Judith Frydman at Stanford University (2014), Christopher Hill at the University of Utah and Cynthia Wolberger at Johns Hopkins University (2013), and Mark Lemmon at Yale University Medical School (2012).
University of Vermont names Parise as dean
Leslie Parise, a biochemist who is currently chair of the department of biochemistry and biophysics at the University of North Carolina, Chapel Hill, and until recently was chair of the faculty at that university, will soon join the faculty of the University of Vermont. There, she will serve as the dean of the College of Agriculture and Life Sciences.
Leslie Parise
Parise's lab focuses on the molecular mechanisms of cancer and blood clot formation. One line of inquiry focuses on the protein calcium and integrin-binding protein 1, or CIB1, which may be a drug target in triple-negative breast cancer cells; a second research program has to do with the role of a lipid deacetylase in platelet aggregation.
In addition to her service at UNC Chapel Hill, Parise was an associate editor for the journal Blood. She has served as president of the Association of Medical and Graduate Departments of Biochemistry and on the American Society for Biochemistry and Molecular Biology's public affairs advisory committee. She is scheduled to start at UVM in May.
In memoriam: Manford K. "Bud" Patterson Jr.
Manford K. "Bud" Patterson, a former officer of the Samuel Roberts Noble Foundation and former president of the Oklahoma Academy of Science, died Jan. 22 in Edmond, Oklahoma. He was 93.
Bud Patterson
Born Aug. 20, 1926 in Muskogee, Oklahoma, Patterson served in the U.S. Navy Air Corps after high school, then earned a B.S. in chemistry and an M.S. in biochemistry from the University of Oklahoma. He worked for several years in the soils lab of the Noble Foundation, an agricultural research institution, before earning a Ph.D. in biochemistry from Vanderbilt University. He served as a consulting biochemists for the Interdepartmental Committee on Nutrition for National Defense before returning to the Noble Foundation in 1973 as vice president and director of the biomedical division. Following his retirement from the foundation, he joined IMTEC Corporation as a senior vice president of research and development.
Patterson played a role in developing L-asparaginase, a drug used to treat acute lymphocytic leukemia in children. He developed a quality control system that enabled IMTEC to market in the U.S. He co-edited a book, "Tissue Culture: Methods and Applications," contributed chapters to other scientific books, published more than 60 articles in scientific journals and held three patents. He was an adjunct professor at Oklahoma University and served the American Tissue Culture Association as an officer and editor-in-chief of its journals. He played an active role in many scientific and civic organizations and served as a judge at numerous international science and engineering fairs.
Patterson is survived by his wife of 66 years, Beverly; a daughter, Shelley Goetz, and her husband, Dan; and a grandson, Manford Goetz, and his wife, Julie.
Enjoy reading ASBMB Today?
Become a member to receive the print edition monthly and the digital edition weekly.
Learn more
Get the latest from ASBMB Today
Enter your email address, and we'll send you a weekly email with recent articles, interviews and more.
Latest in People
People highlights or most popular articles