Interview
Meet Karen Fleming
The JBC associate editor elucidates the energetics of transmembrane proteins in her lab and works to empower young women for success
If a cell's membrane is its first line of defense, the transmembrane proteins dotted throughout are its exploitable weaknesses. Alpha helical transmembrane proteins, oriented as right-handed spirals, are the more common type and are implicated in most biological processes. The second form of transmembrane proteins, beta barrels (so called because they look like barrels with beta strand staves), are less common and only are known to appear in mitochondria, chloroplasts and the outer membranes of gram-negative bacteria.
At Johns Hopkins University, Karen Fleming's lab examines the energetics of how both types of transmembrane proteins interact with their membranes and environment.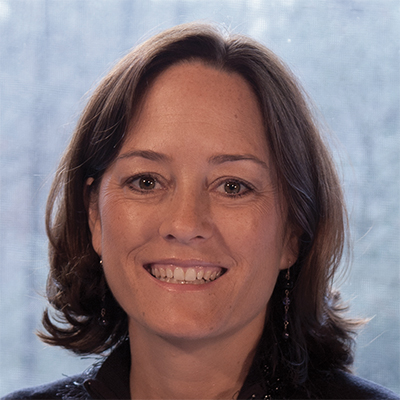 Karen Fleming, a professor of biophysics at Johns Hopkins University, started as a Journal of Biological Chemistry associate editor on July 1, 2017.
Courtesy of Johns Hopkins University
Now a professor in the Thomas C. Jenkins Department of Biophysics at Hopkins, Fleming received her undergraduate degree in French and premedical studies from the University of Notre Dame and her Ph.D. in biochemistry and molecular biology from Georgetown University. After conducting her postdoctoral work at Yale University, where she subsequently worked as a research scientist, she started her lab at Hopkins in 2000. In addition to running her lab, Fleming hosts workshops at Hopkins that cover gender biases in science, technology, engineering and math professions, and sessions promoting confidence in women.
Fleming joined the ranks of associate editors at the Journal of Biological Chemistry in July 2017. She spoke with John Arnst, ASBMB Today's science writer, about her work. The interview has been edited for clarity and length.
What is your group focused on?
We study membrane protein folding using biophysical approaches. The proteins we're currently working on are targets for potential future antibiotics, and one of them is an essential protein in E. coli and other gram-negative bacteria.
What was your academic background and training?
I was always interested in science. There are a number of doctors and nurses in my family, and I thought that I would pursue medicine, but I don't like blood, and that pushed me in this direction of research. As a graduate student, I fell in love with proteins, and I've been working on proteins and membrane proteins ever since.
One of my first projects was trying to develop a fluorescence assay. It didn't really work, but I just really liked the approach. I also like the ability to use the language of math to describe biological processes. I think that a mathematical understanding brings a lot of clarity to the systems, and it can predict future behavior if the system is well described. One of the really exciting areas where biophysics and math meet biochemistry is systems biology, because you need to know the fundamental biology that's going on in order to apply the tools of mathematics to be able to describe the system as a whole.
After graduate school, I did a postdoc with Don Engelman at Yale in the department of molecular biophysics and biochemistry working on how transmembrane alpha helices interact: What forces are involved? What stabilizes them? What destabilizes them? These are fundamental questions, because all helical membrane proteins have these interactions and need them in order to be able to function.
I continued studying transmembrane helix-helix interactions when I started my own lab, and about 10 years ago, I pivoted to working on the other major class of membrane proteins. Those are called transmembrane beta barrels, and they're found in the outer membranes of bacteria and also in mitochondria. They're building blocks of the outer membrane, and we're studying how their polypeptide chains undergo conformational changes to reach their native state and what forces are involved with that transformation.
This pivot to a new area is one of the things I love about discovery science — you can't always predict where your science is going to be five years from now, right? You work to understand fundamental processes, and you follow the findings wherever they lead you.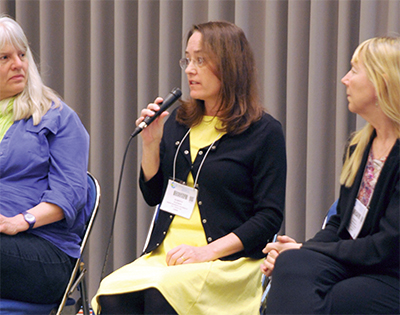 Karen Fleming was on a panel at the 2014 ASBMB annual meeting that discussed career paths and how women can better promote themselves and support one another in reaching their goals.ASBMBWhen we worked on helix–helix interactions, we worked on a number of systems. One of these was relevant to mechanisms of breast cancer. And even though we didn't work on the translational side of breast cancer, I think that translational research at the National Institutes of Health shows, over and over again, that you have to be able to understand basic biology to be able to develop effective therapeutics.
Can you tell us about your workshops on gender and bias?
I started running workshops and speaking out on this topic about four or five years ago. It basically started out as journal clubs of papers in the social psychology literature that investigated various aspects of perceptions of gender differences for STEM fields and how this relates to unconscious bias and discrimination in a male-dominated workplace.
One of the earliest papers I covered was the Jo Handelsman paper from 2012 that showed that both men and women faculty discriminate against young women to the same extent. I think this paper is particularly important because it shows that bias in science is a community problem, not a problem with men per se, and this acknowledgment makes the discussion more welcoming to men. The journal clubs grew into positive workshops on topics like confidence and bystander intervention, things we can all do to be better and to nurture a more inclusive community.
I am also part of a team that built an art exhibit here called Women of Hopkins, which has a physical exhibit and a website to show images of women with an association with Hopkins who have accomplished great things. Images can be so influential on who we are and who we can become, so it's important for young women to have role models of successful women. The response has really been overwhelming.
Did anything occur in a milestone sort of way that made you choose science as a career?
No, I was always going to do something science-y. It wasn't like a choice. It's more like a calling.
When did you first become involved with JBC?
My very first paper was published in JBC many years ago, and I also published a really nice paper in JBC as a postdoc together with another associate editor, Phyllis Hanson.
It's an honor to be able to shepherd papers through the publishing process at JBC, especially as a biophysicist. This is an important time, because JBC has a really long history of publishing seminal biophysics papers, and I think the reason I came on the editorial board was to reinvigorate that in a more modern way.
What do you do outside of the lab? Do you have advice for balancing life in the lab with life outside?
I think if I was going to give any advice at all, it would be to schedule exercise. It always seems like an add-on, but it's really essential to prioritize your health, which helps to deal with the stresses of the demanding job that we have. I am actually a terrible athlete, but I started running when I was an assistant professor. I have completed maybe a dozen half-marathons over the years. I also find myself thinking more creatively during this time.
I also have a lot of hobbies: I like to take pictures and play with photos, and I am a pretty active genealogist. I grew up sewing, and lately I've been sewing new canvas for our boat. I learned how to knit in the past couple of years and am now striving to knit something I'm willing to wear.
I read when I have time and enjoyed the Alexander Hamilton book by Ron Chernow, and I'm a really big fan of the musical. I think it's a good thing to be knowledgeable about the history of our country. Too often it's romanticized, and really, the founders were all trying to work it out the best way that they knew how, but they weren't exactly all friends and there were lots of compromises.
Do you have any words of wisdom or a favorite motto for young scientists?
Do what you love and love what you do. There should be more days than not when you wake up and you look forward to doing science and you're excited about the questions you're asking, and that can sometimes be hard. Getting experiments to work can be challenging, but at the end of the day, you have to love what you do, because life is short and you only get one chance to live it.
Enjoy reading ASBMB Today?
Become a member to receive the print edition monthly and the digital edition weekly.
Learn more
Get the latest from ASBMB Today
Enter your email address, and we'll send you a weekly email with recent articles, interviews and more.
Latest in People
People highlights or most popular articles