Member News
Academy of Microbiology elects fellows; Fleming wins Gordon Award; remembering Brooks, McMacken
American Academy of Microbiology elects fellows
The American Academy of Microbiology has elected 68 new fellows to the Class of 2020, including three members of the American Society for Biochemistry and Molecular Biology.
Fellows of the American Academy of Microbiology, an honorific leadership group within the American Society for Microbiology, are elected annually through a selective peer-review process, based on their records of scientific achievement and original contributions that have advanced microbiology. The academy received 118 nominations this year and accepted 58% of nominees.
Pictured, from left, are Michael Federle, Henry Paulus and Brenda Wilson.
These ASBMB members were elected as 2020 academy fellows:
Michael Federle, professor of pharmaceutical sciences at the College of Pharmacy and director of the Center for Biomolecular Sciences, University of Illinois at Chicago. His lab studies quorum sensing, the process by which bacteria coordinate gene expression and behavior across microbial populations through chemical communication.
Henry Paulus retired in 2013, the year the Boston Biomedical Research Institute closed, after more than 50 years of service as a senior scientist at the institute and as an associate professor in the department of biological chemistry and molecular pharmacology at Harvard Medical School. His lab focused on mechanisms of protein splicing and antimycobacterial drug discovery.
Brenda Wilson, a professor of microbiology in the school of molecular and cellular biology and inaugural professor of the Carle–Illinois College of Medicine at the University of Illinois at Urbana–Champaign. Her research focuses on bacterial protein toxins and development of novel alternative toxin-based therapeutics as well as human and nonhuman primate vaginal and gut microbial ecosystems and their role in health and disease.
The more than 2,500 fellows in the academy represent all subspecialties of the microbial sciences and are involved in basic and applied research, teaching, public health, industry and government service. Fellows hail from all around the globe; the Class of 2020 includes fellows from Australia, Austria, Brazil, Chile, China, France, Germany, Israel, Switzerland, the United Kingdom and the United States.
Fleming receives Gordon Award
Karen Fleming, a professor of biophysics at Johns Hopkins University and an associate editor of the Journal of Biological Chemistry, has received the first annual Sharona Gordon Award.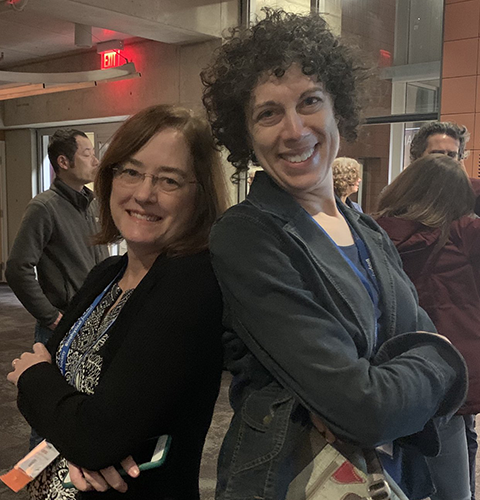 courtesy of sharona Gordon
Karen Fleming, left, and Sharona Gordon are pictured together at the 2020 Biophysical Society where Fleming received the new award named for Gordon.
The award, inaugurated this year, is conferred by the Society of General Physiologists to an individual who shows "extraordinary commitment to promoting equity and inclusivity in the physiology and biophysics community." Fleming was honored for her work to support gender equity in science. On the JHU campus, that includes the Women of Hopkins project honoring alumnae, and a Women in Faculty forum that brings together faculty to address challenges unique to women faculty. Fleming has also promoted broader conversations about equity through blogging and social media and in person at workshops and forums.
Named for ASBMB member Sharona Gordon, a professor of physiology and biophysics at the University of Washington and dean for research and graduate education the UW school of medicine, the award honors Gordon's work as editor-in-chief of the Journal of General Physiology to promote equitable peer review as well as her development of mentoring networks for early-career scientists and her efforts to put an end to sexual harassment in academia.
The award was presented in a ceremony at the Biophysical Society's annual meeting in San Diego in February.
In memoriam: Samuel Brooks
Cancer researcher and biochemistry professor Samuel Carrol Brooks Jr., died of cancer in December. He was 91.
Samuel Brooks
Born and raised in Winchester, Va., Brooks earned a bachelor's degree from Carnegie Mellon University and master's and doctoral degrees from the University of Wisconsin–Madison. He served in the United States Army and was promoted from lieutenant to captain during the Korean War.
Brooks joined the faculty of Wayne State University in Detroit in 1959. He studied estrogen signaling in cancer. Working with mentor Herbert Soule and colleague Elizabeth Locke, he described the estrogen receptor in human breast cancer cell line MCF-7, a pivotal discovery. The finding, published in the Journal of Biological Chemistry, opened the door for studies of the hormone's effect in promoting breast cancer growth. Later in his career, Brooks transitioned to studying estrogen-derived molecules as potential tumor suppressors or therapeutics.
In addition to his research, Brooks contributed to the education of many students, earning Outstanding Teacher of the Year from Wayne State's medical students. He also received the School of Medicine Distinguished Service Award in 2000 and Lifetime Achievement Award in 2005. He was the principal investigator of a training grant for the university's cancer biology program, which launched in 1985, and he remained the program director until 2005, just before he retired. He also served as deputy director of chemistry and chief of endocrinology at the Karmanos Cancer Institute at Wayne State.
Brooks lived in Steamboat Springs, Colo., at the time of his death. He is survived by Frieda Brooks, his wife of 58 years; their two children and five grandchildren, and many nieces and nephews.
In memoriam: Roger McMacken
Roger L. McMacken Jr., former chair of the biochemistry and molecular biology department at the Johns Hopkins University Bloomberg School of Public Health, died Dec. 7. He was 76.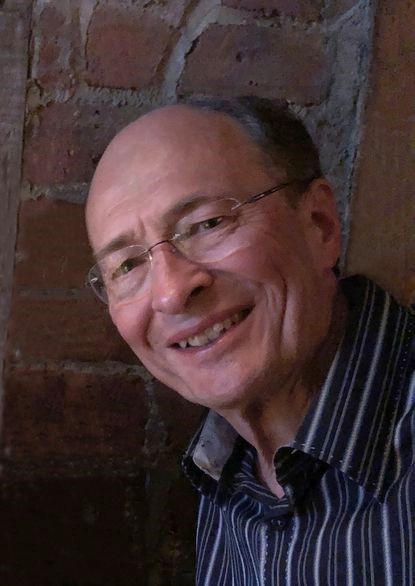 Roger McMacken
McMacken was born in 1943 in Spokane, Washington. The son of an Air Force lieutenant colonel, he attended the University of Washington as an undergraduate, earning a degree in chemistry in 1965. During his time as a graduate student at the University of Wisconsin, he met Maria Vigo, whom he married in 1968.
After earning a doctorate in biochemistry from the University of Wisconsin in 1970, McMacken did postdoctoral work at Yale University and the University of Florida on the molecular mechanisms behind bacteriophage lambda DNA replication. He then embarked on a second postdoctoral fellowship with Nobel laureate Arthur Kornberg at Stanford University, where he explored in vitro DNA replication and reconstitution.
In 1976, McMacken joined the faculty at Hopkins, a university he would call home for 42 years. During that time, he published more than 70 peer-reviewed articles and book chapters about DNA replication. For more than 20 years, he directed the department's NIH-funded graduate training program, where he oversaw the training of more than 100 doctoral candidates and directly mentored more than 20 students and fellows. His former students and trainees established the Roger McMacken Fellowship Fund in 2018 to "recognize his deep commitment to graduate education."
McMacken is survived by his wife, Maria; daughters, Michelle, Melissa and Marisol; brothers, Steve and Paul; and four grandchildren.
Enjoy reading ASBMB Today?
Become a member to receive the print edition monthly and the digital edition weekly.
Learn more
Get the latest from ASBMB Today
Enter your email address, and we'll send you a weekly email with recent articles, interviews and more.
Latest in People
People highlights or most popular articles