Interview
A steady hand at the helm
The ASBMB's new executive director, Steve Miller, is a society veteran but eager to make his mark
In late January, the American Society for Biochemistry and Molecular Biology's president announced that longtime employee Stephen F. Miller would become the organization's next executive director.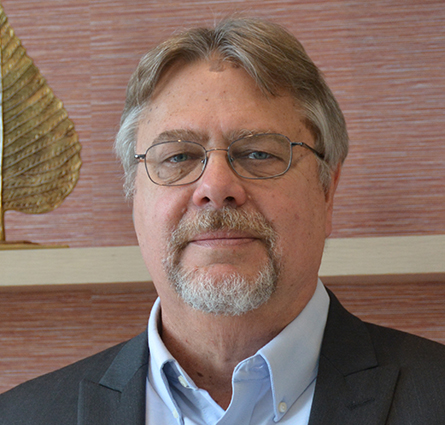 Stephen F. Miller
He replaces leader Barbara Gordon, who is retiring after four decades of service.
In a letter to ASBMB members, Toni Antalis of the University of Maryland School of Medicine cited Miller's "deep knowledge of and commitment to the society" and "the importance of continuity and experience with society operations" at a time when the ASBMB journals are now open access.
Lila Gierasch at the University of Massachusetts–Amherst, editor-in-chief of the Journal of Biological Chemistry, said, "Steve has guided the ASBMB financial ship so successfully. I am sure he will help lead the society in the right directions. "
Miller earned his bachelor's degree in accounting from the University of Maryland in 1980. Since then, he has held leadership positions at companies of various sizes in the Washington, D.C., metro area. At the beginning of his career, he handled payroll for a hospitality management company. He later worked at a direct marketing company and two publishers before arriving at the ASBMB in 2004.
At the society, Miller, a certified public accountant, has held several positions focused primarily on finance and overall operations. He most recently was responsible for leading the finance, membership and information technology departments, which handle the financial reporting, investment funds, member data, and in-house and web technologies. He has been the deputy executive director since 2014.
In addition, Miller oversaw the society's move from the historic Beaumont House on the 11.2-acre campus of the Federation of American Societies for Experimental Biology in Bethesda, Maryland, in 2011 to its current, more modern space a few miles north. Other FASEB societies gradually followed suit, and FASEB recently sold the campus. This summer, the ASBMB will move again, this time to a nearby office building that houses many of its sister societies and that will one day house the FASEB itself.
Miller talked to ASBMB Today about the society's evolution during his years of service and about his plans for the coming years. This interview has been edited for length, clarity and style.
What informs your leadership style? Who are your models, and what are your preferred approaches?
I can be demanding. However, I do reach out to my staff for their input. I'm a firm believer that there's always a better way of doing what we're doing. I feel staff are comfortable with approaching me with issues and, more importantly, not afraid to ask questions.
As far as my role models, my mentors, I've been blessed both ways. I had some good mentors early in my career. And then I also have had some other supervisors who taught me how not to act and how not to treat staff. I've seen both sides of the coin.
How did the jobs you had before coming to the ASBMB equip you for where you are today?
I was put in charge of a lot of projects and was given a lot of responsibility. I worked on my own a lot, and that required me to manage my time effectively and multitask. As much as it's important to listen to what your staff thinks and the ideas they have, it's also important to let them take ownership of their work.
During your time with the society, its programs have multiplied to meet the needs of members. What are some of the trends you've observed?
The society has really evolved a lot from when I started in 2004. Back then, we focused primarily on preparing people for careers at the bench in academia. We have expanded what we have available for undergrads and graduate students. The Student Chapters program was started with the focus on undergraduates and developing relationships with the faculty at primarily undergraduate institutions.
And now we're looking at opportunities that are nonacademic and away from the bench. We're reaching out to industry folks to get their ideas and see how we can work with them to develop tools and resources that will help our members if they're seeking careers in industry. In a way, we're starting to reinvent ourselves to match what our members really want from us.
Starting in 2023, the ASBMB will hold its annual meeting independently of the Experimental Biology conference. What are your hopes for that?
I welcome this change. We've been limited in what we can do by meeting as part of a bigger group — in particular with regard to operations and the registration process. Also, what we're seeing in our surveys and hearing from our members is that large meetings feel impersonal. I think we're now going to be able to really zero in on the topics of interest to our members and make it more personal.
Also, for all our meetings, even the small ones, we want to have a virtual option. Offering both an in-person and virtual option will accommodate our members who don't have the money, time or desire to travel. What we've gone through this past year with the COVID-19 pandemic — this new normal — is really making us rethink how we run our meetings and how we interact with our members.
The society also now manages meetings for other groups. How did that come to be?
Biochemistry is so broad. And, throughout the years, we've had people in a number of areas of research spin off and form their own societies to focus on their area of research. Expanding our efforts to manage meetings for these other areas is an attempt to reconnect with these groups.
Years ago, we began managing the Deuel Conference on Lipids to meet the needs of our lipids-focused members. Deuel has its own separate board of directors, but we have a contract with them to run the meeting. Recently, we managed a mass spectrometry meeting that will run in 2022 and hopefully continue every two years after that.
More recently, we greatly expanded our virtual meetings program. The lipids researchers have one every month, in fact. We're open to other areas of research and want to offer those members a forum where they can get together and communicate their science but still be under the ASBMB umbrella.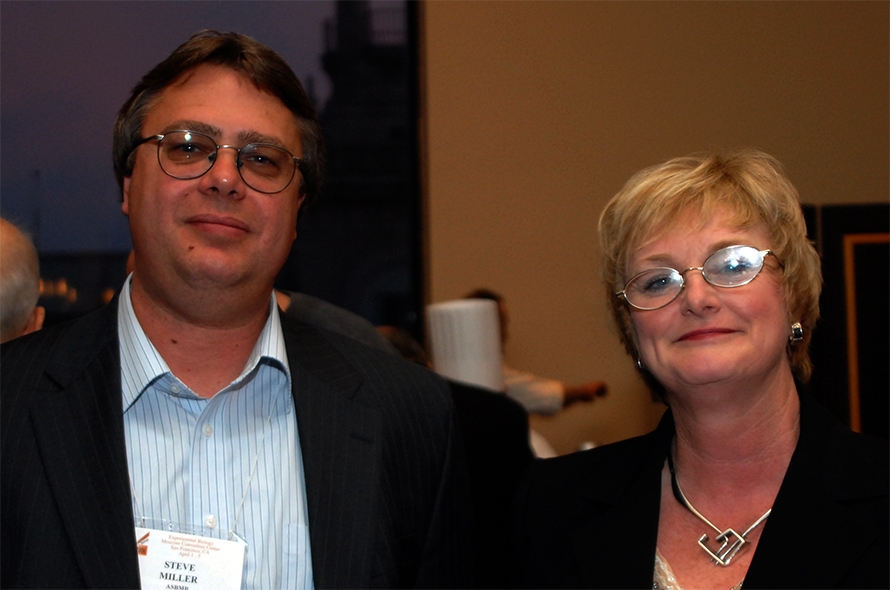 ASBMB
Steve Miller and Barbara Gordon, the American Society for Biochemistry and Molecular Biology's retiring executive director, at the 2006 ASBMB Annual Meeting in San Francisco.
The society historically has had a core group of very loyal members, many of whom have retired or are near retirement. What is the ASBMB doing to win over subsequent generations?
A. Twenty years ago, any new Ph.D. would hear from their mentor, "Look, you need to be part of this society." It's different now. People don't see the value of a society membership like they did. And that's why we need to reinvent ourselves. That's one question that we've put to the membership committee: What do we need to do to get back to that?
One of the things that I've been tasked with is to come up with a strategic plan. I have a lot of ideas, but I'm going to be leaning on the directors and the committees for their input. This is a really exciting time, because we're to a point where we can put our fingerprint on the direction the society takes the next couple years. It's going to be a really interesting time.
You were involved in the decision to make the ASBMB journals open access and to partner with Elsevier to do it. Is there anything that you want members to know or that you feel is perhaps misunderstood?
Whenever a society partners with a commercial publisher, everybody's radar goes off. They think the purpose is mainly financial. And that's not the case here.
We spent three years studying this and looking at our options. We looked at where the industry is moving — it's going open access. And we looked at researchers' funding sources — and the issue of funders requiring them to publish in open-access journals.
JBC went online back in the 1990s, before most other journals, and we wanted to be ahead of the curve again, this time with open access, and take advantage of being one of the early players.
Before we considered an outside partner, we looked at trying to do it in-house. We studied our current vendors, the limitations and the volume of articles required to make it possible. After this review, we concluded we just didn't have the volume to do this in-house and didn't want to lower our standards to achieve it. So we knew we would need to partner with a commercial publisher to make the ASBMB journals open access.
Elsevier has a lot of tools that we lacked. Yes, they have marketing resources, but they also have the editorial tools that will help our associate editors do their jobs more efficiently. The author and reader data they have will help in planning for the future of our journals. The most important issue was that the society demanded that the journals maintain complete editorial control of the content.
Ultimately, this partnership resulted in a lower article-processing fee for our authors than before we went open access, so it's a win for authors.
You're a finance guy and deserve a lot of credit for the society's solid financial footing. What do you want members to know about the society's spending?
When I came in back in 2004, we took a long, hard look at our spending. When JBC was in print years ago, we were sending anywhere from 400 to 500 copies of the journal to storage every week. Nobody was looking at them! These were some of the expenditures that were reduced, along with others that were reviewed for saving opportunities.
When staff or committee chairs come to me with different ideas, I ask them one question: How does it add value to the society? If they can explain the value, sure, we'll spend the money. A lot of times they'll turn around and come back later with an answer. The point is that we spend the society's funds on activities that benefit our members and support our overall mission.
We've been fortunate. We have two very good investment managers who have done quite well with our investments. So we're in a position where we can make this move to open access and feel very comfortable about the society's finances. The society is well positioned and funded to continue for decades.
I think the other thing members should know is that the society supports many of the scholarships and awards currently offered. With the exception of $10,000 we received this year from New England Biolabs for the Sewer diversity scholarship, we've funded all these scholarships and awards. And, to be clear, even with the gift for the Sewer scholarships, we'll continue to maintain the current levels of support. The gift will help us support even more students. As we raise additional money, the goal is not to cover the society's costs but to expand on the awards and scholarships we offer.
The COVID-19 pandemic has changed how people work in myriad ways. How has it informed your plans for the ASBMB of the future?
On the accounting side, it has really accelerated the move to a paperless environment. It gets complicated because there's a lot of internal control steps in a paper environment that now have to be duplicated in a paperless one. However, it's a move the society will have to make this year.
As far as operational, I think my big frustration has been the lack of spontaneous thinking. Now you need to schedule a Zoom meeting or call rather than just walking down the hall to meet with staff.
You oversaw the society's move in 2011, and it's moving again this summer. I'm wondering what lessons learned influenced your planning this time.
First, we were able to capture a deal that decreases the cost to the society, and that enables us to provide more benefits to our members. The second part is that we're moving to a space where there are a lot of different amenities. There's a gym, a cafeteria, and a shuttle that picks our employees up from the front door and takes them straight to the subway. The landlord provides three conference rooms that allow for virtual meetings at no additional cost.
We're also going to be closer to our sister societies that are also located in that building. For example, the American Physiological Society, the Genetics Society of America and the Society for Developmental Biology are there. So there might be an opportunity to collaborate and do some more joint events with those folks.
What's your life like outside of the ASBMB? How do you spend your free time?
Several years ago, we moved to the Eastern Shore, and our home is waterfront, so I spend a lot of time on the water with our boat. Being able to escape by water has helped offset the restrictions in response to COVID-19 over the past year.
Is there anything else that you want to share?
I'm really excited about having an opportunity to develop a strategic plan with input from both the staff and the committee chairs that will leave our footprint on the direction of the society in years to come.
Enjoy reading ASBMB Today?
Become a member to receive the print edition monthly and the digital edition weekly.
Learn more
Get the latest from ASBMB Today
Enter your email address, and we'll send you a weekly email with recent articles, interviews and more.
Latest in People
People highlights or most popular articles