ASBMB Annual Meeting
The future of ASBMB meetings
is virtual
With in-person gatherings off-limits, the society has moved its events, both large and small, online — with great success
Long before the COVID-19 pandemic turned our homes into our offices, Roya Jaseb knew her profession needed to change, and she was ready for it. Director of meetings for the American Society for Biochemistry and Molecular Biology, Jaseb had been preparing for the shift to virtual, more flexible and accessible scientific meetings for years.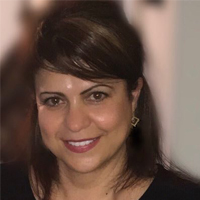 Roya Jaseb
"The Trump administration's early 2017 ban on travel to the U.S. by people from predominantly Muslim nations impacted the scientific community dramatically," she said. "I felt like we had to do something to be inclusive and eliminate these barriers that were being thrown up."
Back then, Jaseb was working for the Federation of American Societies for Experimental Biology. It was her job to manage meetings for several client societies. "The more I started looking into virtual meetings, the more I found that the societies that did this significantly expanded their membership and their engagement with their members," she said.
Like every professional organization that hosts a yearly convention, the ASBMB didn't have the 2020 annual meeting it was hoping for. By the weekend in early April when the society had planned to hold its meeting in San Diego, most of the United States was three weeks into lockdown and physical distancing that has defined American life during the pandemic.
And so, the ASBMB adapted, hosting virtual Spotlight Sessions, poster galleries and poster chats on Twitter from May through July so that the students and researchers who had hoped to present their research at the in-person meeting would still get their moment in the sun. The events were a marked success, boasting more than 11,000 registrants for the virtual Spotlights Sessions.
Over the following months, the meetings committee and the society went on to refine their online-meeting policies for smaller events, including niche seminars, town halls and webinars.
"Our members have been very responsive and adaptable to the pivot to virtual events," said Barbara Gordon, ASBMB's executive director. "We're all looking forward to helping them communicate their science in the best possible way, both now and in the future."
A virtual annual meeting in 2021
The society's 2021 annual meeting will be held entirely online Tuesday, April 27, through Friday, April 30, using a platform full of bells and whistles.
"The virtual meeting experience will be comprehensive, with the ability to learn, network and engage like never before." Jaseb said. That includes award lectures, scientific symposia, Spotlight Sessions, poster presentations and workshops.
Different types of sessions will have different features. For example, the symposia and Spotlight Sessions will have a question-and-answer function that will be moderated. Each poster presenter will be able to display a PDF of their poster, upload an audio recording of their talk, and respond to questions in real time via a chat tool.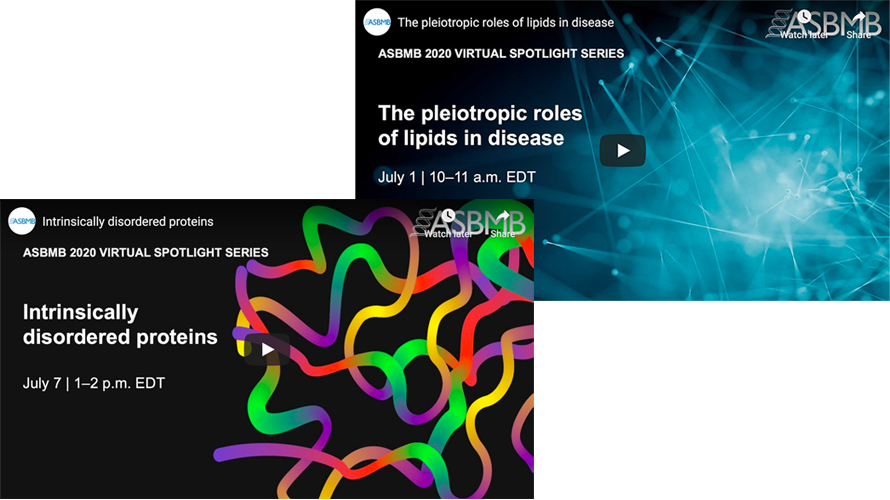 Though the society was forced to cancel its in-person annual meeting earlier this year, it went on to host more than 30 Spotlight Sessions online between May and July.
"Essentially everyone will get to give a talk," Jaseb said
The engagement tools on the platform are robust, and will also allow attendees to communicate with each other in discussion boards, as well as over video chat in small discussion groups.
The meetings committee is still ironing out how best to execute networking events for special interest groups, such as the beloved welcome reception organized each year by the Minority Affairs Committee and the mixer and talks organized by the Women in Biochemistry and Molecular Biology Committee.
One significant change to the 2021 annual meeting is that the window for submitting abstracts, which opened Oct. 28, will close Jan. 11, more than a month later than in previous years.
Small meetings, big impacts
Throughout its history, the ASBMB has hosted hundreds of specialized meetings in cities, towns and scenic spots in the U.S. and abroad. Those events usually drew between dozens and a few hundred attendees, and their relatively small size helped cultivate tight-knit, niche communities of researchers.
One such meeting, focusing on serine proteases, was founded and has been organized biannually by Toni Antalis of the University of Maryland School of Medicine since 2013. Antalis, who is president of the ASBMB, said, "The small meeting venue was ideal for the building of informal networks particularly among graduate students, postdoctoral fellows and talented junior researchers."
Like the annual meeting, Antalis' meeting and the other specialized meetings are all going online until it's safe to meet in person again.
"I believe that the virtual meeting in 2021 will attract even more researchers from around the world to engage in new discovery and advance fruitful scientific collaborations," Antalis said.
Virtual seminars
The ASBMB has also started hosting themed virtual seminars, such as the Lipid Research Division Seminar Series. That seminar series was started independently in April by John Burke, a biochemist at the University of Victoria and Mike Airola, a structural biologist at Stony Brook University.
"It was pretty grassroots," Burke said. At the time, Airola and his students had just had back-to-back papers published in Nature Communications and Nature Chemical Biology and would normally have featured the research in in-person seminars. When those were not an option due to the COVID-19 pandemic shutting down almost every college campus in North America, Burke and Airola began organizing a web series.
"I just had a list of people I knew. We sent it to about 100 different academics and asked them if they could spread it through Twitter. We got like 150 people that first day, and then just started doing it every week," Burke said. "And we ran that for almost four months, averaging about 300 people a session."
During that period, Burke and Airola dedicated several hours each week to inviting and preparing speakers for the seminars. As autumn began to near, the two started the process of handing off organizing responsibilities to the ASBMB's Lipid Research Division, who had caught wind of the series early on. The Lipid Research Division took over the series in September and hosts the seminars on Wednesdays at noon Eastern.
John Burke
"The ASBMB Meetings staff do all the registration and coordinating, so the workload is now pretty manageable," Burke said, who now hosts talks about every six weeks. "That's just getting there 30 minutes early, running everything during the session and following up with people afterward. It's really manageable; it's two or three hours once every six or seven weeks."
The Lipid Research Division Seminar Series is now one of the many virtual events series hosted by the ASBMB Meetings staff, who welcome members to submit proposals for new events.
"Submitting a proposal is really not as daunting as it seems," Jaseb said. "It's a very short application, and we have a team of people to help organizers through the application and planning process."
In addition to managing the technical aspects of the virtual platform, Jaseb's team can instruct speakers on how best to prepare their slides, their lighting and their camera and coach them through practice runs ahead of their meeting. "We put in a lot of effort in coordinating and marketing the event to make sure the program is successful, taking some of the load off organizers," she said.
With the success of the Lipid Research Division Seminar Series and other virtual events, Jaseb and members of the meetings committee hope they have built a system that can persist after the pandemic has ended.
"Some aspects of the virtual meetings will stay even after everything's back to normal, either because it's just convenient or because there's no other option for some people," she said. "We're hoping to get this program going strong and have people become more aware of this opportunity."
Other virtual special events
When the pandemic made the society's annual Capitol Hill Day and summer advocacy program impossible, the ASBMB public affairs team decided to find another way to talk to the research community about their science policy concerns and needs.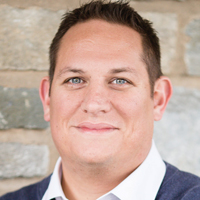 Benjamin Corb
Public Affairs Director Benjamin Corb and Science Policy Manager Sarina Neote put together a series of virtual town hall-style events in September covering the cost of the pandemic, the STEM workforce and immigration, challenges facing women in STEM, and the pandemic's effects on non-COVID research.
"We couldn't physically take scientists to Capitol Hill, and we couldn't have them advocate for increased research funding at a time when Congress was pumping money into COVID-19 research and vaccine development. And we certainly didn't want to encourage them to visit their lawmakers at their home offices during the summer recess as we've done in past years," Corb said. "But it was important to us to still connect with and hear from our members about their experiences and policy priorities. I think we learned a lot — about how the pandemic is affecting them personally and professionally and what messages they want us to take on their behalf to Congress."
Also in September, the society's education and professional development team's National Postdoc Appreciation Week activities included a webinar on navigating postdoc life. And in late October, the ASBMB women's committee hosted a weeklong screening of the award-winning documentary "Picture a Scientist" and followed it up with a panel discussion, with director Sharon Shattuck as a special guest, in early November.
2023 and beyond
While it is too early to tell whether the 2022 annual meeting will also be virtual, a major change will take place in 2023, when the ASBMB will begin to host its annual meeting independently of Experimental Biology and the five other societies that partner with it.
"The ASBMB has been delighted to host our annual meeting alongside EB's for many years," Barbara Gordon, the society's executive director, said. "While it has been a fruitful partnership for all parties, we needed to adapt to the trends of our member base, both from a cost and a size perspective."
According to Jaseb, while concerns about size, cost, and diversity of venues factored into the decision, which was made by the ASBMB council, the strongest push came from the society's members through a survey conducted in March.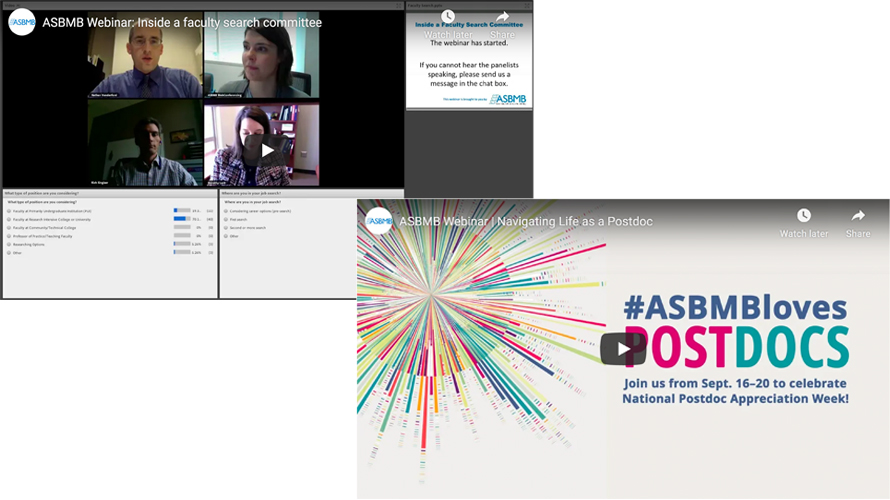 Long before the COVID-19 pandemic required organizations to pivot to virtual events, the ASBMB had been offering webinars to provide scientists and trainees with career advice.
"The overwhelming response from the survey was that, while there were benefits to partnering with EB and having a cross-disciplinary meeting with the other societies, most ASBMB members felt like they were lost in crowds, and that it was difficult to engage with their community in a meaningful way," Jaseb said. "A lot of them felt that having a smaller meeting with science relevant to our community would serve them better, especially the trainees who are networking and meeting investigators."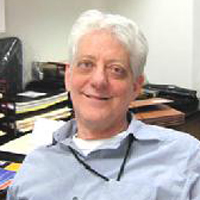 Dan Raben
According to Dan Raben, chair of the meetings committee and organizer of the task force that made the recommendation to split from EB to the ASBMB council, having a stand-alone annual meeting will allow for greater scheduling flexibility.
"We were constrained in some cases because we had to be consistent with, or at least do things in concert with, the EB societies' meeting," Raben said. "In some ways, it was great to have a big meeting, because there was the potential for a lot of cross-fertilization that could lead to interesting collaborations. But given the size of the annual meeting, the likelihood of these new collaborations was minimal, and a lot of collaborations were established prior to the meeting. Furthermore, some of the topics covered were not really pertinent to the members of ASBMB. Overall, a survey indicated a majority of our members preferred a smaller meeting with more focus on topics pertinent to our constituents."
Jaseb said she hopes that focusing the annual meeting on the biochemical and molecular biological research of ASBMB members will ultimately boost turnout.
"Right now, we have about 2,500 to 3,000 annual meeting attendees," she said. "We have more than 10,000 members, and we would like to attract more of them to attend the meeting."
Gordon echoed that sentiment. "Our members are what make ASBMB possible," she said. "We hope that, by holding the meeting on our own, we will be able to draw together as much of our community as possible."
Plan your event
The ASBMB invites members to submit proposals for three different types of virtual events.
Virtual conferences are usually four to six hours per day and can take place over one or several days. Conferences offer a mix of lectures, seminars, workshops and poster sessions. Virtual breakout rooms and other elements such as attendee-to-attendee live video chat can be used for networking and engagement.
Virtual workshops provide attendees with in-depth how-to guidance. They usually last a few hours and can take place over one or several days. Virtual breakout rooms and other elements can be used to foster learning and discussion.
Webinars and virtual seminars are typically one to two hours long and usually feature speaker presentations and question-and-answer sessions. Depending on the length of each speaker's talk, a panel discussion or other activity can be built in to foster discussion.
Enjoy reading ASBMB Today?
Become a member to receive the print edition monthly and the digital edition weekly.
Learn more
Get the latest from ASBMB Today
Enter your email address, and we'll send you a weekly email with recent articles, interviews and more.
Latest in Careers
Careers highlights or most popular articles