Award
Bioinorganic chemist Damasceno honored for research on labile iron pool
Damasceno wins Tabor award
Driven by a desire to tackle unanswered questions and learn about "something that has no explanation," Fernando Damasceno became fascinated by iron signaling and metabolism in the human body. As a graduate student at the Universidade de Sao Paulo, he has taken on a challenging topic: the labile iron pool.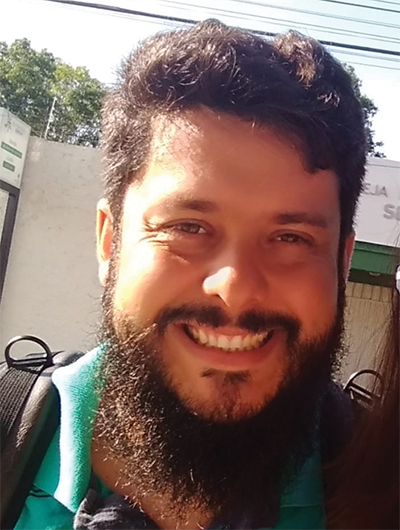 Fernando Damasceno found that the labile iron pool can be beneficial or harmful, depending on whether it's reacting to a certain oxidant.
Growing up in southeastern Brazil, Damasceno watched the 1990s science TV show "Beakman's World" and later learned about atoms and molecules in high school. This was all part of a "process comprised of many small successive events" that motivated him to study chemistry at the Universidade Federal de Goias and then pursue doctoral studies in bioinorganic chemistry, Damasceno said. His college professors, parents and friends all supported his academic journey.
Damasceno enjoys doing research and teaching in Brazil. Although he doesn't always have access to all the resources he needs for his work, he still likes to tackle important biological questions and collaborate with others in the field.
Experimenting on the labile iron pool, or LIP, is no easy task, Damasceno said, because its composition is not known. His team "could not synthesize (the LIP) to test reaction directly," he said.
The results were initially confusing because they showed that chelated LIP increased oxidation in their fluorescent assay (details below). Damsaceno and his advisor José Carlos Toledo Jr. were both very surprised, he said, and they "spent hours and hours talking and discussing how we could possibly explain that." The process was "very difficult, but very exciting."
For his work on the labile iron pool, published in the Journal of Biological Chemistry, Damasceno received a JBC Herb Tabor Young Investigator Award. He said he was surprised but very happy to receive the Tabor award. He will give a talk on his paper at the ASBMB annual meeting in April.
He next hopes to pursue nitric oxide signaling, a related aspect of his work.
Can iron be used to prevent dangerous oxidative species?
Iron in the human body is typically bound to other groups such as heme and iron-sulfur clusters to carry out important reactions. However, a small amount can be bound instead to chelators that neutralize its effect, and this is called the labile iron pool, or LIP.
Researchers initially believed the LIP was harmful because of its lability. Damasceno said his team's work changes the paradigm; while the LIP is reactive with an important oxidant called peroxynitrite, it could act as an antioxidant against this type of damage. Peroxynitrite has been implicated in many pathologies, but its connection to the LIP was uncertain.
Damasceno and colleagues used a fluorescence spectroscopy assay where oxidation and nitrosylation, downstream effects of reacting with peroxynitrite and harmful additions to proteins, were monitored by fluorescent indicators. They found an increase in oxidation and nitrosylation when the LIP was chelated and a decrease when cells were treated with iron.
This work shows that the LIP, when not complexed with chelators, prevents oxidative damage by competing with peroxynitrite, a finding that could prove beneficial for the treatment of peroxynitrite-associated pathologies, including stroke, chronic heart failure, diabetes, cancer and neurodegenerative disorders.
Enjoy reading ASBMB Today?
Become a member to receive the print edition monthly and the digital edition weekly.
Learn more
Get the latest from ASBMB Today
Enter your email address, and we'll send you a weekly email with recent articles, interviews and more.
Latest in People
People highlights or most popular articles