Student Chapters
Chapter leader values diversity, outreach and interaction
What started as a childhood interest in science led Nana Aikins to a love of research and his active pursuit of becoming a medical doctor.
Originally from Ghana, Aikins immigrated to the United States in 2016. When looking at colleges, he considered many factors, not just academics. "I needed somewhere I would feel safe, comfortable, be able to express myself, and explore," he said.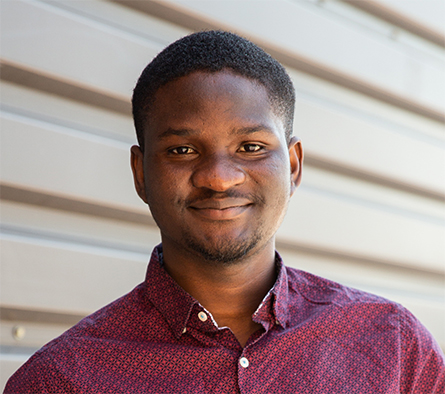 Nana Aikins
Aikins chose to attend the Rochester Institute of Technology. "They have a really good program for diversity, and they have a really good institution for the deaf and hard of hearing," he said. "That showcases their willingness to help others, especially those in need and those from a minority background."
At RIT, Aikins majored in biochemistry and joined Suzanne O'Handley's lab, which he considers "one of the best decisions I made in my college years." O'Handley's research focuses on finding new antibiotic targets to treat tuberculosis. One possible target is a group of proteins called Nudix hydrolases that cleave diphosphate bonds of compounds, such as nucleotide triphosphates and coenzymes.
In spring 2018, Aikins joined RIT's American Society for Biochemistry and Molecular Biology Student Chapter. Members of the chapter decided not to have officers with specific titles. Instead, student leaders were all members of the executive board, or e-board. As part of this e-board, Aikins helped other students become involved in research. He also helped plan outreach activities. Activities included hosting remote seminars with speakers who talked about their research, educating people about vaccines during an annual campuswide festival, and creating kid-friendly exhibits at the Rochester Museum of Science and Technology. In 2020, they started a biweekly COVID newsletter.
As an e-board member, Aikins said he learned that when organizing meetings and activities, it's important to accommodate students' busy schedules. "Try to work around them and be open to working in times that may not be necessarily favorable to you," he said. "Be open to suggestions from other people, and be willing to accept that not everybody is going to be able to participate, but everyone is, in their own way, doing their best. Being really mindful of that and being helpful in that situation really matters."
Aikins found the chapter's interaction and connections to be vital. During ASBMB get-togethers, members bond over their similar situations as RIT science students. Some engage in research and share their experiences, which has helped to get new students into research. He also loved how he and his fellow e-board members were able to work as a streamlined team and rely on each other for assistance when needed.
Outside of the ASBMB Student Chapter, Aikins was involved with the RIT Organization for African Students and Phi Delta Theta fraternity, which helped him get through the pandemic, as he was able to talk to these friends every week.
Aikins graduated from RIT in May and is now in the medical school application process. He is particularly interested in the field of oncology, especially after taking a class called The Biology of Cancer.
Enjoy reading ASBMB Today?
Become a member to receive the print edition monthly and the digital edition weekly.
Learn more
Get the latest from ASBMB Today
Enter your email address, and we'll send you a weekly email with recent articles, interviews and more.
Latest in People
People highlights or most popular articles