Annual Meeting
Airola seeks the secrets of lipid-modifying enzymes
Michael Airola was introduced to lipid research as a graduate student in Brian R. Crane's lab at Cornell University, studying bacterial receptors involving transmembrane signaling.
"This was when researchers who work with membrane proteins started using model lipid membranes like nanodiscs and paying attention to the effect of the lipid environment on membrane protein structure and function," he said.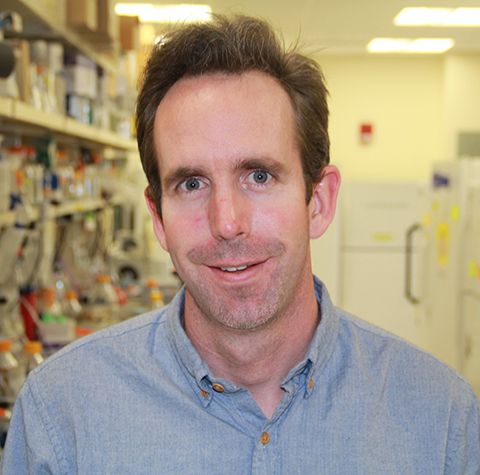 Michael Airola
Airola's horizons widened when, for his postdoc, he moved to Yusuf A. Hannun's lab at Stony Brook University.
"Hannun is a pioneer in studying the enzymes involved in sphingolipid metabolism," Airola said. "He was interested in atomic details of how these enzymes work. … I brought structural skills and learned a lot about lipid biochemistry and techniques related to handling lipids and working with lipid membranes. Also, I got exposed to cell biology, animal work and drug development."
Lipids are cellular building blocks and essential to many cellular functions. They are closely associated with chronic disorders, including cardiovascular disease and diabetes, so learning about lipids is vital to improving human health. And that's what Airola continues to do as an assistant professor of biochemistry and cell biology at Stony Brook.
"Our lab is broadly interested in lipid metabolism and transport," he said. "We seek to understand the molecular details of these processes and develop new pharmacological and genetically encoded tools to monitor and control the generation of lipids in the cell."
During the COVID-19 shutdown, Airola helped start the American Society for Biochemistry and Molecular Biology's online Lipid Research Division Seminar Series, now attended each month by about 350 scientists. He is a junior associate editor of the Journal of Lipid Research, and he received the ASBMB's 2022 Walter A. Shaw Young Investigator of Lipid Research Award.
Studying structure to understand function
Michael Airola's lab focuses on lipid-modifying enzymes, such as lipins, that are relevant to cancer, cardiovascular disease and fungal infections.
"We use structural biology techniques such as X-ray crystallography and cryo-EM coupled with an array of biochemical and cellular approaches in our research work," Airola said. "These works are complemented by computational methods such as docking and molecular dynamic simulations to gain a molecular level understanding of lipid metabolism and lipid signaling."
The lab tries to determine how these enzymes' structures allow them to recognize their unique hydrophobic substrates and interact with the membrane during catalysis and how these proteins are regulated through interactions with specific lipids or other protein effectors, he explained.
Airola's lab determined the first structures of human phospholipase D, a therapeutic target for cancer, and a lipin phosphatidic acid phosphatase that regulates fat storage as triglycerides. They are now developing inhibitors for fungal-specific lipid-modifying enzymes.
"I believe this work can make an impact in the real world in my lifetime to fight against the life-threatening fungal pathogen especially prevalent in hospital environments in the U.S.," he said.
During Discover BMB, the 2023 annual meeting of the ASBMB, in addition to speaking at the JLR Spotlight Session, Airola will discuss his work in the symposium on lipid dynamics and signals in membrane and protein structure.
Enjoy reading ASBMB Today?
Become a member to receive the print edition monthly and the digital edition weekly.
Learn more
Get the latest from ASBMB Today
Enter your email address, and we'll send you a weekly email with recent articles, interviews and more.
Latest in People
People highlights or most popular articles