Jobs
Internships in industry
We're experiencing unprecedented times right now as our nation tries to contain the spread of the novel coronavirus. Universities, laboratories and companies across the United States have shut down and/or transitioned to remote work.

Before I realized the extent to which flattening the curve would affect our day-to-day lives, I began compiling a list of summer internship opportunities available to undergraduate and graduate students in the pharmaceutical and biotech industries.

But things are changing quickly, and summer as we've known it may not come around this year.

Still, with the hope that we will be able to take advantage of these summertime opportunities, I wanted to share this information with those who are interested.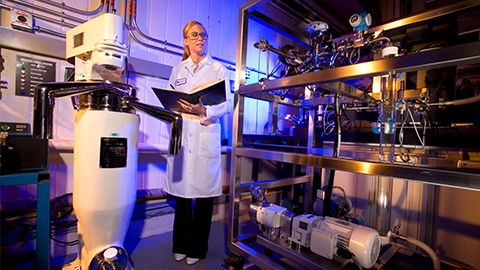 Idaho National Laboratory on
Flickr
I realize that everyone is coping with our new reality differently and have unfamiliar burdens or changes that will take some time to adjust to. If you're getting absolutely nothing done, that's OK — maintaining your mental health, caring for loved ones or yourself if you're ill, or keeping the household together should be top priorities. But, if you want to do something to distract yourself or maintain your sense of normality, I hope this post will help.

One thing to note: Taking advantage of summer internships as a graduate student may not be as straight forward as it is for undergrads, so have an open discussion with your adviser if you would like to do an internship. It's important to have conversations about your future career goals, how an internship will help you achieve them, and how to manage your research while away.

Don't forget to check out our previous posts about reworking your résumé for industry and embracing what makes you different.

Finally, these internships were all still actively recruiting when we went to press, but we've all seen how quickly things can evolve from one day to the next. If in doubt, contact the companies.

AstraZeneca, an international pharmaceutical company, offers paid internships throughout the United States in areas such as research and development, pharmaceutical sciences and engineering. Its internships can be found here. They vary by job type and location. I wanted to specifically highlight this analytical sciences internship in Gaithersburg, Maryland. This position is open to undergraduate and graduate students, and the project focuses on evaluating innovative approaches to protein digestion coupled with mass spectrometry-based analysis of proteins.

Berkeley Lights in Emeryville, California, describes itself as a "late-stage" startup that focuses on developing single-cell technology. The company is hiring summer interns of all education levels for projects in the life sciences and is looking for Ph.D.-level graduate students for projects in research and development. Internships are paid, and it looks like the company offers other perks (including daily catered lunches). Check out what's available on the company's careers page under "Internships".

Genentech, a biotechnology company headquartered in San Francisco, hires interns at all degree levels for paid summer internships that last 10 to 12 weeks. International students can apply, although visa sponsorship will vary by department and position. Locations vary based on the job. Some internships are open to graduate-level candidates only (such as this one in bioanalytical sciences), while others are open to undergrads and grad students alike (like this one in in the microchemistry, proteomics and lipidomics department). The application window typically closes by the beginning of April, and we don't know if that's going to change in light of COVID-19, so apply now if you're interested. If you miss the deadline this year because you have higher-order concerns (understandable), the company typically opens the application system in November for the next summer.

In North Carolina, the pharmaceutical manufacturing and development company Recipharm is looking for a laboratory intern to work with the company's research and development team for at least a six-month period. Applications are due by April 5, but we recommend contacting the company to confirm, just in case it was extended.

Seattle Genetics offers 10- to 12-week paid internships during the summer in the Seattle suburb of Bothell, Washington. This company focuses on developing antibody-drug conjugates for cancer treatment and therefore encompasses the full pipeline of research and development to clinical use. Internships focus on a variety of topics including protein sciences, regulatory affairs and medical writing (industry companies need science writers, too) and are open to students pursuing their bachelor's, master's and Ph.D. degrees in various fields of study. To see the complete list of the company's internships, go to its jobs opportunities page and search using "Summer Intern" as a keyword. Note: Since the state of Washington, and Seattle in particular, is contending with a lot of COVID-19 cases right now, it seems reasonable to contact the company to make sure these opportunities remain viable.

Takeda Pharmaceutical Company offers year-round and summer internships at its U.S. locations. Summer internships are typically 12 weeks long and include projects relating to drug discovery and cell bank manufacturing, among many others. Internships are paid (in some cases housing is even provided) and are variably geared toward undergrad and grad students, so take a look at the requirements before applying. A complete list of internships can be found by going to Takeda's jobs page and using keyword "Intern." Applications are accepted on a rolling basis.

U.S.-based Thermo Fisher Scientific has internships that largely focus on manufacturing and quality control, but some are still applicable to those studying the life sciences. There are biology/chemistry internships focusing on global sourcing in Austin, Texas, and a manufacturing sciences internship in Pleasonton, California, focusing on small-scale synthesis of oligonucleotides. All internships are paid and typically run from June to August.

If you live in an area close to biotech or biopharma startups, it could also be worth it to email them asking about internships or short-term work opportunities. Some will hire students to work part time on relevant projects or help with data processing, and this could lead to a more permanent position after graduation. Even if you don't see something explicitly listed on a startup's website, it can't hurt to ask.

Good luck!
Enjoy reading ASBMB Today?
Become a member to receive the print edition monthly and the digital edition weekly.
Learn more
Get the latest from ASBMB Today
Enter your email address, and we'll send you a weekly email with recent articles, interviews and more.
Latest in Careers
Careers highlights or most popular articles