Jobs
Embracing diversity in industry
An interview with Biogen's Cherie Butts
Diversity in research is important — by bringing people of different backgrounds and with different ideas to the table, we can come up with more creative solutions and answers to scientific problems and questions. This week, I spoke with Cherié Butts at Biogen about how to harness what makes each of us unique so that all perspectives are represented in industry.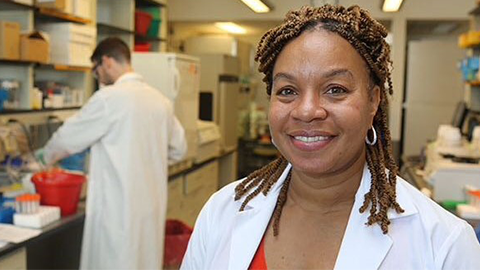 Cherié Butts is the medical director and head of human biology research at Biogen.
From bench to Biogen
Butts earned her undergraduate degree in chemistry and her master's degree in biotechnology from the Johns Hopkins University. While pursuing her Ph.D. at the University of Texas MD Anderson Cancer Center in Houston, she studied antitumor immune responses in ovarian cancer.
During her postdoctoral work at the National Institutes of Health and the Food and Drug Administration, she got involved with reviewing drug and biologics applications. She said she decided she wanted to better understand the basis of FDA submissions and how to decrease the time it takes for drugs to go from concept to approval, with the ultimate goal of increasing the number of effective drugs available while reducing drug prices.
She joined Biogen, based in Cambridge, Mass., in 2012. Today her title is "medical director and head of human biology research, digital and quantitative medicine."
Butts told me she has always been passionate about ensuring that individuals from all backgrounds contribute to biomedical research. She works with professional societies and other organizations to highlight the variety of career paths in government and industry, including those away from the bench or clinic. She has worked with the board for Beth Israel Deaconess Medical Center, the board for the Keystone Symposia, the board of trustees at Salem State University, the governing council for the Society of Leukocyte Biology and the Massachusetts Economic Development Planning Council. She also has been an adjunct professor at the University of Maryland.
With all her experience, Butts has developed a broad view of how diversity can help industry.
Why diversity is important
Healthcare needs are constantly evolving and are incredibly diverse, and the strategies implemented to address them should reflect that. Butts' current focus is health equity with respect to clinical trials. She said that if clinical trials represent only a small proportion of those with a disease, they won't give a clear picture of how safe or effective any given therapy is across patient populations.
"We should also be thinking about the patient experience and whether potential new therapies accommodate various lifestyles," she said. "If they are inconvenient, it is likely patients will be noncompliant."
This kind of thinking is better achieved when the team of researchers and clinicians behind each trial is diverse.
Being yourself in industry
Breaking into a new field can be hard and is a different experience for everyone. Butts' advice for scientists or researchers who do not see themselves represented in industry is simple: Embrace your difference.
"As minorities, we spend far too much energy attempting to assimilate," she said. "We should appreciate that our uniqueness makes for a more enriched environment."
Butts said that it is good to question why things are done a certain way — it may lead to opportunities to be more efficient or effective that no one had previously thought of.
She also advised that you to maximize your "social capital and institutional credibility." Basically, this boils down to producing high-quality work and building relationships on the basis of this work ethic.
"I have the tremendous fortune of being offered opportunities that no one who looked like me has been given," she said. "I demonstrated success, especially with previously nonexistent activities, that afforded me additional considerations for novel activities and an openness to my ideas."
Taking the first steps
I asked Butts about the steps any scientist can take to prepare for a career in industry, and her advice was clear: "Working in teams is the single most important element to succeeding in biopharma."
She recommended that early-career researchers or academic researchers looking to switch into industry take on assignments in a team setting. Serving as a team member and a team leader are both important. Butts said to strive to be excellent at both.
For Butts, the difference between academic research and industry was most apparent once she became a program manager. She described the experience as eye-opening. "It required drastically different skills from typical scientific training to foster productivity among individuals who do not report directly to you," she explained. Working with or leading teams can help build these needed skills.

She also suggested taking advantage of any courses or internships within biopharma to identify the types of roles you're most interested in. Butts and Avery August at Cornell University developed such a program for Biogen. (August won the ASBMB's 2016 Ruth Kirchstein Diversity in Science Award.) The three-day experiential learning conference brought early-career researchers from 20 academic institutions into Biogen to learn about jobs within the drug-development process — at or away from the bench or clinic.
There is still plenty of work that needs to be done to help ensure diversity is embraced and supported in biopharma and biotech. Butts is focused on outcomes. "Decreasing morbidity and mortality across an entire population will require that we consider the needs of all individuals," she said. "A variety of people with different backgrounds and experiences should be at the decision-making table to ensure everyone afflicted with disease is taken into consideration."
Enjoy reading ASBMB Today?
Become a member to receive the print edition monthly and the digital edition weekly.
Learn more
Get the latest from ASBMB Today
Enter your email address, and we'll send you a weekly email with recent articles, interviews and more.
Latest in Careers
Careers highlights or most popular articles