Journal News
From the journals: JLR
Membrane organization in nerve cells. Targeting lipids in liver disease. Balancing longevity and starvation resistance. Read about recent papers on these topics in the Journal of Lipid Research.

Membrane organization in nerve cells
Nerve cells, or neurons, are the primary communication cells in your brain. Projections from these cells' bodies, called neurites, mediate all incoming and outgoing messages. Researchers know that the plasma membrane aligning neurites is especially important for communication, with specialized sections in different areas of the cell. But how, exactly, do neurons establish these distinct sections?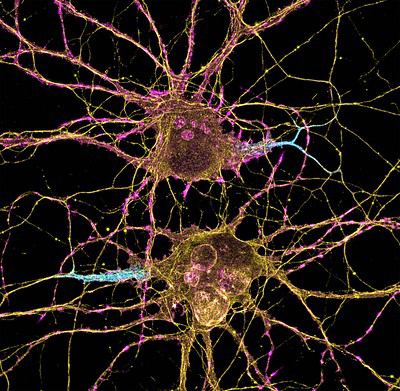 Leterrier/NeuroCyto Lab, INP
This image, captured at the Institute of NeuroPhysiopathology in Marseille,
France, shows two neurons with neurite projections from the cell body.
Hideaki Kuge and colleagues at Kochi University in Japan describe their efforts to answer this question in their recent paper published in the Journal of Lipid Research. This group's prior work focused on 1-oleoyl-2-palmitoyl-phosphatidylcholine, or OPPC, a rare phospholipid species produced by acyl chain remodeling of phosphatidylcholine. Acyl chain remodeling occurs when either phospholipase A1 or A2, or PLA1 and PLA2, cuts a phospholipid acyl chain to attach a different fatty acid group. This team previously showed that OPPC localized at neurite tips after stimulation with nerve growth factor, or NGF, highlighting PLA1 activity as a mediating factor. These results led to further investigation into the potential role of local acyl-chain remodeling in membrane organization.
The researchers stained neurite tips for several known PLA1 enzymes and found pancreatic lipase-related protein 2, or PLRP2, expressed at the tips and colocalizing with OPPC. Moreover, stimulation of the neuron by NGF induced changes to the expression of PLRP2. Using the gene-editing technique CRISPR–Cas9 to silence PLRP2 expression, the researchers found that loss of PLRP2 decreased expression of OPPC at the neurite tips. Loss of PLRP2 also reduced the surface expression of an important membrane protein called the dopamine transporter, or DAT. This membrane component allows the reuptake of dopamine back into the cell, an important process for neuronal homeostasis and communication.
They also saw that syntaxin 4, or Stx4, a protein involved in vesicle trafficking to the membrane, interacts with OPPC domains, dependent on PLRP2 expression. Silencing of Stx4 through the same gene-editing method showed that surface expression of DAT also requires Stx4. Vesicle immunoprecipitation assays confirmed the presence of PLRP2, Stx4 and DAT in the same transport vesicles. Together, these findings show the essential role of a local acyl-chain remodeling factor, PLRP2, in mediating neuronal membrane specialization.

Targeting lipids in liver disease
Lipids, including fatty acids, steroids, and other molecules, are essential for maintaining the structure and function of cells. These metabolic building blocks are deposited into each cell as an organelle called a lipid droplet. The 17-beta hydroxysteroid dehydrogenase 13, or HSD17B13, gene encodes a liver lipid droplet enzyme important for fat storage. While researchers know little about the composition and function of HSD17B13, mutations that impair the function of this gene can prevent liver injury, disease or cancer.
Yanling Ma of the National Institute of Diabetes and Digestive and Kidney Diseases and a team of U.S. colleagues sought to better understand the inner workings of HSD17B13 in their study published in the Journal of Lipid Research. Results showed that targeting the HSD17B13 enzyme to the lipid droplet requires three specific N-terminal fragments. One of the fragments also may factor in the proper protein folding of HSD17B13 in the endoplasmic reticulum. The team then used a similar gene, HSD17B11, to successfully predict and verify important residues for HSD17B13's enzymatic activity. These findings offer clues about the functional role of HSD17B13 in disease and provide potential targets for drug development.

Balancing longevity and starvation resistance
The human body regulates its energy reserve according to how much food it receives over a given period. Many factors contribute to this balance whether the body gets plenty of fuel (food) or none at all. Among the metabolic proteins involved in regulating this process are lipins. Under fasting conditions, lipins move to the cell's nucleus to change gene expression in response to reduced energy intake.
In a study published in the Journal of Lipid Research, Stephanie E. Hood and a team at the University of Arkansas explored how lipin migration to the nucleus and enzymatic activity affect life expectancy and starvation resistance. Researchers created a fruit fly mutant model that lacked the correct signal to move lipins into the nucleus. When fed properly, these flies were healthier and had a longer life expectancy. Yet this came at a cost, as the mutant flies were also less resilient against starvation-induced death. Results showed changes to several genes involved in metabolism, feeding behaviors and immunity in response to contrasting levels of food availability. This study highlights the diverse roles of lipins in modulating genomewide responses to energy intake and the importance of lipins in starvation resistance.
Join the ASBMB Today mailing list
Sign up to get updates on articles, interviews and events.
Latest in Science
Science highlights or most popular articles