Journal News
JLR's new article format puts images at the forefront
"Images in Lipid Research" aims to celebrate the images scientists create
If an image is worth a thousand words, then images of lipid research are worth their own series. The Journal of Lipid Research has started just that with a new article format, "Images in Lipid Research," launched earlier this year.
These articles are one-page, peer-reviewed publications with a single image and caption that highlight current topics in lipid physiology and biochemistry.
The idea stemmed from a suggestion made by Stephen Young, associate editor at the JLR and a professor at University of California, Los Angeles, during an editors' meeting. Kerry-Anne Rye, co-editor-in-chief of the JLR and professor at the University of New South Wales in Sydney, Australia, said the idea resonated with the group. After that, the American Society for Biochemistry and Molecular Biology staff took the reins and turned the concept into reality.
In his editorial about the series, Young wrote that he hopes to "celebrate scientists and the images they create" in a format that is also "effective in communicating discoveries of lipid research."
So far, the Images in Lipid Research series has been popular with authors. Rye said submissions took off right from the start.
"The series may resonate so strongly with authors because many of them have wonderful pictures that end up not being a good fit in the final manuscript," Rye said. The series "provides a forum for these pictures to be shared with a community of like-minded, interested colleagues."
The published images are citable, which also may appeal to authors. With their compressed format, the articles give authors the opportunity to make a single point clearly and concisely.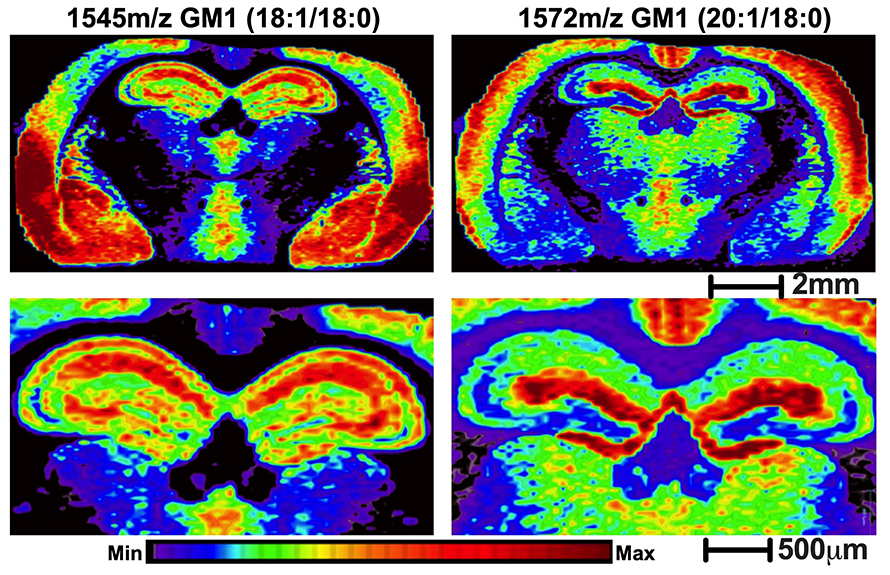 Ramon Sun/JLR
In his "Images in Lipid Research" paper, researcher Ramon Sun included these MALDI-mass spectrometry images of gangliosides in a wild-type mouse brain, which show distinctive distribution of two very similar ganglioside species in different regions of the brain.
Ramon Sun, an assistant professor in the department of neuroscience at the University of Kentucky, decided to submit to the series to highlight one of the many images he's been able to collect using an advanced mass spectrometry technique. With his image of differential ganglioside localization patterns in the brain, he hoped both to highlight the technique his group used and to tell a short story that spatial differences should be taken into consideration during interrogation of lipid metabolism.
"Images can convey an otherwise complex paradigm in a simple and easy to understand format," Sun said.
In addition to highlighting new lipid research with the series, the editors hope to generate interest within a broader audience. The JLR is sharing most of the images through social media outlets such as Facebook and Twitter as well as publishing them in the journal.
Rye said the editors hope that a visually appealing image with a simple, targeted message will catch the attention of a broad scientific audience beyond those who regularly read the JLR. The images and their stories might then prompt this new audience to read the JLR, thus expanding the footprint of the journal.
"Who knows? We may even end up helping some nonscientists recognize that science is fun and exciting and not limited to the domain of the stereotypical, white-coated and bespectacled test-tube holders of comic book fame," Rye said.
Check out the JLR's Images in Lipid Research page for more stunning images. If you're interested in submitting an image of your own, all the information can be found on the JLR website.
Enjoy reading ASBMB Today?
Become a member to receive the print edition monthly and the digital edition weekly.
Learn more
Get the latest from ASBMB Today
Enter your email address, and we'll send you a weekly email with recent articles, interviews and more.
Latest in Science
Science highlights or most popular articles