Journal News
From the journals: JBC
Molecular glue to prevent metastasis. Targeting activity to distinct organelles. A real-time single-cell metabolic reporter. Read about papers on these topics recently published in the Journal of Biological Chemistry.
Molecular glue to prevent metastasis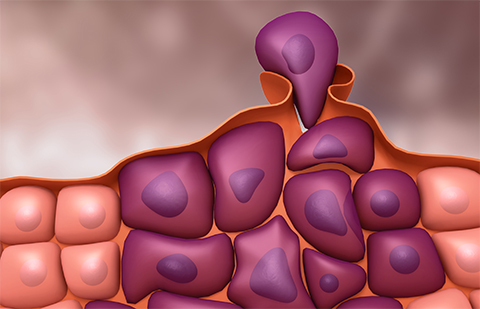 While treatments for gastric cancer have improved significantly, this cancer remains among those with the highest rates of morbidity and mortality. A key reason for poor survival is metastasis, facilitated in part by epithelial-to-mesenchymal transition, or EMT, of cancer cells, which allows them to lose their adhesion to other cells and migrate, invading other parts of the body.
One drug that has shown promise in treating this cancer is the aryl sulfonamide indisulam, which promotes degradation of the RNA-binding protein RBM39 by acting as a molecular glue to enhance its binding to ubiquitin ligase receptor DCAF15 and inhibit cancer cell proliferation; however, scientists do not yet know whether indisulam has any effect on cancer cell migration.
Jiaqi Lu and colleagues at Soochow University in Jiangsu, China, recently demonstrated that indisulam treatment decreased expression of the EMT marker N-cadherin. They describe this work in an article in the Journal of Biological Chemistry. Using bioinformatics and biochemical approaches, they also found that indisulam promoted the interaction of N-cadherin's transcription factor ZEB1 with DCAF15, thereby preventing the expression of N-cadherin. Cell-based experiments and analysis of patient samples indicated that high ZEB1 expression correlated with reduced survival, and the authors showed that treatment of gastric tumor samples with indisulam significantly reduced ZEB1 levels.
These findings suggest that indisulam could prevent migration of gastric cancer cells and that its function as a molecular glue regulates at least two cancer processes, proliferation and metastasis, through two distinct signaling molecules.
Targeting activity to distinct organelles
The small guanine triphosphate hydrolase, or GTPase, Rab7 can act as a molecular on/off switch controlled by the guanine nucleotide exchange factor Mon1-Ccz1 complex, or MC1. Rab7 activation by MC1 is a key step when small membrane-bound organelles, namely endosomes and autophagosomes, fuse with the lysosome to recycle their cargo. However, scientists do not know how MC1 activity is targeted to distinct cellular compartments such as endosomes.
In a recent study in the Journal of Biological Chemistry, Eric Herrmann and colleagues at the Universities of Münster and Osnabrück in Germany showed that MC1 is recruited collectively to endosomes by interaction with negatively charged membranes as a result of phosphatidyl phosphate or membranes that have defects in lipid packing caused by inclusion of unsaturated phospholipids and also by interaction with recruiter proteins, including endosomal marker proteins Vps21 and Ypt10. The authors also found that the amphipathic helix in the MC1 complex that recognizes lipid-packing defects is conserved in a thermophilic fungus and in yeast and may represent a novel sensor in other species.
These findings identify specific features of both proteins and lipids that target MC1 to endosomes and autophagosomes and may be adapted to recognize the molecular basis for targeting to other cellular compartments and activation in different functional contexts.
A real-time single-cell metabolic reporter
Hypoxia-inducible factor 1-alpha, or HIF-1α, is a transcription factor that, in addition to mediating a cell's response to lack of oxygen, is known to regulate metabolic changes in immune cells. HIF-1α is activated in response to bacterial infection in cancer and in cardiovascular disease. However, despite the relevance of single-cell dynamics in metabolic control, researchers know little about the single-cell dynamics of HIF-1α, in part because they lack real-time reporter systems.
In their recent paper published in the Journal of Biological Chemistry, Stevan Jeknić and colleagues at Stanford University describe how they optimized a fluorescent reporter of HIF-1α activity that could be coupled with live-cell microscopy and showed that individual macrophage cells could vary HIF-1α activity in response to local inhibition of prolyl hydroxylase, or PHD, a metabolic flux marker. They also demonstrated that HIF-1α responses oscillate irregularly in response to interferon-gamma, which induces metabolic change. Using mathematical modeling, the authors found that high HIF-1α activity correlated with reduced flux through the carboxylic acid cycle and an increase in the NAD+/NADH ratio, suggesting a cell might sense PHD inhibition and activate HIF-1α to decrease aerobic respiration.
This study not only reports a new tool that can be used to examine single-cell HIF-1α activity in real time but also cuts through the signal noise of cell populations to show that activation of HIF-1α could theoretically encode metabolic information in individual cells.
Enjoy reading ASBMB Today?
Become a member to receive the print edition monthly and the digital edition weekly.
Learn more
Get the latest from ASBMB Today
Enter your email address, and we'll send you a weekly email with recent articles, interviews and more.
Latest in Science
Science highlights or most popular articles