News
Researchers unmask
a pancreatic cancer culprit
Autophagic degradation of MHCI spurs the immune evasion of pancreatic cancer cells
Over the past decade, oncologists have made great strides in using immunotherapy to treat solid cancerous tumors that were unresponsive to other therapeutic approaches. One approach has been the development of checkpoint blockade therapy, which uses neutralizing antibodies to target two immune-response inhibitory proteins, CTLA-4 and PD-1, that are localized on the outer surface of cytotoxic T immune cells. However, pancreatic cancer has not responded to this immune-based treatment.
While the complexity and diversity of the tumor microenvironment — which contains myeloid cells, tumor-associated macrophages and regulatory B cells — might contribute to the repression of cytotoxic T cells and cause immunotherapy to fail, another factor in immune evasion might be biochemical or molecular changes in pancreatic cancer cells.
A significant immune response is induced when T cells engage with antigens presented on the outer surface of a cancer cell that are bound to a major histocompatibility complex class I, or MHC class I, molecule.
A growing number of researchers have proposed that the lack, or failure, of MHC molecules to present tumor antigens may be to blame for immune evasion of cancer cells. These MHC molecules include a beta 2-microglobulin protein encoded by the B2M gene and a protein encoded by human leukocyte antigen, or HLA, genes. These molecules help different antigens become engaged with different MHCs by exhibiting variation in the MHC motifs that bind to antigens.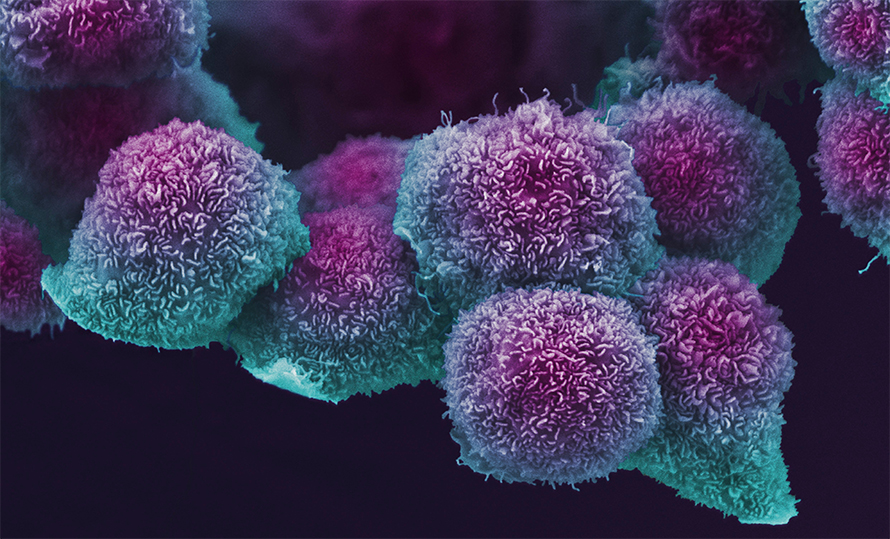 ANNE WESTON/FRANCIS CRICK INSTITUTE
This image shows pancreatic cancer cells grown in culture. Pancreatic cancer has a combined one-year relative survival rate of 20% and a combined five-year survival rate of 7%, according to the American Cancer Society.
Although the failure to present cancer antigens — and the resultant immune evasion of pancreatic cancer cells — can occur at the transcriptional level through alterations in the genes that encode proteins required for antigen presentation, such as B2M and HLA, these genetic variations are rare in pancreatic cancer, accounting for less than 1% of total cases reported. Nevertheless, attenuated abundance or complete depletion of MHC class I molecules occurs in the majority of pancreatic cancer cells, and this reduction in MHC levels may be exacerbated in metastatic tumors.
The mechanisms underlying the regulation of MHC class I molecules in pancreatic cancer have remained elusive. Recent work published in the journal Natureshowed that autophagy, the cellular degradation machinery found across eukaryotes, is the mechanism pancreatic cancer cells use to break down MHC class I molecules, halting antigen presentation at the cell surface.
In their paper, researchers at New York University's Perlmutter Cancer Center demonstrated that an autophagy-associated receptor, NBR1, mediates the engagement and subsequent targeting of MHC class I molecules by the autophagic degradation pathway. They also found that mitigating autophagy in mouse models of pancreatic cancer restored the expression of MHC class I molecules, which facilitated antigen presentation on cellular surfaces and enhanced recruitment of cytotoxic T cells to the tumor.
These insights might have direct therapeutic implications in pancreatic cancer, such as co-administration of the immunosuppressants chloroquine or hydroxychloroquine with the neutralizing antibodies.
RELATED ARTICLES
The odyssey of autophagy
In 2016, the Nobel Prize in physiology or medicine was awarded to Yoshinori Ohsumi for uncovering the mechanisms behind autophagy.
A legacy of tyrosine
Tony Hunter, a biochemist and former director of the Salk Institute Cancer Center, has begun to focus his research on pancreatic cancer and histidine kinases.
Join the ASBMB Today mailing list
Sign up to get updates on articles, interviews and events.
Latest in Science
Science highlights or most popular articles