Feature
A legacy of tyrosine
Tony Hunter, the Salk Institute biochemist who discovered this amino acid's phosphorylation, was scheduled to speak about his work at EB 2020
Tony Hunter hasn't had a clean shave in more than 40 years.
"On one of his trips to the Grand Canyon, he stopped shaving, and he hasn't shaved since," said Walter Eckhart, Hunter's former postdoctoral advisor and longtime colleague at the Salk Institute for Biological Studies. "Well, he's trimmed his beard."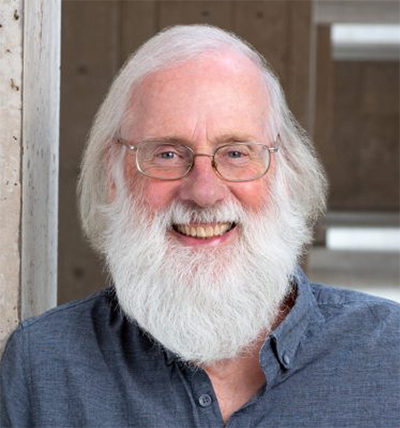 COURTESY OF TONY HUNTER
Tony Hunter, who discovered tyrosine phosphorylation in 1979, served
as the director of the Salk Institute Cancer Center from 2008 to 2016.
A member of the National Academy of Science since 1998, Hunter has received many awards and honors throughout his career, including the 2018 Tang Prize in biopharmaceutical science; he was scheduled to deliver the 2020 Tang Prize Award Lecture in April at Experimental Biology in San Diego before the meeting was cancelled due to the COVID-19 pandemic. His discovery that the activity of tyrosine kinases drives the growth of cancerous cells ultimately led to the development of tyrosine kinase inhibitors and the groundbreaking leukemia therapy Gleevec, as well as an entire subfield of biochemical regulation.
An English upbringing
Born in 1943, Anthony Rex Hunter grew up in the southeast of England near Canterbury. He attended the venerable Felsted School in Essex, which celebrated its 450th anniversary in 2007. During his time there, he gravitated toward biology and biochemistry, which he went on to study as an undergraduate at Christ's College at the University of Cambridge.
"We had a great set of teachers, including Nobel Prize winners like Fred Sanger and Max Perutz," Hunter said of his time at Christ's. "I didn't really know that I wanted to go into research as a career, but they were a major influence."
After Hunter graduated, he stayed at Cambridge and began graduate studies with the molecular biologist Asher Korner in the department of biochemistry, obtaining his Ph.D. in 1969.
After a brief fellowship at Christ's, Hunter followed his first wife, Philippa "Pippa" Marrack, whom he had met while they were both graduate students, to California for her postdoctoral fellowship at the University of California, San Diego.
"I tagged along and ended up with the Salk because her advisor, Alan Munro, had done a short sabbatical here to learn immunology, so he suggested that I come."
There, for the first time, he encountered tumor viruses — and an abundance of sunshine.
"I thought when I left to do my postdoc, that I'd be here two years, find out about California and then go back to Cambridge to the rest of my career, but it didn't work out that way," he said. "It was a huge culture shock, obviously."
After a brief return to Cambridge, Hunter settled at the Salk Institute in 1975. Four years later, he made his crucial discovery that unchecked tyrosine phosphorylation in cancerous cells was behind their aberrant growth.
Tyrosine and tumors
By Hunter's recollection, he and his colleagues stumbled on tyrosine phosphorylation through their work on the polyoma DNA tumor virus. In a 1979 paper in the journal Cell, they described their findings that phosphate in cell culture was associated with one of the three proteins the virus encodes to transform normal cells into tumor cells. They quickly followed it with another paper in the Proceedings of the National Academy of Sciences wherein they reported finding that v-SRC, the transforming protein of a second oncovirus, has kinase activity. According to Hunter, this provided an immediate hint that cells might also have tyrosine kinases.
"We found, in short order, that a Rous sarcoma virus encodes a similar tyrosine kinase activity," Hunter said. "And since that gene was derived from the cellular SRC gene by viral capture, we already knew that cells must have at least one enzyme with this type of activity. We realized that having two viruses using a similar mechanism could mean that it was a common mechanism of viral transformation, but we didn't know at the time it would be important in cancer in the way that we now know."
Not long afterward, a group led by Stanley Cohen at Vanderbilt University reported that the transmembrane epidermal growth receptor protein, or EGFR, was also a tyrosine kinase. This led Hunter to generate sequence alignments of the viral tyrosine kinase proteins, as well as protein kinases that phosphorylate serine and threonine, which revealed that the catalytic domain of tyrosine kinase has a series of conserved short sequence motifs that are essential for transferring phosphate.
He and various colleagues then used PCR amplification and degenerate oligonucleotide probes that recognize the short sequence motifs to identify new tyrosine and serine kinase genes. When those genes were combined with analysis of the human genome sequence, the researchers ultimately wound up discovering nearly 500 human kinases, about 90 of which are tyrosine kinases.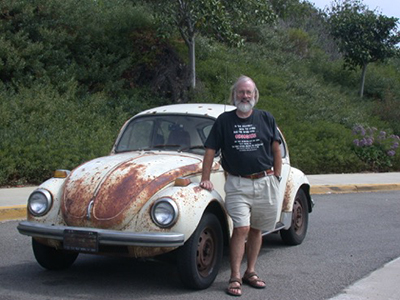 COURTESY OF TONY HUNTER
When Tony Hunter returned to La Jolla in 1975, he bought a Volkswagen
Beetle, which many Salk faculty members have borrowed over the years.
In 2003, the Beetle hit 240,000 miles, the equivalent of a one-way
trip to the moon.
According to Hunter, the first major hints that tyrosine phosphorylation played an important role in growth of cancer cells came when scientists at the National Cancer Institute and Erasmus University found that chronic myeloid leukemia, or CML, was caused by a chromosomal translocation between chromosomes 9 and 22 that fuses together the kinase-producing ABL gene with the BCR gene. They reported their findings in three papers that appeared in 1982 and 1983 in the journal Nature and in 1984 in the journal Cell.
"The fusion gene encodes a chimeric BCR-ABL protein that is constitutively activated as a tyrosine kinase," Hunter said. "Within a few years, several other tyrosine kinase genes were shown to be mutationally activated or overexpressed in human cancer."
Work by David Baltimore and by Owen Witte's group at the University of California at Los Angeles had laid the groundwork for the hypothesis that inhibiting the activity of the BCR-ABL kinase made by the gene fusion created by the Philadelphia translocation, which occurs in 95% of CML cases, would shut down cancerous CML cells. In the early 1990s, Brian Druker, a physician scientist at Oregon Health and Science University who had been working with CML patients, reached out to scientists led by Nicholas Lyndon at the Swiss pharmaceutical company Ciba-Geigy, which later became Novartis, who were developing tyrosine kinase–blocking compounds. After homing in on the kinase inhibitor STI-571, they found both that it caused a 92% to 98% decrease in the number of cells exhibiting the BCR-ABL fusion in human bone marrow cells predisposed to develop into leukemia cells and that it kept the cancerous cells from returning. Within short order, the drug, which was renamed imatinib and later marketed as Gleevec, entered human trials.
"It proved to be a very effective treatment for early-stage CML," Hunter said. "So much so that some of the patients who went on the drug experimentally in 1999 and 2000 when it was in trials are still on the drug 20 years later because it's well-tolerated and is keeping their disease in check."
Today, 40 tyrosine kinase inhibitors have been approved by the Food and Drug Administration as cancer therapies.
"And kinase inhibitors as a class are now up over 65," Hunter said. "That's pretty impressive, considering this all started only about 20 years ago in a huge effort in this area, and there are many, many more in clinical trials. I'm sure the number will continue to increase."
Knowledge and notes
While the Salk Institute was founded in 1960 as a place where scientists could devote themselves to research free of teaching obligations, mentoring remains a significant part of each Salk scientist's career.
Ruth Palmer, a biochemist at the University of Gothenburg in Sweden who was a postdoctoral fellow in Hunter's lab from 1996 to 2000, recalled the latitude Hunter gave his postdocs and his openness to their ownership of projects.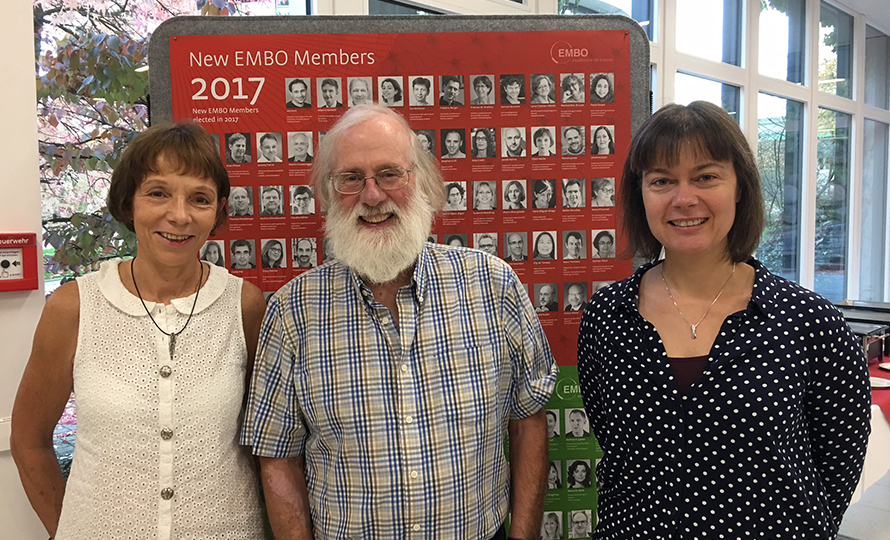 COURTESY OF RUTH PALMER
An avid traveler, Hunter attends many conferences each year. In 2017, he met up with his former postdoctoral researchers Clare Isacke (left) and Ruth Palmer (right) at the European Molecular Biology Organization's annual meeting, during which the two were inducted into the organization.
"He's very generous in terms of whatever you generate in his lab; he supports it and then you can take it with you completely," Palmer said. "For me, that was incredibly important. When I started my own lab after that, which I did here, I felt it was actually quite easy because I had already become very independent in his lab."
Jonathon Pines, now head of the Division of Cancer Biology at the Institute for Cancer Research in London, was a postdoc of Hunter's from 1988 to 1992.
"Tony was incredibly generous," Pines said. "When I arrived, there wasn't anybody working on the cell cycle in his lab, but he was he was interested in cell cycle regulation." During his doctoral work at Cambridge with Tim Hunt, who had worked alongside Hunter when they were both graduate students, Pines had cloned cyclin B, a protein critical for regulating mitosis in animal cells.
"So he just said, 'Why don't you go ahead and continue to work on the cell cycle,'" Pines said. "And within a very short period of time, he knew as much about the cycle as I did. He has this extraordinary capacity to absorb and remember information."
During his time in Hunter's lab, Pines cloned the first human cyclins, A and B1, and mapped their interactions with proteins involved in promoting cancer and regulating the cell cycle.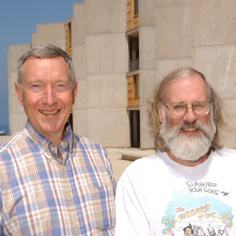 COURTESY OF WALTER ECKHART
Walter Eckhart and Tony Hunter, pictured here
in 2002, have been colleagues ever since
Eckhart served as Hunter's postdoctoral
advisor at the Salk Institute from
1971 to 1973.
"I learnt a huge amount from him in terms of how to design research that was productive, particularly how to interpret data," Pines said. "His encyclopedic knowledge of the literature meant that he's also able to make connections that might not be apparent to other people. He's always been able not only to master a particular subfield, but also make connections between fields."
According to Pines, and every other scientist interviewed for this feature, this knowledge takes a physical manifestation in decades of voluminous, detailed notes.
"Tony's notes are famous in the lab," Pines said. "He listens to every talk and writes everything down in pencil, because it's fireproof."
During Hunter's second stint at Cambridge as a postdoc, a fire that started on a Friday night destroyed the lab he was working in and burned much of the adjoining room where the scientist kept their notes. Despite being burned and blackened, however, Hunter's notebooks remained legible and salvageable.
"It turns out you can see pencil writing even if the pages are totally black because it's a slightly different color," Hunter said. Although investigators could not determine the origin of the fire, Hunter believes it was caused by ether, which is extremely flammable.
Moreover, according to Hunter's longtime colleague Eckhart, the bearded biochemist can recall his notes on a whim.
"We had a job candidate at the Salk last year, and it turns out that Tony remembered that this person's father had also been a job candidate some years before," Eckhart said. "So he took great pleasure in showing this guy the notes from his father's seminar."
Beyond the lab
During his time in southern California, Hunter has taken an adventurer's spirit to the western states, hiking in the deserts, camping on deserted beaches, off-roading on the Baja peninsula and rafting rivers with all manner of rapids.
"I've enjoyed all the outdoor activities that are possible in California that are not available so easily in Europe," he said. "I still enjoy doing some of those things, although physically they're not quite that easy to do anymore."
Since 1972, Hunter has gone on 35 rafting trips in 10 rivers in Idaho, Washington, Oregon, California, Utah and Arizona, with many early members of his lab tagging along at least once.
COURTESY OF TONY HUNTER
Top Left: Marble Falls Canyon, a launching point on the Colorado River north of the Grand Canyon, in 1981. Top Right: Lava Falls Rapid in 1987. Bottom: Hermit Rapid in 2010.
"We went down a river called the Selway, and Tony had one of those big inflatable rafts that take about six people," Pines said. "He navigated the class IV and V rapids with aplomb." (Rapids are graded on a scale of I, which are swimmable, to VI, which are off limits and can be life-threatening even to expert rafters.)
Many of Hunter's trips have been on the Colorado River, through the Grand Canyon.
"I think the ultimate trip is rafting through the Grand Canyon," Hunter said. "It's a 230-mile trip, and the maximum amount of time you can take, according to the permit, is 18 days. In the days before they instituted that limit, our longest trip was 28 days. I calculated that I have spent nearly six months at the bottom of the Grand Canyon over the years."
Pancreatic cancer and histidine horizons
Though his laboratory, along with all others at the institute, is closed during California's COVID-19 shelter-in-place order, Hunter continues to analyze what he can from home, and he hosts journal club meetings with Salk cancer researchers on Zoom every Friday morning.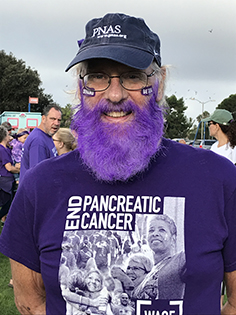 COURTESY OF TONY HUNTER
In October 2018, Hunter died his beard purple
for the Purple Stride San Diego walk, which
raises funds for the Pancreatic Cancer
Action Network.
Hunter and his wife, Jennifer Price, have two sons; the younger, James, born in 1996, recently graduated from Virginia Tech with a degree in mechanical engineering and their older son Sean, born in 1990, recently defended his thesis at Stanford University. His project was to engineer a fragment of the leukemia inhibitory factor receptor to act as a ligand trap for the LIF cytokine, which could then be used as a new therapeutic approach for pancreatic cancer, a topic Hunter has been pursuing in his own lab in recent years.
Hunter remains optimistic about the future of his research, which in recent years has begun to focus on both pancreatic cancer and histidine kinases.
"Right now, we think it's still a little unclear what histidine phosphorylation does," he said. "In some cases, it's an enzyme intermediate, but in the other cases, it has regulatory effects … like any new phosphorylation, you have to prioritize what to study, because it takes a lot of effort just to analyze one site. So we are trying to do that.
"I just got a seven-year outstanding investigator award from the NIH to study the role of histidine phosphorylation in cancer. So, I'll be busy for a while longer."
Author's note: Geoff Wahl and Ron Evans contributed information about Tony Hunter for this article.
Enjoy reading ASBMB Today?
Become a member to receive the print edition monthly and the digital edition weekly.
Learn more
Get the latest from ASBMB Today
Enter your email address, and we'll send you a weekly email with recent articles, interviews and more.
Latest in People
People highlights or most popular articles