Journal News
From the journals: JLR
A new toolkit for lipid biochemists. Using genomics to identify plasma lipid traits. Finding the sites that control lipid metabolism. Read about recent papers on these topics in the Journal of Lipid Research.

BOSSS: A new toolkit for lipid biochemists
Our intestinal microbiome is a complex system that influences our metabolism and is affected by extrinsic factors, including diet. For instance, breast-fed infants ingest human milk components, such as lipids, that provide nutrients for certain microbes in the gut, thereby influencing gut microbiome development. Lipids are ubiquitous, so determining their origin and fate is a major research challenge. The development of reporter lipids and click chemistry tools has helped researchers who seek to understand lipids' complexities.
In a recent commentary in the Journal of Lipid Research, David Ford of Saint Louis University School of Medicine writes about a novel integrated method developed by Elizabeth Johnson's laboratory at Cornell University known as BioOrthogonal-Sort-Sequence-Spectrometry, or BOSSS, and its application in lipid research. The technique uses a bioorthogonal click analog for the lipid sphinganine containing an alkyne. Johnson gave this compound to mice, whose gut microbiome metabolized the lipid, and the feces were collected. A fluorescent tag was used to distinguish the alkyne-modified sphinganine from the natural sphinganine in the feces.
Johnson found that the alkyne sphinganine differed from natural sphinganine by four hydrogen atoms. Her lab sorted the fluorescently tagged lipids by fluorescence-activated cell sorting, or FACS, then sequenced them to identify microbes. This technique can be used to examine the metabolism and uptake of various fatty acids and lipids in our diverse microbiome.
Ford suggests researchers also can apply the BOSSS platform to systems such as blood and lymph, thereby differentiating the origin of lipids in those systems. By creating amenable bioorthogonal clicks, they can combine the technology with RNA single-cell sequencing and multiomics to understand differences in cell populations and gain insights into the role of lipids in cell biology.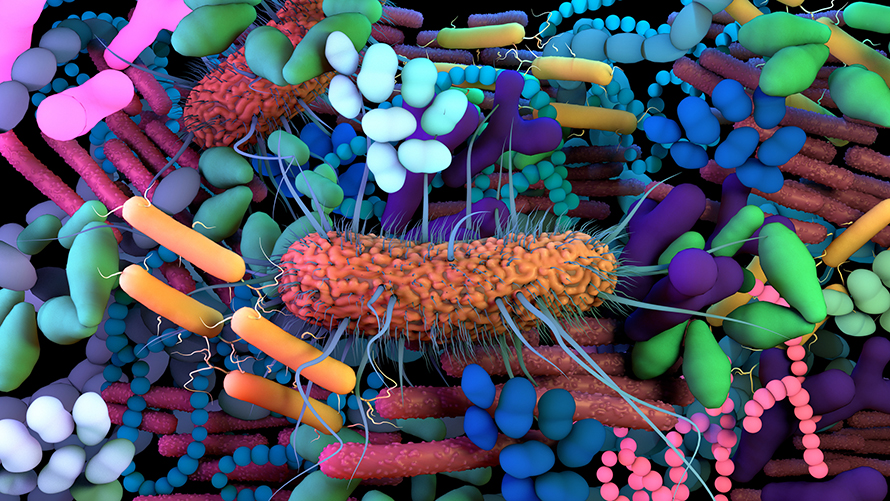 Genomics can ID plasma lipid traits
Lipids provide energy and essential materials to build membrane components for cellular functions. Genetic and environmental factors can influence lipid characteristics, so understanding the mechanism responsible for lipid regulation is essential. Lipid dysregulation also can play a role in cancer and Alzheimer's disease. Capturing functionally relevant genes and their pathways in lipid signaling cascades can provide insights into the lipid mechanism and its association to the disorders.
In a recent paper in the Journal of Lipid Research, Montgomery Blencowe and colleagues at the University of California, Los Angeles, describe an integrative genomics approach they used to identify important genes, pathways and gene subnetworks in tissues that contribute to four blood lipid traits: total cholesterol, high- and low-density lipoprotein cholesterol, and triglycerides. Lipid metabolism, protein catabolism and interferon signaling are among the shared pathways that are common among the four lipid traits. The researchers found that closely related lipid traits exhibit shared and distinct mechanisms. In analyzing the gene subnetwork, they noted that certain traits are associated with cancer and cardiovascular and Alzheimer's disease. Future work can validate the molecular processes and genes identified in this study in population genetic and epidemiological studies to ascertain whether these genes can serve as a novel target for lipid-associated disorders.

Finding sites that control lipid metabolism
Triglycerides are stored within lipid droplets, which are essential for energy metabolism. The triglycerides are broken down into fatty acids and glycerol via lipid droplet-associated proteins, such as perilipin, or PLIN. Researchers are interested in PLIN5 because it is expressed in various highly oxidative tissues and influences lipid metabolism in response to phosphorylation — a post-translational modification in which phosphate groups are added to the protein. Previous work has established that the phosphorylation of serine residues is enough to activate PLIN5-regulated lipid breakdown.
In a recent paper published in the Journal of Lipid Research, Stacey N. Keenan and colleagues at the University of Melbourne describe how they identified phosphorylation sites of serine residues in PLIN5 and determined which of these sites are functional using cultured cells and mice. Three phosphorylation sites in PLIN5 were identified: S155, S161 and S163. Out of these, S155 is a functionally important phosphorylation site for lipid metabolism, while the others did not show any effect on lipid breakdown in cultured cells. Using PLIN5 S155A mutants in mice, the researchers showed a reduction in triglyceride breakdown, suggesting a critical role for PLIN5 as a regulator for lipid metabolism. This work provides new information on the role of PLIN5 in controlling lipid metabolism.
Enjoy reading ASBMB Today?
Become a member to receive the print edition monthly and the digital edition weekly.
Learn more
Get the latest from ASBMB Today
Enter your email address, and we'll send you a weekly email with recent articles, interviews and more.
Latest in Science
Science highlights or most popular articles