Health Observance
Parkinson's Awareness Month
Parkinson's disease — which ravages the brain's dopamine-producing neurons — is a debilitating condition.
Loss of dopamine results in abnormal nerve-firing patterns within the brain, producing stark motor symptoms, including impaired movement, muscle stiffness, tremor and imbalance. It also affects cognition, speech and mood.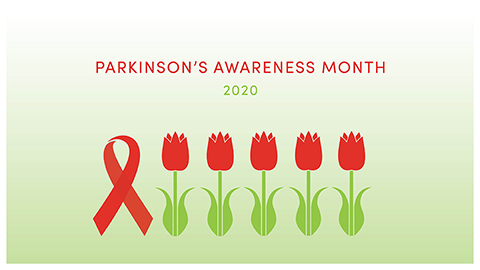 J.W.S. Van der Wereld, a Dutch horticulturist who had Parkinson's, in 1980 developed a red and white tulip that he named the Dr. James Parkinson tulip. The flower was adopted as a symbol of hope for patients of the disease and was declared the official symbol in 2005.
It is the second-most common progressive neurodegenerative disease, occurring in 1% of people over the age of 60 and in 5% of people over 85. There are no treatments to halt the progression of the disease or prevent its onset.
The past few decades of research, however, have contributed significantly to both the well-being of the affected and to our understanding of the disease's pathogenesis. Here, we offer a primer on Parkinson's disease and highlight research in ASBMB journals on the topic.
What is Parkinson's disease?
In 1817, English surgeon James Parkinson referred to the disease in his influential paper "The essay on the Shaking Palsy" as "paralysis agitans" ("shaking palsy"). He described the symptoms this way:
"Involuntary tremulous motion, with lessened muscular power, in parts not in action and even when supported; with a propensity to bend the trunk forward, and to pass from a walking to a running pace: the senses and intellects being uninjured."
In the late 1800s, Jean-Martin Charcot coined the term Parkinson's disease.
But meditations and writing on the disease existed as early as three millennia ago in the ancient Indian medical system Ayurveda and in 425 BCE in the Chinese medical text "Ru Men Shi Qin," which recommended an "antitremor pill" that to this day appears to provide reasonable symptomatic treatment for tremor and rigidity.
Care for patients began looking up in 1975 with the commercial advent of levodopa, a dopamine precursor discovered in 1960 by Oleh Hornykiewicz that, unlike dopamine, can cross the blood–brain barrier. There, it is converted into dopamine that halts tremors and restores motion to patients.
Deep brain stimulation also has the power to transform lives. The procedure, in which electrodes are implanted deep into the brain to send electrical activity to areas responsible for movement, was approved to treat Parkinson's tremors in 1997, advanced disease in 2002 and early-stage disease in 2016.
Pathogenesis of Parkinson's
Two forms of the disease have been identified: sporadic, which affects 95% of all patients, and familial, which affects the rest. Early-onset cases are often familial. Conversely, sporadic cases usually begin in the sixth or seventh decade of life and progresses over a period of 10 to 20 years.
Through continuous research and study, it has been found that both mitochondrial dysfunction and α-synuclein pathology affect neuron resilience in PD neurodegeneration.
α-synuclein is a presynaptic neuronal protein that is linked both genetically and pathologically to PD pathogenesis. The protein is widely expressed in the nervous system and comprises 1% of the cytosolic proteins.
The gene that produces α-synuclein was identified as causative in a large Italian cohort and some Greek familial cases. It has also been determined that the PD-affected brain cells contain Lewy bodies — aggregates of α-synuclein.
Environmental factors also have been implicated in the pathogenesis of the disease.
Research in ASBMB journals
OTUB1 in PD pathology: Researchers at India's Regional Centre for Biotechnology recently showed in the Journal of Biological Chemistry that OTU deubiquitinase ubiquitin aldehyde binding 1 (OTUB1), a deubiquitinating enzyme of the OTU family, is enriched together with α-synuclein in Lewy bodies from individuals with PD. OTUB1 may contribute to LB pathology via amyloidogenic properties.
Cysteine cathepsin in PD: In another study in JBC, researchers at the National Institutes of Health found that truncations of the C-terminals of α-synuclein in Lewy bodies are linked to the activities of cysteine cathepsins that promote amyloid formation and contribute to PD pathogenesis.
Protein homeostasis in PINK1 and PD: In an article published in the journal Molecular & Cellular Proteomics in October, researchers at the University of Chinese Academy of Sciences in Beijing found that proteostasis, mitochondrial health and critical signals all declined in Drosophila prior to the onset of aging and aging-associated diseases. They reported that protein synthesis decline was accelerated in PINK1 mutants, a Drosophila model of PD.
Lipid rafts and PD: Lipid rafts have been found to organize and determine the function of multiprotein complexes involved in signal transduction that, in turn, regulate brain homeostasis. In a paper in the Journal of Lipid Research in December, researchers at the University of Milan found a link between PD pathogenesis and altered composition of lipid rafts.
α-synuclein species and therapeutic strategy: In a study in JBC in May, researchers at the University of Alabama's Center for Neurodegeneration and Experimental Therapeutics found that b- sheet oligomers of α-synuclein cause significant loss of dopaminergic neurons in the striatum of mice brains. These findings might help identify therapeutic strategies to reduce formation of β-sheet fibrillar forms.
Join the ASBMB Today mailing list
Sign up to get updates on articles, interviews and events.
Latest in Science
Science highlights or most popular articles