Journal News
Multiomics meets antimalarials
Among the species of the plasmodium parasite that cause malaria, P. falciparum is far and away the deadliest to humans, causing 405,000 deaths in 2018 alone. While public health workers have relied on three classes of drugs — quinines, artemisinins and antifolates — to treat the mosquito-borne parasitic infection for decades, the organism inevitably becomes resistant, leaving compounds such as chloroquine ineffective across swaths of sub-Saharan Africa, where 94% of cases occur.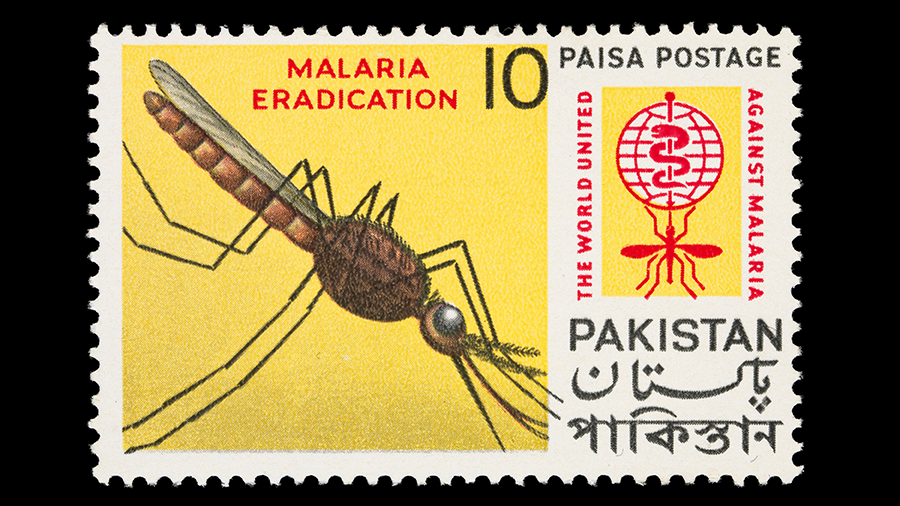 WELLCOME COLLECTION
In 1962, postal administrators issued and donated tens of thousands of stamps to the World Health Organization to be sold to collectors to raise funds for the WHO's Global Malaria Eradication Programme, begun in 1955.
Newer drugs, including mefloquine and dihydroartemisinin, have been deployed, and recently discovered compounds are being evaluated in drug screens and in animal models. Researchers at Darren Creek's lab at the Monash Institute of Pharmaceutical Sciences in Melbourne, Australia, recently used a multiomics approach that combined the strengths of proteomics, peptidomics and metabolomics with biochemical assays to evaluate how a promising new antimalaria drug candidate, JPC-3210, acts against the parasite. They published their results, which include a biochemical fingerprint of how JPC-3210 and other common antimalarials affect P. falciparum, in the journal Molecular & Cellular Proteomics.
The study was performed with collaborators from the Australian Defence Force Malaria and Infectious Disease Institute, who have been working with compounds from the Jacobus Pharmaceutical Company in Princeton, New Jersey, including JPC-3210, for over a decade. The compound was selected as a lead drug candidate in 2016.
According to Ghizal Siddiqui, a postdoctoral researcher in Creek's lab who began working with plasmodium as a graduate student, JPC-3210 kills plasmodium parasites by interfering with their ability to digest the hemoglobin in blood, which is an essential process for the organisms.
"Most compounds that we have that are antimalarials target this particular pathway, and this is because without this pathway, the parasite would effectively die," she said.
However, as with all antimalarials, even the well-studied chloroquine, researchers don't fully understand the mechanics behind this activity.
"We're still not sure exactly what JPC is doing," Siddiqui said. "We know that it's having all these effects, but we don't know exactly, still, what is the precise target."
The multiomics analyses performed by Siddiqui and colleagues showed that JPC-3210 kills the parasite in a manner unlike many antimalarials now in use, including chloroquine. However, Siddiqui said, the biochemical fingerprint for JPC-3210 is similar to that of mefloquine and dihydroartemisinin.
"It's probably not hitting the same target," she said. "But it has a very similar fingerprint profile to those two drugs … and we believe it's because both of those drugs are so fast-acting and so potent, and so is this drug."
Healthcare workers will often coadminister drugs that act against parasites at different speeds.
"Usually they like to combine drugs with different mechanisms of action," Siddiqui said. Thus JPC-3210 could be combined with a drug that has a different mechanism or even with an existing combination therapy.
Siddiqui and her colleagues in Melbourne plan to do more multiomics evaluations of JPC-3210 and other antimalarial candidates to home in on their exact mechanisms of action. Meanwhile, their colleagues at the Medicines for Malaria Venture in Geneva, who licensed the compound from Jacobus in October 2019, are continuing to develop JPC-3210 in anticipation of human trials.
Enjoy reading ASBMB Today?
Become a member to receive the print edition monthly and the digital edition weekly.
Learn more
Get the latest from ASBMB Today
Enter your email address, and we'll send you a weekly email with recent articles, interviews and more.
Latest in Science
Science highlights or most popular articles