Journal News
From the journals: MCP
We offer a selection of papers recently published in the journal Molecular & Cellular Proteomics. Read about capturing a peptide link between migraines and opioid-induced sensitivity, profiling autologous body fluid exosomes, and finding the RSK in melanoma protein interactions.
PACAPturing a link between chronic migraines
and opioid-induced sensitivity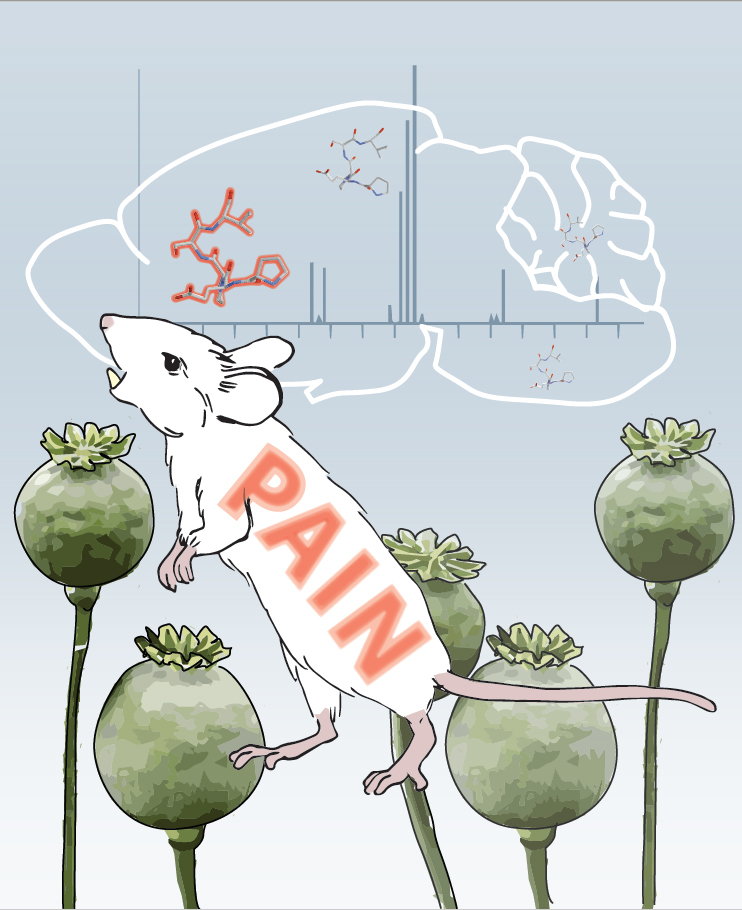 Dorothy Loudermilk/UIUC School of Chemical Sciences Graphic Services
Mouse models were used to examine changes in brain peptides associated with opioid-induced hyperalgesia and chronic migraines. A large-scale liquid chromatography-mass spectrometry screen of several brain regions revealed PACAP as a peptide that could bridge the mechanistic gap between chronic opioid use and chronic migraines.
Hundreds of millions of people suffer from debilitating migraines, and opioid-based medications regularly are prescribed to manage migraine pain. These treatments are effective at first but can lead to the progression of migraines from occasional to chronic, and continued use can lead to addiction and dependence on opioids. Regular opioid use also can lead to a lower pain threshold and higher opioid tolerance, a condition known as opioid-induced hyperalgesia, or OIH.
Researchers lack a complete mechanistic understanding of OIH and the exacerbating impact it has on migraines, making the development of alternative treatments a challenge. Krishna Anapindi and colleagues at the University of Illinois at Urbana-Champaign and the University of Illinois at Chicago studied neurological proteins to find mechanistic links between chronic migraines and OIH. The results of this study were published in the journal Molecular & Cellular Proteomics.
The team used liquid chromatography-mass spectrometry to identify and measure neuropeptide dysregulation similarities between the brains of mice engineered to have OIH and those engineered to have chronic migraines. Of the more than 1,500 neuropeptides they studied, the results showed 16 in common between the two disorders. Of those 16 peptides, pituitary adenylate cyclase-activating polypeptide, or PACAP, shows the most promise for further study, as it bridges the mechanistic gap between OIH and chronic migraines.
PACAP, when working properly, dilates blood vessels, but if the signaling values increase, this vasodilation could lead to both disorders. When the researchers blocked the PACAP receptor, PAC1, for both groups of mice, the blocked receptor prevented hyperalgesia in both models.
This is the first study to identify PACAP as an aggravator of OIH and chronic migraines and blocking PAC1 as a possible solution. The results will be useful for developing treatment options with less risk of addiction and dependence than that associated with opioid-based therapeutics.
Profiling autologous body fluid exosomes
The saying goes, it's what's on the inside that counts, but some studies require researchers to look at a cell's surroundings as well as its internal processes. In tissue, where cells are in close contact, exosomes — bioactive RNA and proteins encased in a fatty bilayer — are released into the body to communicate with other cells and mirror the function of the producer cells. Exosomes of varying tissue types look and behave differently, and these distinctions can be used as biomarkers for diseases. Fluids such as blood and semen are conduits for infection of many viruses, but little is known about the function and composition of their exosomes.
Hussein Kaddour and a team of researchers led by Chioma Okeoma at Stony Brook University were the first to compare the proteomes of autologous blood and semen exosomes from HIV-infected and non-HIV-infected individuals. Their findings were published in the journal Molecular & Cellular Proteomics. They identified discrepancies within and between exosome samples from blood and semen of infected and noninfected individuals using systematic multifactorial proteomic profiling detection methods. Proteins unique to blood or semen were identified along with the importance of their role in reproduction and HIV pathogenesis.
Finding the RSK in melanoma protein interactions
According to the Centers for Disease Control and Prevention, skin cancer is the most common form of cancer in the U.S., and of the various skin cancer types, melanoma is the most aggressive. Historically, deregulation of the Ras/mitogen-activated protein kinase, or MAPK, pathway has been known to result in cancer. The MAPK pathway activates a protein enzyme known as ribosomal s6 kinase, or RSK, a necessary component for growth and proliferation of melanoma. Little is known about behavior and cellular interactions in the relationship between RSK activity and melanoma progression.
Antoine Méant and colleagues at the Université de Montréal studied the RSK interacting proteins and identified their important role in melanoma. The study was published in the journal Molecular & Cellular Proteomics. The research used a proximity-dependent biotinylation technique called BioID and mass spectrometry to identify RSK cellular partners and protein interactions. Of the identified proteins, p120-catenin, or p120ctn, is noteworthy, as it is essential to the cell adhesion characteristic of cancer formation. When RSK activity is inhibited, cellular adhesion is increased. The study also showed Ser320 as a novel active site of p120ctn for activity of the MAPK pathway. These results indicate that RSK might be used as a therapeutic target against cancer, and the work contributes to the overall understanding of RSK behavior.
Enjoy reading ASBMB Today?
Become a member to receive the print edition monthly and the digital edition weekly.
Learn more
Get the latest from ASBMB Today
Enter your email address, and we'll send you a weekly email with recent articles, interviews and more.
Latest in Science
Science highlights or most popular articles