Profile
A global champion of 'the big puzzle' — biochemistry
Alexandra Newton will be the third woman to serve as IUBMB president
After more than three decades as a biochemist, Alexandra Newton remains on a quest to figure out how molecules interact and work with each other. Specifically, she wants to understand the mechanisms of target molecules such as enzymes in maintaining human health and manifestation of disease.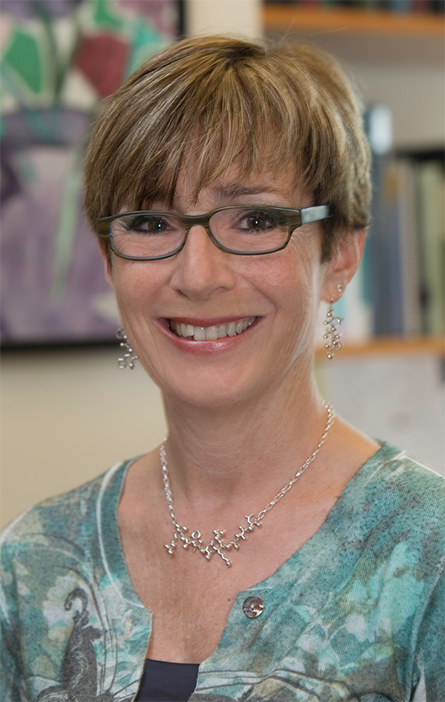 Courtesy of Alexandra Newton
Alexandra Newton, president-elect of the IUBMB, displays her love of science in the form of her favorite amino acid jewelry.
"For the development of effective therapies, in-depth understanding of the biochemical mechanisms is critical," she said. "Biochemistry is like a big puzzle, where you are finding and piecing together different pieces. A new piece might take you into new directions. It's like I'm the detective working toward solving a problem, considering all the clues available. There is never a dull moment."
Now a professor of pharmacology at the University of California, San Diego, Newton has lived on three continents and completed her education in seven countries. Her father was English, and her mother is from Cyprus. Born in Cape Town, South Africa, she grew up in Canada, Greece, France and other countries. She speaks Greek, English, French and German.
These factors, along with her dedication to biochemistry, helped Newton grow as a scientist and become a mentor to students across the globe. Now they will serve her as the third woman president of the International Union of Biochemistry and Molecular Biology. The union unites biochemists and molecular biologists in 79 countries, promoting research and education throughout the world. The American Society for Biochemistry and Molecular Biology is a member of the IUBMB, and Newton will be the first woman ASBMB member to lead the IUBMB.
Becoming a scientist
As a little girl, Newton was intensely curiosity about science. "I began experimenting very young," she said.
For her first experiment, instead of sending a baby molar to the tooth fairy, she measured the tooth's diameter before and after submerging it in soft drinks to determine the sodas' effect on dental decay. "My parents told me that soft drinks are not good for you, but I wanted to find out myself," she said. "So, I do not drink soft drinks."
During her undergraduate years at Simon Fraser University in Vancouver, Canada, her teachers nurtured her interest in biochemistry. When she was a grad student at Stanford University, membrane biochemistry sparked her interest. She did a postdoc in Daniel Koshland Jr.'s lab at the University of California, studying how lipids modulate the activity of protein kinase C, or PKC, an enzyme involved in metabolic regulation, immune signaling and cell proliferation. Her work has helped researchers understand the mechanism and regulation of PKC.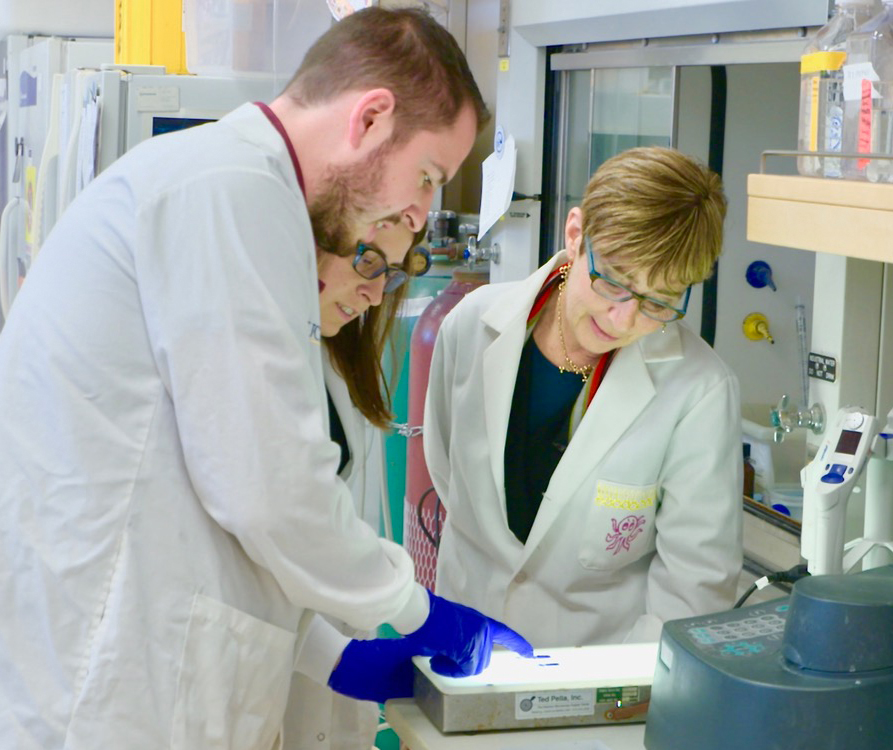 Courtesy of Alexandra Newton
Alexandra Newton in her lab at UC San Diego with graduate student Alex Jones and postdoc Gema Lordén.
As a distinguished professor of pharmacology at UC San Diego and co-director of the molecular pharmacology track in the biomedical sciences graduate program, Newton is an advocate for basic biochemistry research. She is also director of Cell Signaling San Diego, a new center that brings together local experts in the field. She continues to explore the molecular mechanisms of cell signaling and their deregulation in diseases, with emphasis on her favorite molecule, PKC, and the phosphatase PHLPP.
Newton's team reversed a 30-year paradigm when they reported their finding that PKC suppresses, rather than promotes, tumors. For decades, attempts to develop drugs that inhibit PKC as a part of cancer treatment had failed, she said. "Our study showed that we needed to develop anti-cancer drugs that would boost PKC activity."
Newton uses PKC as an example of the importance of understanding the biochemistry of a target before developing therapies. Her lab has found that PKC's activity is enhanced in neurodegenerative diseases: In Alzheimer's, a few atoms' difference in one isozyme of PKC increases its activity, which, in a mouse model, is enough to cause cognitive decline.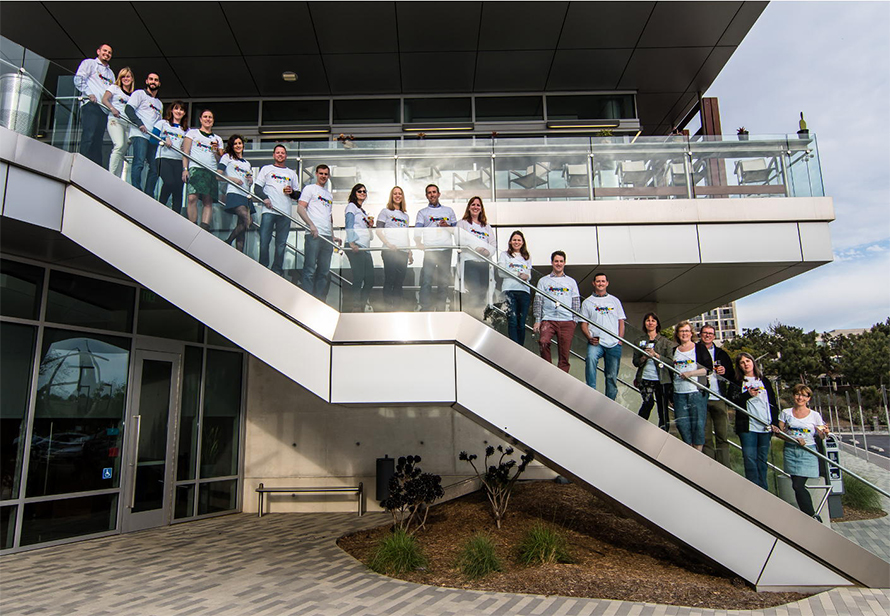 Tim Baffi
The Newton Lab at their 30-year lab reunion with Alexandra Newton at the bottom of the stairs and the grad students in chronological order, with the current ones at top of the stairs.
An international vision
Newton has been IUBMB's president-elect since July 2018; she will become president in July 2021, and past president in 2024 — a nine-year commitment. Her vision as president is to foster scientific alliances that are inclusive about geographical and gender diversity. The union already provides opportunities to scientists and students from developing countries in programs such as Promoting Research Opportunities for Latin American Biochemists, or PROLAB, a joint initiative with the ASBMB and the Pan-American Society for Biochemistry and Molecular Biology that brings Latin American scientists to work in North American labs.
The IUBMB executive committee has an equal number of men and women, and Newton views the organization as a model for gender diversity. "It is tricky for our virtual executive committee meetings at the moment, which span 18 time zones," she said, "but our leadership team has members from all over the world."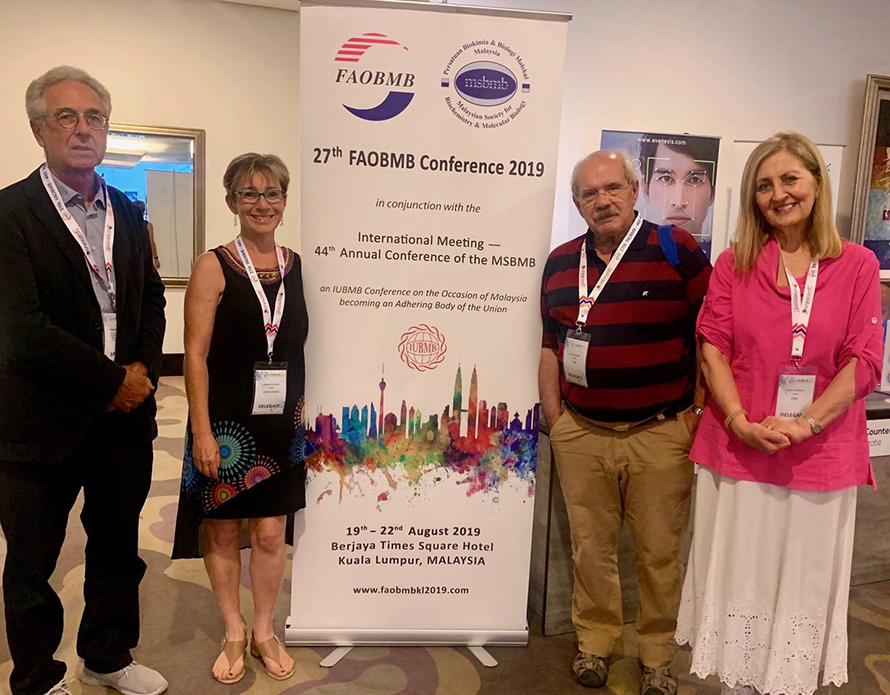 Courtesy of Alexandra Newton
Pictured at a 2019 conference in Kuala Lumpur are IUBMB executive committee members, left to right, Past-President Joan Guinovart, who is from Spain; Alexandra Newton; Treasurer Francesco Bonomi, from Italy; and Chair of Meetings Ilona Concha Grabinger, from Chile.
Representation of women in science has improved since Newton started as a graduate student; her Stanford class in chemistry included two women. Later, she was the only woman among 43 faculty members in the Indiana University chemistry department. She is proud that her department at UC San Diego has equal numbers of men and women researchers, but she realizes the difficulties women still face in the sciences, and she works to find solutions that will promote inclusion and diversity in the field.
"I always tell anyone who is starting a career in science, focus on the positives," she said. "Follow your passion and love what you are doing to overcome all the negatives."
Other challenges have been subsumed by the COVID-19 pandemic, but Newton believes now is the time for scientists worldwide to come together. She supports communicating science across boundaries in the form of virtual conferences and webinars, seeing the new necessity as an opportunity: "This pandemic has also allowed me to open my courses and lectures for students from different countries."
She noted that the IUBMB now offers virtual conference fellowships, allowing students from all over the world to attend meetings.
Newton is unfazed at holding a world leadership role.
"I see a silver lining for the unusual year of 2020," she said. "This pandemic has brought together scientists around the globe. Physical boundaries did not stop scientists from trying to work together. Virtual conferences have not only helped provide access to a larger community but also bought out the innovative ways to communicate science."
Enjoy reading ASBMB Today?
Become a member to receive the print edition monthly and the digital edition weekly.
Learn more
Get the latest from ASBMB Today
Enter your email address, and we'll send you a weekly email with recent articles, interviews and more.
Latest in People
People highlights or most popular articles