Art
Advocacy for Black women's well-being blends science and art
With the goal of helping to provide accessible health care for Black women, Shannon Bono initially considered a career in medicine as an OB/GYN. A "lack of exposure to black female artists and family pressures" led her to pursue an undergraduate degree in biochemistry rather than art, she said.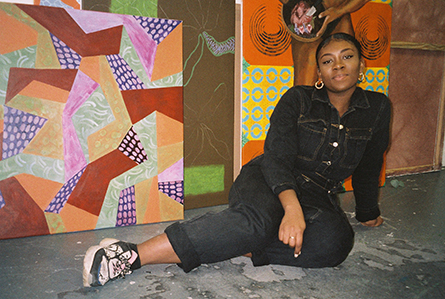 Courtesy of Shannon Bono
Shannon Bono, a London-based artist, began her studies as a biochemistry student
and earned a master's degree in arts and sciences at Central Saint Martin's
University of Art and Design.
During her undergraduate years, Bono determined that the best way for her to combine science with advocacy for the Black female body was through her art. Since her education always had included both the arts and the sciences, she seamlessly merged these two passions and completed a master's degree in arts and sciences at Central Saint Martin's University of Art and Design in London.
Although she decided not to study medicine, Bono maintained a strong interest in cell biology, microbiology and anatomy, and she uses this imagery "to metaphorically and sometimes literally depict what is occurring internally to the central figures" in her works, she said. Bono's parents are from Sierra Leone and the Democratic Republic of the Congo, so she also uses colors and designs from African fabrics and female figures from African artifacts in her works to pay homage to her origins. Completing ethnographic and archival research for her artwork, she said, "has increased my intrigue with African spiritualities and my own family history."
Now a visual artist and associate lecturer at the University of the Arts London, Bono views it as her mission to educate others on the issues and successes of minority individuals, with a focus on exploring the totality of Black womanhood.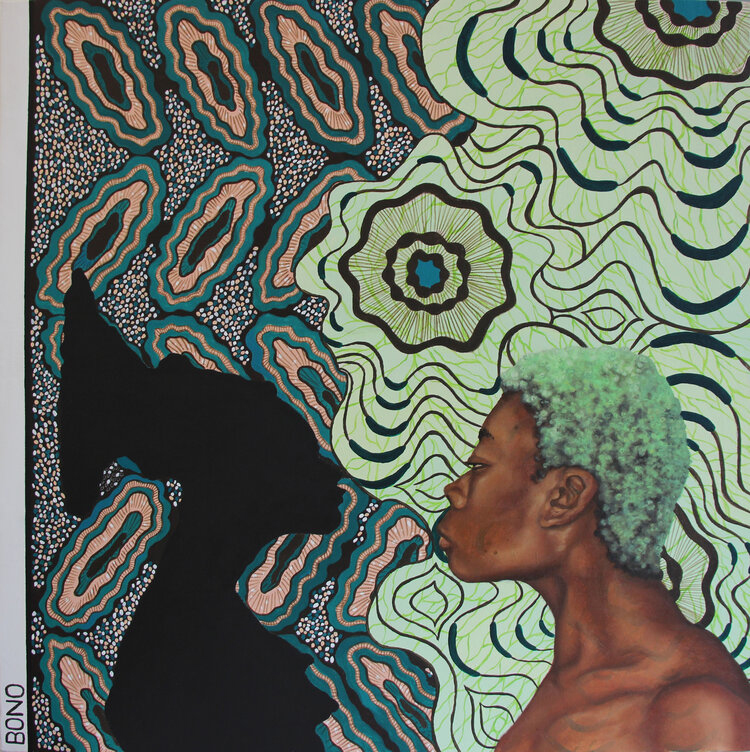 Courtesy of Shannon Bono
Shannon Bono celebrates her African heritage with images of African artifacts in pieces such as this one, "Untitled (Mangbetu)."
She also would like to change perceptions about art. When Bono was a master's student, she said, she looked around her art history class and noted, "There isn't much diversity." She now wishes to "help decolonize the curriculum" to ensure that all artists are represented and that nonwhite culture is appreciated. Her interest in this area is fueled by examples of Black women in history, such as Sarah Baartman, a South African Khoikhoi woman who faced brutal objectification in 19th-century Europe due to her distinct body features.
The recent Black Lives Matter worldwide protests, issues affecting transgender women in the U.S. and U.K., and the disproportionate effect that the COVID-19 pandemic has had on minority people have been the focus of Bono's 2020 series titled "Lock Down." One example is her "Say their names" piece, which pays homage to six minority women, including Breonna Taylor, who were victims of racial injustice.
In what she describes as "attempts to decolonize the curriculum," Bono started her academic teaching practice in 2020. She recently completed a residency as a painting tutor at The Koppel Project Campus, a nonprofit providing communal studio and event spaces in central London. She also is completing a postgraduate certificate in academic practice with a focus in art, design and communication. She has been part of numerous group exhibitions, and her art has been featured in several publications.
Bono says the most rewarding part of her work is the "therapeutic de-stress" of painting and the creative process. Specifically, she enjoys spending time in her studio and trying new techniques for future artwork.
See more of Shannon Bono's work on her website, bono-art.com, and on Instagram @bonoart.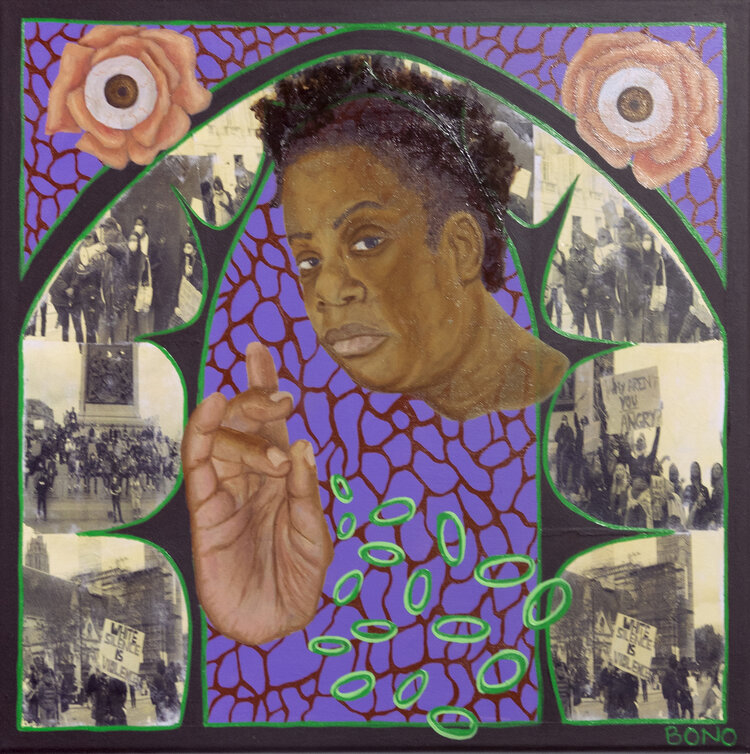 Courtesy of Shannon Bono
Shannon Bono combines images from biology and news photos in this work titled "Na yu wan grain mi get!"
Enjoy reading ASBMB Today?
Become a member to receive the print edition monthly and the digital edition weekly.
Learn more
Get the latest from ASBMB Today
Enter your email address, and we'll send you a weekly email with recent articles, interviews and more.
Latest in People
People highlights or most popular articles