Annual Meeting
Becoming an active citizen and scientist
JLR Junior Associate Editor Ray Blind discusses his life in science
One thing becomes apparent quickly when talking to Ray Blind, an assistant professor of medicine, biochemistry and pharmacology at Vanderbilt University and Journal of Lipid Research junior associate editor: He doesn't isolate himself in an ivory tower.
Since he was a grad student at New York University, Blind has reached out to students of all ages and abilities who need a mentor or a teacher, especially those who otherwise might be unable to forge their way into science. He tutored learning-disabled undergraduates, mentored high schoolers and taught evening classes at Berkeley. During his postdoc at the University of California, San Francisco, he worked as a National Institutes of Health institutional research and academic career development, or IRACDA, fellow, teaching at a local college and sharing his insights about higher education. He also took time out of his postdoc work to teach at an understaffed medical school in Tanzania.
The Journal of Lipid Research junior associate editors will present their work at the 2021 annual meeting, 2:15–3:30 p.m., Thursday, April 29.
Find out about registering for the annual meeting here.
"The students who didn't go to private schools, the ones who had to work through college and maybe didn't have all the privileges other students had, I wanted to do whatever I could to help people like that," he said.
Blind sees himself in those students; his mother emigrated from Paraguay as a teenager after working outside her home since age 9, and his father built machine parts for General Motors. Both were curious, adventurous problem solvers, important traits for the parents of a future scientist, but they were not part of the elite academic world, so Blind had to make his own way.
He initially thought he'd pursue a teaching career at a smaller liberal arts college but soon realized he wanted to do more research, and he has flourished since starting his lab. He hasn't forgotten his mission of service, though; he is working to establish an IRACDA teaching postdoc program at Vanderbilt.
Blind's mentor at the JLR, George Carman, describes him as an "outstanding young scientist" as well as a "good citizen to the lipid community." Judging from Blind's career of service, he appears to be a good citizen of the wider science community as well.
The many facets of nonmembrane lipids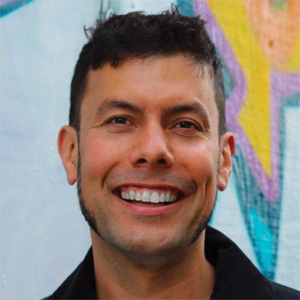 Ray BlindRay Blind's lab studies aspects of what nonmembrane phosphoinositide lipids can do in the cell and how they do those things. In particular, the lab is interested in these lipids acting as signaling molecules in the nucleus.
One main arm (among many) of this work takes structural biology approaches, elucidating the structures of lipid-binding nuclear receptors as well as the nuclear lipid signaling enzyme inositol polyphosphate multikinase, or IPMK. This work suggested potential roles for the disordered domains in IPMK that previously had been somewhat mysterious to scientists.
Another branch of the lab's work is looking at the potential role lipid signaling enzymes like IPMK and PTEN have in chromatin remodeling and gene expression. They investigate genomewide binding of these molecules to understand how these proteins, traditionally thought to act only on membrane-bound lipids, may be regulating chromatin and transcription directly.
Enjoy reading ASBMB Today?
Become a member to receive the print edition monthly and the digital edition weekly.
Learn more
Get the latest from ASBMB Today
Enter your email address, and we'll send you a weekly email with recent articles, interviews and more.
Latest in People
People highlights or most popular articles