Interview
Meet Saddiq Zahari
The MCP editor of manuscript integrity ensures every paper complies with essential guidelines
There's no denying that proteomics is a data-heavy field. Each study generates large data sets that enter public repositories and can be used as the foundation of future independent research. Over the last three years, Saddiq Zahari has helped shepherd more than 1,300 papers in the journal Molecular & Cellular Proteomics through the guidelines for proteomic identification, glycomics, clinical proteomics and targeted proteomics.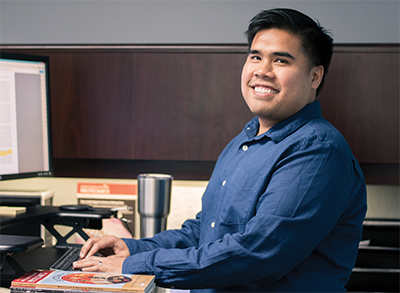 Saddiq Zahari in his office at the American Society for Biochemistry and Molecular Biology. After completing his bachelor's degree at the University of Nottingham and while applying to graduate programs, Zahari worked as a barista in Kuala Lumpur, where he was raised and has many family members.
Emily Huff/ASBMB
MCP is published by the American Society for Biochemistry and Molecular Biology, along with the Journal of Biological Chemistry and the Journal of Lipid Research. Since the journal was founded in 2002, its mission has been to foster the development and applications of proteomics in both basic and translational research.
Zahari earned his bachelor's degree in biotechnology from the University of Nottingham in 2008, followed by his master's degree in biotechnology from Columbia University in 2010 and his Ph.D. in biological chemistry from Johns Hopkins University in 2015. He did his postdoctoral work in the lab of MCP editor-in-chief Al Burlingame at the University of California, San Francisco, while simultaneously working as the manager for compliance at MCP. He began working at the ASBMB's offices in Rockville, Maryland last winter.
Zahari spoke to ASBMB Today's science writer, John Arnst, about his work at MCP. The interview has been edited for length and clarity.
How did you become involved with MCP?
When I was about to finish my Ph.D., I knew that I did not want to do bench work for the rest of my life. I had published 10 papers, seven as first author, but I realized that academia wasn't for me, so I decided to explore other options in writing and editing. I saw that MCP, where I'd enjoyed publishing as a graduate student, was looking for someone to become the manager for compliance, who would make sure all the manuscripts comply to their guidelines.
At the time, the people at the ASBMB office in Rockville wanted me to be there, but Al and Robert Chalkley, our data management editor, wanted me to be with them in San Francisco at UCSF so I could learn more about the technical aspects of compliance. So I moved and joined Al's lab as a postdoc.
I was there for two years, and I learned a lot from Al and Robert about doing compliance checks and also how you evaluate all the data and how to make sure the manuscripts comply with MCP's guidelines.
What are the current guidelines and how long have they been in place?
Back in 2004, the editors got together with leaders in the field and came out with the first set of guidelines for the journal, the Paris guidelines. This was necessary because of the large data sets that proteomics studies entail.
Those guidelines ask authors to supply all the relevant information about how data analysis was performed, so that reviewers, and then readers, can assess the reliability and quality of the data and also so that, later on, people can reuse and reanalyze the data, which is available in public databases.
Over time, we added more guidelines. The second set were for clinical proteomics, which made sure that all data that came from humans and from human samples declared how many samples were used and what statistics were employed to analyze the data.
We then added the glycomics guidelines, which apply if you're looking at any glycan products. They ask for a clear definition of each glycan or glycoconjugate, how those relate to the biological question at hand and the details of how all of the findings were quantified.
Then just last year, we started the guidelines for targeted proteomics. This is a newer area in proteomics where instead of looking at everything in the sample, you just look at specific sets of proteins or peptides.
So we now have four sets of guidelines, and we're about to have a fifth one, which is currently being formulated, for data-independent acquisition, a newer way of analyzing and acquiring data for proteomics.
Talk about the work that you do as manager for compliance.
I think of myself as the gatekeeper. We get around 400 to 500 papers per year and I look at every paper. When a paper is submitted, I just do an initial quality control check to make sure that all the sections and relevant files are there. The guidelines come later.
If everything is there, then I forward the paper to the editors. If the editors decide to send the manuscript out to review, they'll send it to the reviewers, and it will also be sent back to me, so I'll be looking at the compliance in parallel with their review process. At that point, I make sure the manuscript conforms to all the guidelines that are relevant to it.
If the authors are missing items, such as database search parameters in the experimental procedures section or peptide and protein quantification in the results section or raw data in a publicly accessible repository, I note that, and it goes into the decision letter that the authors get, along with the scientific notes. When they resubmit the paper, they also need to address all the compliance issues that I've brought up.
My role is not to evaluate the quality; it's just making sure that all the compliance requirements have been met. I can delay a manuscript from being published, but I cannot decline a paper because they did not comply.
If the editors say, "OK, this paper can be published, but there are compliance issues," I will have to work with the authors until all those issues are resolved, and then it will get published.
After it's published, I look at the paper again to make sure that none of the details in the methods and results sections have been removed during copyediting. I would say every day I look at four or five papers, which is its own task, but I also need to go into the data that they've submitted with the manuscript as supplemental and the raw data that they've uploaded to public repositories.
Before I was hired, MCP didn't have someone doing compliance checking full time. It was one or two of our editors who were also doing their own research projects, had their own labs and were doing this in their free time. They needed someone who would streamline the process.
How have the guidelines affected the journal and the field as a whole?
The guidelines are especially important for raw data, because outside researchers later will use those as the groundwork for their own studies.
The data that are published in MCP are large-scale — the authors are not looking at two, three proteins; they're reporting thousands and thousands of protein identifications. We need to make sure that when people find these proteins in databases, they can be traced back to the paper, and people can look at the raw data and make sure that it is correct.
Some authors feel like the guidelines are a burden, some feel like they're important to comply with. I think compliance is important because it enables readers to make their own assessment about whether they believe the results that have been presented in the paper. It's my duty to make sure the data is there so that people can make those evaluations for themselves.
Enjoy reading ASBMB Today?
Become a member to receive the print edition monthly and the digital edition weekly.
Learn more
Get the latest from ASBMB Today
Enter your email address, and we'll send you a weekly email with recent articles, interviews and more.
Latest in People
People highlights or most popular articles