In Memoriam
In memoriam: Jean Wilson
Jean Wilson, a renowned endocrinologist and a member of the American Society for Biochemistry and Molecular Biology for more than 50 years, died June 13. He was 88.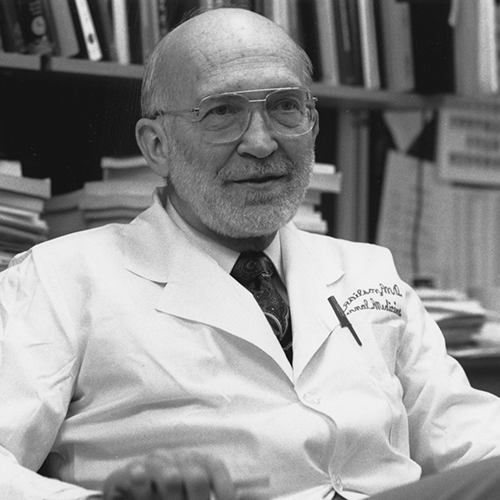 Jean Wilson
Wilson was born on Aug. 26, 1932. in Wellington, Texas. According to an obituary, his parents encouraged his interest in science by giving him a chemistry set when he was 11 and building a small laboratory in their backyard.
After graduating from the University of Texas at Austin with a bachelor's degree in chemistry in 1951, Wilson completed medical school and a residency in internal medicine at UT Southwestern. Starting in 1958, he conducted postdoctoral research for two years at the National Heart Institute under biochemist Sidney Udenfriend. In 1960, Wilson returned to UT Southwestern as a faculty member, where he continued his research for more than 60 years until retiring in 2011.
During his career, Wilson made seminal discoveries related to sexual differentiation. His research centered around male sex hormones called androgens. He discovered the enzyme 5-alpha-reductase, which converts testosterone into a hormone he identified as dihydrotestosterone. He went on to demonstrate that dihydrotestosterone is critical for male sexual maturation and function in many animals.
Wilson also discovered that unchecked dihydrotestosterone production can cause a condition of prostate enlargement called benign prostatic hyperplasia. His research contributed to development of the first treatments for prostate disease, a class of widely prescribed pharmaceuticals known as 5-alpha-reductase inhibitors. He also developed methods to quantify cholesterol in the body, contributing to our understanding of how cholesterol is made and degraded.
Among his many honors, Wilson was elected to the National Academy of Sciences of the U.S. in 1983 and to the National Academy of Medicine in 1994, and was a member of several professional societies. He received the Oppenheimer and Koch awards of the Endocrine Society, the Amory Prize of the American Academy of Arts and Sciences and the Kober Medal of the Association of American Physicians.
Wilson's legacy has been memorialized at UT Southwestern where he founded the medical student research program and was the first director of the medical scientist training program for M.D./Ph.D. students. The Jean D. Wilson Center for Biomedical Research and the J.D. and Maggie E. Wilson Distinguished Chair in Biomedical Research were established to promote endocrinology, developmental biology and genetics research with support from Wilson and his sister, the late Margaret Sitton. The Jean D. Wilson, M.D. Award was also created in his honor to recognize excellence in scientific research mentorship.
In addition to more than 340 scientific publications, Wilson authored and published an autobiography titled The Memoir of a Fortunate Man; he described growing up in the Texas panhandle, his scientific research and his many hobbies, including ice cream making, bird watching, and a passion for opera — his opera log notes that he attended more than 800 performances throughout his life.
Wilson is survived by his niece, nephew-in-law, and three great nephews and their spouses.
Enjoy reading ASBMB Today?
Become a member to receive the print edition monthly and the digital edition weekly.
Learn more
Get the latest from ASBMB Today
Enter your email address, and we'll send you a weekly email with recent articles, interviews and more.
Latest in People
People highlights or most popular articles