Member News
Academies announce new members
ASBMB members are among those recently named to the National Academy of Sciences and American Academy of Arts and Sciences
AAAS new members include seven from ASBMB
(Several names were omitted from this article about ASBMB members named to the AAAS. Read the corrected text here.)
The American Academy of Arts and Sciences announced recently that 276 artists, scholars, scientists, and leaders in the public, nonprofit and private sectors have been elected to the academy in the areas of mathematical and physical sciences, biological sciences, social and behavioral sciences, humanities and art, and public affairs, business and administration.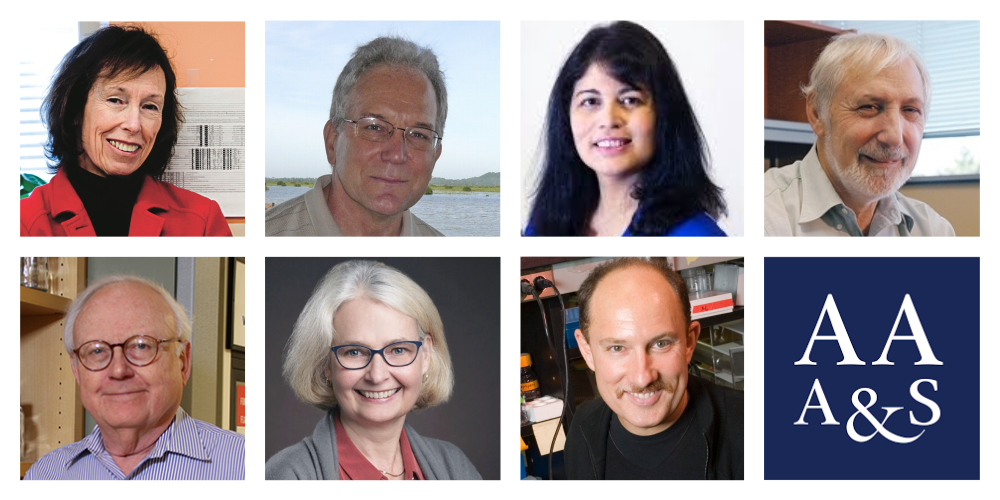 The ASBMB members recently named to the American Academy of Arts and Sciences are, top, from left, Susan Wallace, Thomas Wellems, Blossom Damania and George Stark; bottom, from left, Thoru Pederson, Trisha Davis and Joseph Heitman.
Among this year's new members in the biological sciences class are these seven members of the American Society for Biochemistry and Molecular Biology.
Microbiology and immunology section:
Blossom Damania is a professor of immunology and microbiology, molecular bases of disease and signal transduction at the University of North Carolina at Chapel Hill,] whose work focuses on understanding the molecular pathogenesis of oncogenic viruses, including Kaposi's sarcoma-associated herpesvirus.
Joseph Heitman is the James B. Duke professor and chair of the department of molecular genetics and microbiology at Duke University School of Medicine. His research focuses on sexual reproduction and evolution of pathogenic eukaryotic microorganisms, antimicrobial drug resistance via RNAi-dependent epimutation, and targets and mechanisms of action of natural products including the discovery of FKBP12 and TOR as targets of rapamycin.
Biochemistry, biophysics and molecular biology section:
George Stark is a distinguished scientist in the Cleveland Clinic Lerner Research Institute. His interests include interferons and cytokines, signal transduction, p53 and mammalian cell mutants.
Susan Wallace is a distinguished professor emerita of microbiology and molecular genetics at the University of Vermont. Her research interests include oxidative DNA damage and repair and the interaction between DNA damages and DNA polymerases.
Cellular and developmental biology section:
Trisha Davis is the Earl W. Davie/Zymogenetics professor and chair of biochemistry at the University of Washington. Her lab investigates mechanisms of chromosome dynamics, including chromosome capture and movement and microtubule nucleation and organization during mitosis.
Intersection:
Thomas Wellems is chief of the Laboratory of Malaria and Vector Research at the National Institute of Allergy and Infectious Diseases at the National Institutes of Health. He was nominated in the medical sciences section and the section of cellular and developmental biology. His research focuses include antimalarial drug response and protection conferred by human hemoglobinopathies and red cell polymorphisms.
Thoru Pederson is the Vitold Arnett professor of cell biology and a professor of biochemistry and molecular pharmacology at the University of Massachusetts Medical School. He was nominated in the biochemistry, biophysics and molecular biology section and the cellular and developmental biology section. His lab's research focuses on the functional significance of specific protein-RNA interactions in eukaryotic gene expression, with emphasis on RNA traffic and processing.
These newly elected AAAS members join with other experts to explore challenges facing society, identify solutions, and promote nonpartisan recommendations that advance the public good.
Seven ASBMB members elected to NAS
The National Academy of Sciences last week announced the election of 120 members and 26 international members. Seven of them are members of the American Society for Biochemistry and Molecular Biology.
The ASBMB members elected to the National Academy of Sciences are, top, from left, Janet Smith, Christopher Lima and Joan Conaway; bottom, from left, Ivet Bahar, Peter Tontonoz, Michael Rosen and Kim Orth.
Here's a little about each:
Ivet Bahar is a distinguished professor and the founding John K. Vries chair at the University of Pittsburgh School of Medicine's computational and systems biology department. Bahar developed widely used elastic network models for protein dynamics. She co-founded the computational biology Ph.D. program offered jointly by the University of Pittsburgh and Carnegie Mellon University. Just last year, Bahar won the Kadir Has Outstanding Achievement Award, which recognizes outstanding accomplishments Turkish scientists have made at the national and international level. Bahar is an elected member of the European Molecular Biology Organization.
Joan W. Conaway holds the Helen Nelson distinguished chair at the Stowers Institute for Medical Research in Kansas City, Mo. She studies the mechanisms of gene transcription, and her work helped define mechanisms that regulate initiation and elongation of mRNA transcripts by the enzyme RNA polymerase II. She shared ASBMB's Amgen award with her husband, Ron, in 1997 and that same year was named an associate investigator of the Howard Hughes Medical Institute, a position she held until 2001. She was elected in 2002 to the American Academy of Arts and Sciences. She has served as an associate editor for the ASBMB's Journal of Biological Chemistry and as a member of the ASBMB Council, finance committee and meetings committee. Today she is the society's treasurer.
Christopher D. Lima is a Howard Hughes Medical Institute investigator and holds the Alfred P. Sloan chair as member and chair of the structural biology program in the Sloan Kettering Institute of Memorial Sloan Kettering Cancer Center. He is also a professor at the Weill Cornell Graduate School of Medical Sciences. Lima's laboratory studies the mechanisms underlying RNA processing and post-translational modification by ubiquitin and ubiquitinlike proteins, such as SUMO. Lima was elected to the American Academy of Arts and Sciences in 2017.
Kim Orth is a Howard Hughes Medical Institute investigator and the Earl A. Forsythe chair in biomedical science at the University of Texas Southwestern Medical Center's molecular biology department. Orth works to elucidate the activity of bacterial virulence factors on the molecular level, providing insights into how bacteria cause disease and how eukaryotic host cells signal in response to infection. She has served on the ASBMB awards committee and is currently on the nominating committee. She won the ASBMB–Merck Award in 2018 and the ASBMB Young Investigator Award in 2012. Read an essay in the Journal of Biological Chemistry by Orth about her career.
Michael K. Rosen is a Howard Hughes Medical Institute investigator and chair of the University of Texas Southwestern Medical Center's biophysics department. Rosen's lab studies how the interior of the cell is organized and, in particular, membrane-independent compartmentalization. His group uses a range of techniques to investigate the assembly, composition, and function of biomolecular condensates. In February, he was recognized with the Wiley Prize in Biomedical Sciences. Read our 2015 feature on Rosen's career path.
Janet L. Smith is the Margaret J. Hunter collegiate professor at the University of Michigan Life Sciences Institute and professor of Biological Chemistry. Her lab uses X-ray crystallography to solve protein structures of natural product biosynthetic enzymes as well as viral and antiviral proteins. She is regarded as a key developer of the multi-wavelength anomalous diffraction (MAD) method and its single-wavelength counterpart (SAD) and is the scientific director of the GM/CA@APS beamlines for crystallography at the Argonne synchrotron. She was elected as a fellow of the American Association for the Advancement of Science in 2007 and won her university's Distinguished Faculty Lectureship Award in Biomedical Research in 2016.
Peter Tontonoz is the Frances and Albert Pianksy chair at the University of California, Los Angeles, pathology and laboratory medicine department. Tontonoz studies lipid metabolism and metabolic disease. He is a member of the editorial board for the ASBMB's Journal of Lipid Research. In 2017, he gave the Havel Lecture at the society's Deuel Conference on Lipids, and in 2019 he was a program co-chair for the conference.
Join the ASBMB Today mailing list
Sign up to get updates on articles, interviews and events.
Latest in People
People highlights or most popular articles