Interview
Meet Pierre Thibault
The associate editor for MCP discovered mass spectrometry's power while tracking a deadly toxin
Pierre Thibault at the University of Montreal's Institute for Research in Immunology and Cancer joined the ranks of associate editors at the journal Molecular & Cellular Proteomics in June. Thibault is a former senior research officer with the National Research Council of Canada's Institute of Marine Biosciences in Halifax and a founding director at Caprion Proteomics. His research interests include investigating post-translational modifications by mass spectrometry-based proteomics. Thibault spoke with John Arnst, ASBMB Today's science writer. The interview has been edited for clarity and length.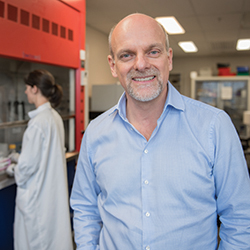 Pierre Thibault
PHOTO COURTESY OF PIERRE THIBAULT
What is your research group studying?
Our group is studying changes in the proteome in the context of cancer and immunology. We're interested in profiling changes in protein modifications involved in cell signaling and how these modifications affect protein function. We're also using mass spectrometry to uncover changes in what we call the immuno-peptidome of malignant cells to identify antigens that can be used for cancer immunotherapy. By profiling the repertoire of peptides presented by the major histocompatibility complex class I of lymphocytes from different patients, we can identify hundreds of minor antigens that share optimal features for immunotherapy and can be used in hematological cancers. We can use these minor antigens to prime allogeneic T cells against hematologic cancers without causing any side reactions to the patients.
What was your academic background and research training?
I'm a chemist by training, and I conducted my Ph.D. in bioanalytical mass spectrometry at the Université de Montréal. My Ph.D. with Michel Bertrand provided me with training in protein chemistry and what we call de novo peptide sequencing. My postdoctoral training with Bob Boyd at the National Research Council of Canada's Institute for Marine Biosciences in Halifax allowed me to extend these skills to develop new methods to analyze protein extracts. It was then that I became fascinated with protein modifications and the idea of using mass spectrometry to identify post-translational modifications and decipher how they regulate protein function.
What made you choose science as a career?
After I did my bachelor's in chemistry at Université de Montréal, I worked for close to two years as an occupational hygienist, visiting different companies and evaluating the risk and health hazards that were affecting workers. I was first exposed to mass spectrometry when we sent chemical adsorbent tubes to the lab after sampling the air in some of the sites we were visiting. It was then that I learned (about) the analytical merits of this tool and wanted to pursue research in bioanalytical mass spectrometry.
During my postdoc at the Institute for Marine Biosciences in Halifax, I had the opportunity to be part of a multidisciplinary team tasked to identify an unknown marine toxin found in mussels from Prince Edward Island. The mussels were loaded with domoic acid. (But) there was no clue that this was a toxin or that this ever had been found in mollusks before. Unfortunately, they were distributed to the market. Four people died and about 140 were admitted to intensive care after eating the contaminated mussels.
It was an intense effort that led to the rapid identification of the new toxin, for which no record of human illness or mortality ever had been reported until this incident. However, it took another three months before additional sampling and collecting efforts confirmed that contaminated mussels were loaded with the toxin-producing diatom Pseudo-nitzschia pungens that was blooming on the east coast of PEI at that time. This collective effort made me aware of the significance and impact of mass spectrometry and how it can be used to identify trace-level toxins from biological specimens.
What does it mean to you to be an associate editor?
I think it's a great honor. I'm certainly flattered to be asked to serve MCP as an associate editor. I was previously a board member for about 10 years, and I've regularly contributed papers to this journal since its inception, so MCP has always occupied a very special place in my scientific life. To me, MCP represents the flagship journal in the proteomics community, and I look forward to serving this journal in my best capacity.
How is the new role going so far?
It's great to be able to tap into the collective knowledge of other associate and deputy editors when you're handling a difficult situation and provide words of advice to the authors so that you can improve their submissions. Overall, you want the best science to be published, so, if you can work along with the authors and reviewers to make sure that this happens, it's a great feeling.
Do you have any advice for balancing life in the lab with life outside it?
My family is a great source of joy. I have two daughters, one with two daughters of her own. It certainly brings life into a different perspective, and spending quality time with the family is important. Starting the day with a morning jog or playing squash with colleagues once a week has also been quite therapeutic.
Do you have any words of wisdom or a favorite motto?
My two cents of wisdom would be: Embrace research with passion. This is an amazing adventure, never boring, and filled with surprise. Where else can you have the latitude to venture into unknown territories and have fun doing it?
Enjoy reading ASBMB Today?
Become a member to receive the print edition monthly and the digital edition weekly.
Learn more
Get the latest from ASBMB Today
Enter your email address, and we'll send you a weekly email with recent articles, interviews and more.
Latest in People
People highlights or most popular articles