Research Spotlight
Q&A with Kathy Goodson
She works at the Potomac Institute for Policy Studies
Kathy Goodson is a research fellow and the director of communications at the Potomac Institute for Policy Studies. The Potomac Institute is an independent public policy institute located in Arlington, Virginia, and is focused on the role of science and technology in society. Goodson also works on a variety of Secretary of Defense and naval science and technology projects related to communications and education. I asked her about the skills she learned during her scientific training that prepared her for a career in science policy research.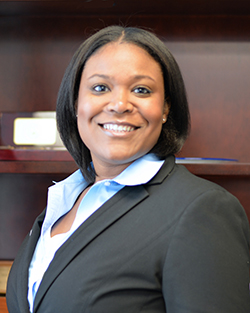 Kathy Goodson
What are the key experiences and decisions that have enabled you to reach your current position?
Attending Virginia State University was vital to determining some of the decisions that led to my current career. As an undergraduate at Virginia State University, I received invaluable experience and exposure to amazing scientific, medical and pharmaceutical research. I developed relationships with mentors that have been key to some of the insights I have been afforded. I didn't know or think it at the time, but Virginia State University was the first key stop on a lifelong journey.
What skills did you learn during your scientific training that prepared you for your current role?
Focus, great note taking, perseverance and patience. My analytical, organizational and scientific writing skill sets as well as my skills in coordinating people and resources came from my graduate education.
What is the biggest challenge that you have faced in pursuing your career? What have you done to overcome it?
Coordinating with graduate research advisers from separate academic institutions and different scientific disciplines. Never underestimate the power of developing people skills. Working with scientists from varying disciplines has given me keen perspective on conducting research and led me to take a more collaborative approach. Ultimately, I believe that a collaborative approach is fundamental to the practice and promotion of education in science, engineering and technology.
What advice would you give to young people who want to pursue a career similar to yours?
Literally talk with someone who is doing what you want to do. I firmly believe exposure is a powerful commodity that often is lost at all ages.
What can young scientists do to learn more about careers in your field?
Attend events and network. There is a great resource called Linktank where think tanks in the Maryland, Virginia and Washington, D.C., area list events that are open for attendance. The best way to learn about something can be to immerse yourself in the environment. Join a group for an event and see what it is all about firsthand.
What are your hobbies?
Jogging, reading and floristry.
What was the last book you read?
One of the last books I read was "Seveneves" by Neal Stephenson. It is a science fiction novel depicting post-survival awareness and challenges as humans move on from an uninhabitable earth. I love science fiction because it's not always fiction. Some of the best everyday inventions are the spawn of great science and technology endeavors that were at one time thought of as fiction.
Do you have any heroes, heroines, mentors or role models? If so, how they have they influenced you?
Science communication involves an individual who can interpret scientific information and present it in a way that is accessible to individuals with varying levels of scientific expertise. I have been fortunate to have many such individuals in my life and even more fortunate to be able to do the same for others. A mentor can be anyone who does something that you're interested in doing yourself. If you find someone who is willing to share their time, enjoy and soak up information like a sponge. And don't forget to return the favor with someone else.
What is it that keeps you motivated?
I absolutely love science. There is something new to learn every day. My (work has) allowed me to see amazing research being undertaken, and I am excited for the opportunity to assist in the translation of those research efforts through science policy.
Join the ASBMB Today mailing list
Sign up to get updates on articles, interviews and events.
Latest in People
People highlights or most popular articles