Research Spotlight
From back-porch evolution to learning slang at the bench
Shantá D. Hinton is an associate professor of biology at the College of William and Mary in Williamsburg, Virginia. Here she describes an early conversation with her grandfather about snakes and frogs that inspired her interest in science, explains how she turns her failures into motivation, and shares the values that have served her well as a mentee and now a mentor.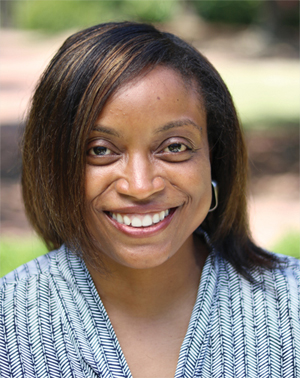 Shantá D. Hinton, an associate professor at the College of William and Mary, says her postdoctoral position in a "hardcore biochemical lab" at Cold Spring Harbor Laboratory challenged her and shaped her career.
courtesy of Shantá D. Hinton
Tell us about your current career position.
After a year-long sabbatical, I recently returned to the biology department at the College of William and Mary, a primarily undergraduate research university that offers students the best of both worlds. It blends the one-on-one faculty contact and mentoring associated with a small school with the faculty expertise and research opportunities typical of research-intensive institutions. It also offers me the best of both worlds: to be a scholar at the bench while engaging novices in research experiences that often produce educated scientists. My research investigates the role of a particular protein we initially thought was just a "dead" enzyme as a regulator in signal transduction cascades (cellular communication).
What key experiences and decisions helped you reach this position?
This is a complicated question for me. My matriculation as a student at a primarily majority institution, or PMI, the University at North Carolina at Chapel Hill, and a historically black college or university, or HBCU, Howard University, as well as serving as faculty at both an HBCU and a PMI, provided opportunities to develop strengths that allowed me to reach my current position. If pressed to point out a key decision and experience that allowed me to obtain tenure at the College of William and Mary, it would be choosing my postdoctoral position at Cold Spring Harbor Laboratory. This experience challenged me and shaped my career in the best way. I trained as a cell and developmental biologist as a doctoral student; I was thrust into a hardcore biochemical lab as a postdoctoral fellow. And the most important thing happened to me during a lab meeting. My PI said, "This is my standard for a journal publication, nothing below this. Each of you should aim for this or higher to publish from this lab." I smiled inside because for the first time expectations for me (beyond my family) at a PMI were the same as for any other gender, nationality, ethnicity, etc. No excuses. It was time to complete the task and soar.
How did you first become interested in science?
My first interest in science came through my late maternal grandfather, Jesse Hinton Sr. Sitting on the steps or working in the garden with my cousin and me when we were children, he explained the concept of evolution of frogs and snakes. In particular, I was fascinated with the concept that snakes had legs but supposedly lost them through evolution. Because I am afraid of snakes and would not touch them (except helping a late dear friend who was a herpetologist), time or books would have to prove grandpa's story. Of course, I was absolutely delighted by the 2015 article in Science, " A four-legged snake from the Early Cretaceous of Gondwana." Grandpa, who completed the 10th grade, had great wisdom; his story was confirmed, and it brought back memories of my introduction to the boundless wonders of science.
Were there times when you failed at something you felt was critical to your path? If so, how did you regroup and get back on track?
One critical failure happened in the social sciences. I failed my very first oral exam in my 10th-grade history course. That class still ranks as the most terrifying, engaging and invigorating experience in all my academic matriculation. For the first five minutes each day, the teacher was a drill sergeant, orally quizzing students on previously taught material, with only 15 seconds to understand and address the question. The timer buzzed, and I heard, "Hinton, you're out. Your grade is a 50." No one likes to be embarrassed. So I spent hours learning the material and creating questions that I might be asked to ensure the buzz was never associated with my name again. All my fellow students did the same, creating such an enjoyable class that we ran from the cafeteria to attend it. We competed for the best time in answering a question. After my initial failure, I learned to read and study, to synthesize information to formulate new questions and/or hypotheses — which is so critical as a scientist. I also learned that failing is a necessary part of the journey to success. Now, whenever I experience failure, the next day I start executing an action plan to develop the failure into a success. When this is not possible, I release the failure and move forward. In essence, I use my failures as a platform to set and achieve higher goals. I am sure this is a relief to those who endured the venting about my early failures, including my family, best friend and mentors. In addition, I have a rule never to take a failure as a personal assault, even when it may be. This is challenging, but it is my rule, so I have to work through it. Lastly, my family taught me at a young age that the best way to defeat failure or an enemy is to be successful, which means you have to move forward and progress. I am the sole person responsible for my actions.
What advice would you give to young persons from underrepresented backgrounds who want to pursue a career in science similar to yours?
Believe in yourself beyond your knowledge and skills; envision yourself beyond your present status. There will be moments where you are the only one who believes in you. Pursue science because of a genuine interest, while being very careful of the appearance that it is a benefit or an advantage for someone like you in the sciences. Align yourself with mentors who will tell you the truth, even if it may alter (hopefully, only for a brief moment) the relationship. Learn your weaknesses; do not be afraid to share with your mentors, and ask their help to change these weaknesses into strengths. Understand that paying it forward doesn't mean you are obligated to carry everything on your back or alone. Also, don't be afraid to evolve. Lastly, stay focused on your goals while being flexible, constantly reminding yourself why you like science, and enjoy the scientific process.
What are your hobbies?
I am an avid CrossFitter, which helps with stress. In addition, I love to attend comedy shows and plays, especially on Broadway. Laughter and music always heal my soul and help me cope with a failure.
What was the last book you read?
"Hidden Figures" by Margot Lee Shetterly. Coincidentally, I stopped reading "Something Must Be Done About Prince Edward County: A Family, a Virginia Town, a Civil Rights Battle" by Kristin Green to read "Hidden Figures" for an event at my institution. Therefore, I appreciated when "Hidden Figures" referred to events in Prince Edward County.
About the Research Spotlight
American Society for Biochemistry and Molecular Biology's Research Spotlight highlights distinguished biomolecular and biomedical scientists from diverse backgrounds as a way to inspire up-and-coming scientists to pursue careers in the molecular life sciences. Eligible candidates include Ph.D. students, postdoctoral fellows, and new or established faculty and researchers. To nominate a colleague for this feature, contact the Education department.
Do you have any heroes, heroines, mentors or role models? If so, describe how they influenced you.
My parents (Larry D. Petway and Mamie L. Hinton) and maternal grandparents (the late Jesse Hinton Sr. and the late Mamie R. Hinton). As a first-generation college student, it was important for me to have love and structure. These heroes provided more than that; they made important sacrifices and preached the value of an education. They made a conscious decision (along with my aunts and uncles, who decided not to attend college) to invest in me becoming the first in the family to graduate from college. Although they didn't under stand the process, they worked hard as a team and spoke it into existence. I am grateful that they all lived to see me obtain a Ph.D. My research program is based on the love, structure, honesty and directness that my heroes provided for me; this model has served me well as a mentor.
What is it that keeps you working hard every day?
My curiosity, always learning and choosing the correct discipline; I like pursuing edgy projects. I am fortunate to investigate a field of enzymes (protein tyrosine phosphatases) that will celebrate its 30th anniversary this year. More importantly, I am absolutely thrilled to investigate a unique catalytically inactive member (MK-STYX) of this field whose prototype's name alludes to the river Styx in Greek mythology, the river of the dead. I loved reading Greek mythology as a teenager and still watch movies pertaining to Greek mythology. It is an honor to introduce undergraduates and master's students to the joys of research and co-author manuscripts with them within in a field that is in its infancy. On my worst day, knowing that I can walk into my lab full of vibrant, intelligent, creative and eager students who may be playing music (while being productive) or introducing me to new slang such as "rekt" (wrecked or destroyed) while keeping score of their rekt assailants on the white board, will make me smile. The joy that keeps me going is that they develop into these amazing young scientists, the majority of whom enter doctoral programs. They are the ones who are cited as first authors on the papers in the field; that is an amazing legacy for us. Lastly, I am still working alongside them. I haven't had to sacrifice my love of the bench, at least not yet. This has truly enriched my students' lives and my life.
Join the ASBMB Today mailing list
Sign up to get updates on articles, interviews and events.
Latest in People
People highlights or most popular articles