Research Spotlight
Sacrifice and a strong network help build a research career
Adela Cota–Gomez talks about how her parents' sacrifice motivated her to pursue a career in research and how her professional network helped her get on her chosen career path.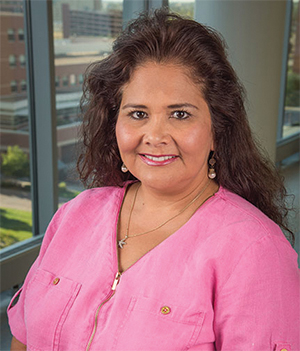 Adela Cota-Gomez was able to find a satisfying research position with the help of her professional network.courtesy of Adela Cota-Gomez
Tell us about your current career position.
I am an associate professor in the department of medicine and division of pulmonary sciences and critical care medicine at the University of Colorado-Anschutz Medical Campus. I am also the coordinator of the undergraduate summer research program Graduate Experience for Multicultural Students, or GEMS.
What key experiences and decisions enabled you to reach your current position?
Many experiences have shaped who I am today, but by far the greatest one was witnessing my parents sacrifice for the future of their children. When I was 9 years old, my parents made the difficult decision to uproot us from Mexico, our home country, and immigrate to the United States for the sole purpose of giving me and my siblings greater opportunities to develop the potential they saw in us. I was old enough to understand their sacrifice. Seeing how hard it was for them to leave their own families behind in order to give us a chance at a better life was life-transforming. I resolved, then and there, to go as far as I possibly could, make them proud, make their sacrifice count and lead as full, happy and rewarding a life as I could. Every decision since then has been with that goal in mind, and I'm glad to report that I have done it. I can't think of a more exciting and rewarding career than mine, and I lead the life that I resolved to over 35 years ago.
How did you first become interested in science?
As a child, I was always intrigued by nature, especially living things. In junior and senior high school, biology and chemistry were my favorite subjects, so when I went to college I majored in biology. Like the vast majority of biology majors, I thought medicine was the most obvious career choice. However, when I started shadowing doctors in clinics and hospitals, I quickly realized that I hated patient interactions; medicine was most definitely not for me. I was scared and disappointed in myself and had no idea what else one could do with a biology degree. Luckily, I had a great college counselor who pointed me in the direction of research. The following summer I had a summer undergraduate research fellowship, or SURF, and that was when I fell head-over-heels in love with research. I have not stopped doing it since.
Were there times when you failed at something critical to your path? If so, how did you get back on track?
At the end of my postdoctoral training, I was offered a tenure-track faculty position in a primarily teaching university that was attempting to increase their research portfolio. I was attracted to the idea of developing new programs that I thought would open a lot of doors for me, so I accepted the position. Three years into that position, I realized that I was not able to pursue the research I wanted to do because the university did not have the research infrastructure and grant-processing office I needed to perform translational research. Also, the teaching load was very heavy and the release time was not sufficient for the intensity of research I aspired to. While I thoroughly enjoyed teaching, I was not willing to do it at the expense of research. I realized that I had deviated far away from my original career path. Luckily, I was able to regroup and get back on track largely due to the commitment of the professional network I had built over the years. Thanks to those connections, I secured a tenure-track position at the University of Colorado-Anschutz Medical Campus and have since risen through the ranks. I'm grateful for the caring and supportive network that helped me get back on path.
About the Research Spotlight
American Society for Biochemistry and Molecular Biology's Research Spotlight highlights distinguished biomolecular and biomedical scientists from diverse backgrounds as a way to inspire up-and-coming scientists to pursue careers in the molecular life sciences. Eligible candidates include Ph.D. students, postdoctoral fellows, and new or established faculty and researchers. To nominate a colleague for this feature, contact the Education department.
What advice would you give to young persons from underrepresented backgrounds who want to pursue a career similar to yours?
As early as possible, find a mentor or mentors who will help you navigate the challenges and stumbles along the career path and who will also celebrate your successes. Think of them as your professional parents; they should be the center of your support network. Stay in touch with them always, use them as a grounding stake and allow them to help you.
What are your hobbies?
I love books and movies, in that order. My favorite way to unwind after a long grant-writing period or a particularly unsuccessful lab day is to curl up with a book and a glass of wine. My favorites are fiction novels, especially science fiction and fantasy. My favorite author is Stephen King — I can get lost in his worlds for hours.
What was the last book you read?
"The Gunslinger," the first book in the "Dark Tower" series by Stephen King. I read it ahead of the theatrical release of the "Dark Tower" movie.
Do you have any heroes, heroines, mentors or role models? If so, describe how they have influenced you.
I admire all my colleagues and collaborators; I feel a strong kinship and solidarity with them, and they are the ones who best understand my motivations, drive and struggles.
What is it that keeps you working hard every day?
The satisfaction of my research discoveries — the idea that no one else in the world is doing exactly the same thing that I do.
Enjoy reading ASBMB Today?
Become a member to receive the print edition monthly and the digital edition weekly.
Learn more
Get the latest from ASBMB Today
Enter your email address, and we'll send you a weekly email with recent articles, interviews and more.
Latest in People
People highlights or most popular articles