Award
Soldati–Favre honored for research on Toxoplasma gondii
She won ASBMB's Alice and C.C. Wang Award in Molecular Parasitology
Dominique Soldati–Favre, a professor at the University of Geneva, has won the American Society for Biochemistry and Molecular Biology's 2019 Alice and C.C. Wang Award in Molecular Parasitology. Soldati-Favre is honored for her outstanding work in Toxoplasma gondii invasion and egress.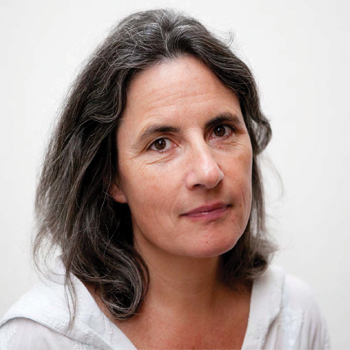 "Alice and C.C. Wang paved the way of my education in parasitology through the insightful Bay Area Parasitology Clubs at the time of my postdoctoral training at Stanford. I am deeply honored and grateful to receive this award that I wish to share with all the talented collaborators who have built fantastic teams around me over the years. In sweet memory of C.C.'s big smile."
— Dominique Soldati−Favre
Soldati–Favre's research group studies intracellular parasites, specifically members of Apicomplexa, to understand how they cross biological barriers during invasion. Apicomplexan parasites cause a number of diseases in humans and animals, such as malaria, toxoplasmosis, cryptosporidiosis and coccidiosis. To address this disease burden, Soldati–Favre's group investigates Toxoplasma to discover the mechanisms involved in host cell attachment, invasion and intracellular survival.
After obtaining her Ph.D. in 1990 from the University of Zurich, Soldati–Favre worked as a postdoctoral fellow in John Boothroyd's laboratory at Stanford University School of Medicine. While studying Toxoplasma there, she was the first researcher to develop methodologies to apply reverse genetics in this parasite.
"Dr. Soldati–Favre is an outstanding scientist whose work has consistently broken new ground," Boothroyd wrote in a letter of support for the award nomination. "The field of parasitology would not look the way it does were it not for her and her lab's key contributions."
Soldati–Favre returned to Switzerland in 2004 to build her laboratory at the University of Geneva. Seminal contributions from her research career include the establishment of a tight inducible system to study the function of essential genes in apicomplexan parasites and the characterization of the molecular machine termed "the glideosome" that powers motility and invasion.
Recently her group has unraveled the central roles played by aspartyl proteases that act as key maturases for secreted proteins involved in subversion of host cellular functions or in invasion and egress. Her laboratory also contributed to some studies on the metabolic pathways hosted by two endosymbiotic organelles, the mitochondrion and the relic of a plastid called the apicoplast, and conducted exciting cell biology projects on the mechanism of organelles biogenesis and inheritance as well as on cell–cell communication.
In addition to her research contributions, Soldati–Favre has served in editorial roles for several major journals in her field, including PLoS Pathogens and Cell Host & Microbe, and as editor of parasitology in Molecular Microbiology. Among her many awards and honors, Soldati-Favre was a Howard Hughes Medical Institute junior and senior International Research Scholar, nominated as a European Molecular Biology Organization member in 2011 and elected in 2014 as a member of the Swiss Academy of Medical Sciences. She currently serves as the vice dean for basic research of the faculty of medicine at the University of Geneva.
Henri Bounameaux, dean of the faculty of medicine at the University of Geneva, nominated Soldati–Favre for the award, writing, "Dominique is unanimously recognized among her peers as one of the most gifted Swiss scientists of her generation."
Soldati–Favre will receive her award during the ASBMB annual meeting at the Experimental Biology 2019 conference in Orlando, where she will deliver an award lecture titled "The ins and outs of Toxoplasma invasion and egress" at 2:30 p.m. April 8 in room W307AB at the Orange County Convention Center.
Join the ASBMB Today mailing list
Sign up to get updates on articles, interviews and events.
Latest in People
People highlights or most popular articles