Award
Dunham recognized for ribosome regulation insights
She's the winner of the 2019 ASBMB Young Investigator Award
In recognition of her contributions to the fields of biochemistry and molecular biology, Christine Dunham, an associate professor of biochemistry at Emory University, has been selected to receive the American Society for Biochemistry and Molecular Biology's 2019 ASBMB Young Investigator Award.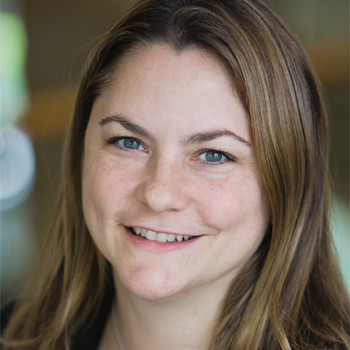 "It is an incredible honor to have our work on the regulation of protein synthesis recognized by our ASBMB colleagues. I have been honored to mentor and work alongside a diverse group of bright and creative researchers in my lab and this award is a recognition of their accomplishments. Science is challenging but working with such inspiring colleagues towards unexpected discoveries has been the greatest privilege of this wonderful career."
— Christine Dunham
In the 17 years since her first publication examining hammerhead ribozyme biology, Dunham has published more than 30 original research papers. Dunham consistently has been recognized as a superb scientist, beginning with her graduate work with William Scott at the University of California, Santa Cruz, and continuing through her postdoctoral work with Nobel laureate Venki Ramakrishnan at the Medical Research Council Laboratory of Molecular Biology in Cambridge, England. Dunham's recognition has only grown since she started her own group in 2008 at Emory.
Writing in support of the award nomination, Johns Hopkins University professor Rachel Green described Dunham as "an outstanding early investigator who has established a program focused on interesting and important (medically relevant) problems. Her early work at Emory has made substantial contributions to the field and is taking her in new and compelling directions."
Dunham's work has provided significant insight into the structural basis of ribosomal decoding and frame shifting, the bacterial toxin-antitoxin system and mechanisms of antibiotic resistance. Her work has touched on numerous aspects of translation, in particular the impact of tRNA and rRNA modifications on bacterial translation and antibiotic resistance.
Anita Corbett, an Emory colleague, nominated Dunham for the award, noting her far-reaching impact as a researcher. "Her work exploits her expertise in structural biology of the ribosome and touches on fundamental aspects of biochemistry and molecular biology," Corbett wrote in her nomination letter. "Notably, her work highlights how focused mechanistic studies that employ biochemistry and molecular biology approaches can provide critically important insights to broad areas of biology. Her work gives perspective and highlights the impact of basic, fundamental studies of the utmost creativity and quality."
Christopher Lima of the Sloan Kettering Institute, wrote a letter in support of the nomination, highlighting the importance of Dunham's work. "Her investigations are fundamental to our biological understanding of the ribosome and its roles decoding the genome, and perhaps more intriguing, its unanticipated importance in adaptive processes such as bacterial persistence," he wrote.
Dunham's work is recognized widely and has garnered awards from numerous scientific organizations and funding agencies. She has received a National Science Foundation Faculty Early Career Development, or CAREER, award, as well as recognition as a Pew Scholar in the Biomedical Sciences, a Burroughs Wellcome Investigator in the Pathogenesis of Infectious Disease and the 2017 American Crystallographic Association's Etter Early Career Award. One of her lab's recent papers was a Journal of Biological Chemistry Editor's Pick and a 2018 paper in PNAS won the Cozzarelli Prize.
Dunham will receive her award during the ASBMB annual meeting at the Experimental Biology 2019 conference in Orlando, where she will deliver an award lecture titled "Mechanisms of RNA-mediated translational control" at 2:15 p.m. April 7 in Valencia Ballroom A at the Orange County Convention Center.
Enjoy reading ASBMB Today?
Become a member to receive the print edition monthly and the digital edition weekly.
Learn more
Get the latest from ASBMB Today
Enter your email address, and we'll send you a weekly email with recent articles, interviews and more.
Latest in People
People highlights or most popular articles