In Memoriam
In memoriam: Christine Guthrie
Christine Guthrie, a pioneer in RNA biology and a leader in the pre-mRNA splicing field, died July 1 from breast cancer. She was 77. A member of the American Society of Biochemistry and Molecular Biology for almost 40 years, Guthrie received the 2011 ASBMB–Merck Award for her contributions to biochemistry and molecular biology.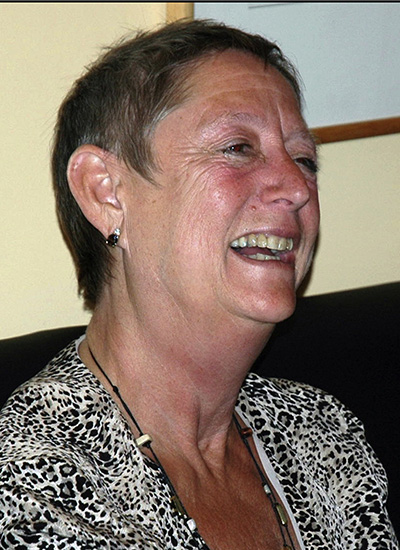 Christine Guthrie
Born in Brooklyn, New York on April 27, 1945, Guthrie received an undergraduate degree in zoology from the University of Michigan in 1966. Mesmerised by the idea of reassembling the split bacterial ribosome, she joined Masayasu Nomura's laboratory at the University of Wisconsin–Madison and earned her Ph.D. in 1970, exploring the importance of temperature-dependent RNA conformational rearrangement in ribosome assembly. After a brief postdoctoral training at the Max Planck Institute in Germany, she worked with Bill McClain on bacteriophage T4 tRNA biosynthesis at UW–Madison.
Guthrie was the first woman professor and the seventh faculty member to join the University of California, San Francisco's new biophysics and biochemistry department in 1973. She later wrote that at UCSF she was "amazed to find such a positive scientific environment" and imagined "establishing a lab of my own." She became a research professor of genetics and remained at UCSF until her retirement in 2014.
After working on folding of newly synthesized tRNAs and their maturation for some years, Guthrie was captivated by the discovery of RNA splicing in mammals and worked with her group to identify yeast versions of the small nuclear RNAs, or snRNAs, that are essential for mammalian splicing. Her lab identified the critical snRNA components of the yeast spliceosome and showed the conservation of the splicing machinery from yeast to eukaryotic cells. She published more than 200 papers in journals such as Nature, Cell, Science and the Journal of Biological Chemistry, with more than 8,000 citations.
According to a retrospective in Science, Guthrie was a trailblazer who "energized the entire RNA community with her keen mind and fortitude." She was instrumental in recruiting faculty and developing Tetrad, one of the nation's top biomedical science graduate programs, at UCSF.
A founding member of the RNA Society, Guthrie was elected to the National Academy of Sciences in 1993. She received the Women in Cell Biology Senior Career Recognition Award in 1998 and the RNA Society Lifetime Achievement Award in 2006.
Her trainees remember her as an inspirational teacher, who was "uniquely talented at bringing people together and giving them what they needed to flourish."
Guthrie is survived by her husband, John Abelson, a professor emeritus at UCSF.
Enjoy reading ASBMB Today?
Become a member to receive the print edition monthly and the digital edition weekly.
Learn more
Get the latest from ASBMB Today
Enter your email address, and we'll send you a weekly email with recent articles, interviews and more.
Latest in People
People highlights or most popular articles