ASBMB Annual Meeting
Branon works to break barriers in science and higher education
When Tess Branon arrived at the Massachusetts Institute of Technology for grad school, she felt out of place in a class full of Harvard and Yale graduates. However, as Branon, a North Carolina native and graduate of Western Carolina University, progressed through her classes and research, she realized that her undergraduate education fully had prepared her to excel.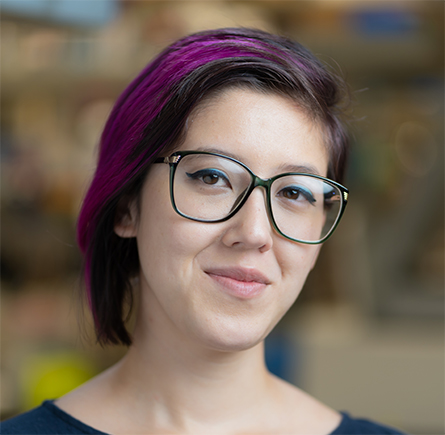 Tess Branon
"Academia is a very exclusive institution," she said. "You have to go down a path with, yes, merit and intelligence, but also several factors that are out of your control, like where you are born or what opportunities are available to you."
In the middle of Branon's Ph.D., her adviser, Alice Ting, moved cross-country from MIT to Stanford. Moving to California was a difficult decision for Branon, but after finishing her Ph.D., she ended up staying in the Bay Area. Now, she's a postdoc in Greg Barton's lab at the University of California, Berkeley, studying host–microbiome interactions and how gut bacteria affect physiology and disease.
Changing from bioengineering to microbiome studies was a challenge, Branon said, and learning mouse work and immunology has been demanding but rewarding. Thinking about proximity labeling techniques from an engineering perspective was important during her Ph.D., but for her postdoc she sought to answer biological questions and understand how organisms interact to influence each other's biology at a molecular level, she said. "In my work, I want to make the quality of human life better."
After her MIT experience, Branon became passionate about mentoring the next generation of scientists and addressing equity issues in higher education. She hopes eventually to lead her own research group and dismantle barriers in academia.
At UC Berkeley, as a member of the Union for Postdocs and Academic Researchers, Branon is pushing for restructuring of academic institutions, with particular focus on community outreach, resolving racial biases, and creating more diverse and inclusive academic environments.
"Even in progressive California," she said, "diversity and equity issues are still definitely a problem."
Fast, nontoxic proximity labeling with TurboID
As a grad student, Tess Branon used directed evolution to engineer a new enzyme that addressed the shortcomings of previous proximity labeling methods. She worked on the development of TurboID to identify interacting proteins of interest.
"In multicellular organisms, old proximity labeling methods are inefficient, require toxic labeling conditions (so they can't be used in animals), or give insufficient labeling," she said.
TurboID can label cellular substrates efficiently in just 10 minutes and uses biotin, a nontoxic compound, as a chemical label. Branon and her collaborators at Stanford and Harvard used TurboID labeling in worms and flies, demonstrating its safety and efficacy in whole animals. Later experiments verified that it can be used in plants and mice.
Branon thinks the next step for proximity labeling is to study the interactors of an endogenous protein of interest without any labeling enzyme tags that might disturb the protein's natural function.
"Finding a method where we can map the interactome, where we don't have to fuse APEX or TurboID" to the protein of interest, she said, "would be really useful."
Enjoy reading ASBMB Today?
Become a member to receive the print edition monthly and the digital edition weekly.
Learn more
Get the latest from ASBMB Today
Enter your email address, and we'll send you a weekly email with recent articles, interviews and more.
Latest in People
People highlights or most popular articles