Annual Meeting
Improving disease detection for personalized vaccines
Susan Klaeger will present her work at the ASBMB annual meeting's Molecular & Cellular Proteomics session
Susan Klaeger's introduction to science began with her father, who is also a scientist. Her interest in research, however, began at school, where she saw a video of the motor protein kinesin walking along a microtubule.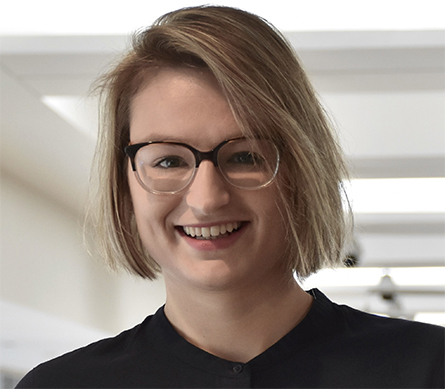 Susan Klaeger
"I found the molecular biology aspect of this process to be so cool," she said, "so I looked further into what I could study and found molecular biotechnology."
When she was an undergraduate at the Technical University of Munich, or TUM, Klaeger's internships with Roche Diagnostics in Germany inspired her to continue to graduate studies. While working on her master's at TUM, she was introduced to mass spectrometry and proteomics, and she has stayed in this field ever since. As a Ph.D. student at TUM, which is part of the German Cancer Consortium, Klaeger investigated inhibitors of multiple kinases, or signaling proteins. Using chemical proteomic screening techniques, she determined broad and specific targets as well as the off-target effects on cells.
Klaeger's postdoc at the Broad Institute of MIT and Harvard led to her current position as a research scientist. She is working to develop personalized vaccines that target individual cancers. The institute has provided Klaeger many opportunities to collaborate across disciplines.
"There's a lot of knowledge in these labs, and it's amazing to partner and learn from each of them," Klaeger said. "I am happy to have had the opportunity to collaborate with experts in many fields."
Developing personalized vaccines
As children, many of us are vaccinated to boost our immune systems' ability to recognize and combat common illnesses such as mumps, measles or chicken pox.
Vaccines similarly can be used to boost the immune system's ability to locate and destroy cancerous cells. One example is the human papillomavirus, or HPV, vaccine, which protects against a viral infection that can cause cancer. Researchers now are working to develop personalized vaccines that will boost an individual immune system's ability to find tumor-specific proteins, called antigens, on the surface of cancer cells and destroy them.
Susan Klaeger and her colleagues are developing tools to detect endogenously presented, mutated antigens in cancer cells using ultrasensitive mass spectrometry. In doing so, Klaeger hopes to improve the specificity of cancer vaccines. In a study published in the Journal of Molecular & Cellular Proteomics, the team was able to increase the depth of coverage and sensitivity of antigen detection for the human leukocyte antigen, or HLA-1, though the available input was modest. These data further can improve HLA-1 binding prediction models for engineering immunotherapies.
In a separate study, the researchers used the same techniques to report the first HLA-1 immunopeptidome of SARS-CoV-2, the virus that causes COVID-19. In infected cells, viral proteins are processed and presented on host cells by HLA-1. This allows our immune cells to recognize the foreign peptides and signal for cellular destruction. Klaeger and colleagues hope that this list of SARS-CoV-2 HLA-1 peptides can provide insights on the viral signatures required for immune cell activation and aid in data-driven vaccine selection and therapy development.

Klaeger's presentation at the ASBMB Annual Meeting will take place on Monday, April 4. Click here for more scheduling details.
Enjoy reading ASBMB Today?
Become a member to receive the print edition monthly and the digital edition weekly.
Learn more
Get the latest from ASBMB Today
Enter your email address, and we'll send you a weekly email with recent articles, interviews and more.
Latest in People
People highlights or most popular articles