Annual Meeting
Degrading the mighty proteome with small molecules
Katherine A. Donovan will speak at the Discover BMB Molecular & Cellular Proteomics session
Katherine Donovan's research path hasn't followed a linear trajectory; she's zig-zagged from doing basic biochemical studies to proteomics-based translational research. In her words, she is now "designing small molecules to hijack the cell's waste disposal system and redirect it to disease-causing proteins."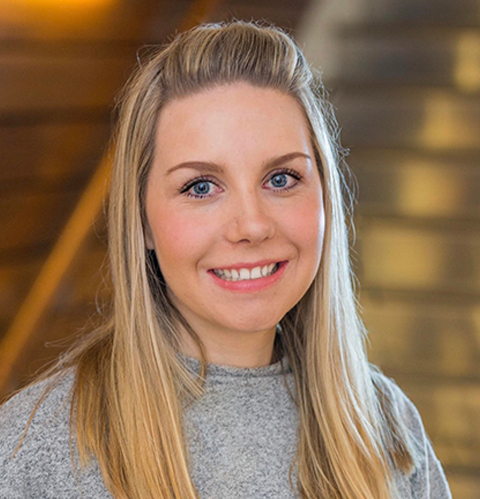 Katherine Donovan
But Donovan's movements have not been random, she said: "I've found that I gravitate toward collaborative interactions."
During her Ph.D. at the University of Canterbury in New Zealand, Donovan studied the adaptive evolution of pyruvate kinases in E. coli. Using biochemistry and structural biology techniques, she demonstrated how mutations in the protein make the bacterium better able to tolerate low-glucose conditions.
After joining Eric Fischer's lab at the Dana–Farber Cancer Institute in 2016, Donovan used proteomics to quantify changes in protein expression in mammalian cells when perturbed with drugs and small molecules. Her desire for collaboration motivated her to join Dana–Farber's new Center for Protein Degradation, or CPD, in November 2018. There she built and managed the proteomics operation and developed novel technologies to advance drug discovery for different targets.
Now a lead scientist in the Fischer lab, Donovan spearheads multiple projects in proteomics as well as serving as a proteomics advisor to the CPD. Many of her projects are focused on finding degradation therapeutics for proteins involved in diseases such as cancer and Alzheimer's.
Donovan's favorite part about research is the community she gets to interact with daily. "People are the biggest driver in my job," she said. "I am very lucky to have a fantastic proteomics team where everyone is super excited about science."
Designing degradable molecules
Cells rid themselves of misfolded proteins by a process in which the proteins are ubiquitinated by the E3 ligase complex and degraded by the 26S proteasome. This pathway can be hijacked by using small-molecule degraders to recruit E3 ligases artificially to proteins linked to diseases. This process, called targeted protein degradation, or TPD, offers several advantages over conventional inhibition strategies: proteins of interest can be eliminated completely, and TPD has the potential to target a large portion of the proteome that previously was considered undruggable.
Katherine Donovan and her team at the Dana–Farber Cancer Institute recently used a chemoproteomics pipeline to identify degradable kinases by designing the degrader molecules to be as promiscuous as possible. Mutations in kinases are at the root of many human diseases, and before this project, only 7% of the human kinome was reported as degradable, making kinases attractive candidates for TPD. The team prepared a library of 91 potential kinase degrader molecules and, using proteomics, found that they degraded about 200 distinct kinases.
The researchers released their data set as a public resource to advance the field of TPD.
"Our group saw how hard it was to design these molecules and how much time, effort and money was put in," Donovan said. "One of the ways in which we can advance the field and help other researchers is by making the data available to everyone. Science moves faster if you take a community approach."
Enjoy reading ASBMB Today?
Become a member to receive the print edition monthly and the digital edition weekly.
Learn more
Get the latest from ASBMB Today
Enter your email address, and we'll send you a weekly email with recent articles, interviews and more.
Latest in People
People highlights or most popular articles