Feature
'That's a legacy'
A remembrance of longtime NSF biochemist Elvira Doman
Elvira Hand Doman was not a member of the American Society for Biochemistry and Molecular Biology, but she should have been.
Doman was a biochemist who spent the better part of her career leading National Science Foundation programs. She was a trailblazer, a lifelong mentor and a tireless volunteer.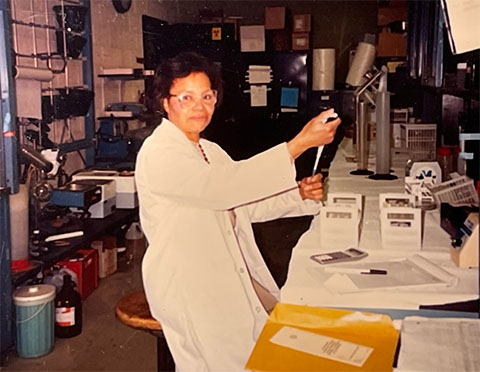 Elvira Doman works at the bench in George Carman's laboratory during her 1989 sabbatical at Rutgers.
But she came up at a time when scientific societies in general, and the ASBMB specifically, were exclusive. Members were elected, mostly male and mostly white. It wasn't until the 1990s that the society saw the error of its ways and opened membership to the rest of the biochemistry and molecular biology community.
By then, though, Doman's career was ending. She'd spent decades exposing young people to science, helping students navigate the halls of academia, coaching prospective grant applicants and supporting researchers lucky enough to have landed federal funding.
"There were so many people that she tried to help. She was always encouraging people," said George Carman, who was mentored by Doman in the 1970s.
Doman, who died Oct. 7 at age 89, wasn't a member of the ASBMB, but she embodied the values held today by the society, and her story is worth telling.
A gifted girl
Elvira Hand was born in 1933 and raised in East Harlem in New York City. Her mother, Lillian, tended to four children, and her father, Andrew, worked nights to support the family.
In a chapter of the 2006 book "Sisters in Science: Conversations with Black Women Scientists on Race, Gender, and Their Passion for Science" by Diann Jordan, Doman recalled that her attentive mother took her to get a library card when she was just 5 years old and that she became such a good reader she skipped kindergarten.
Doman was an honor roll student who took pride in excelling in math. ("Mathematics was supposed to be hard for females," she told Jordan.) She took lessons in dance — folk, interpretive and ballet — and voice at a nearby community center that today is called Union Settlement. Her piano playing landed her a performance at Carnegie Hall.
Doman decided during junior high to pursue science. "I came downstairs one morning and told (my mother) that God had spoken to me in a vision and told me to become a scientist. This incident is memorable in my mind because there weren't any scientists in the family or the community that I can recall," she told Jordan.
Doman said that going to Hunter College High School, a public college preparatory institution, made her confident in her ability to achieve. "I received the best public education that a poor person from the slums of New York City could obtain," she told Jordan.
She also trained at a charm school founded by Ophelia DeVore, who is credited with opening the modeling profession to Black Americans. The school turned out the first Black supermodel and many Broadway and television stars.
'Golden opportunity'
After graduating with high marks from high school in 1951, Doman majored in physical chemistry at Hunter College just a few miles away on Park Avenue. She served as a research assistant at the Sloan Kettering Institute when she was an undergrad, made the dean's list and graduated with honors in 1955.
In her interview with Jordan, Doman noted how fortunate she was to be in New York, where she had access to a free college education: "One had to have an average of B+ or A to be considered academically qualified for admission to the four city colleges. I would not have had the golden opportunity of a free college education had I been from somewhere else."
Doman returned to Sloan Kettering as a senior technician in 1956. She recalled in her interview with Jordan: "One day I discovered that my name was not listed on a publication, but the other technician, who was white, was listed. I had performed all of the calculations, laboratory work, etc. My supervisor's response to me was 'You don't have an advanced degree.' The other technician did not have an advanced degree either. My response to my supervisor was 'The next time you see me you will have to call me 'doctor.'"
Curious and caring
Doman earned a master's degree in molecular biology from New York University in 1959 and then moved to Columbia University, where, Jordan wrote, she became "weary of being told constantly that she was the first Black graduate student in biochemistry."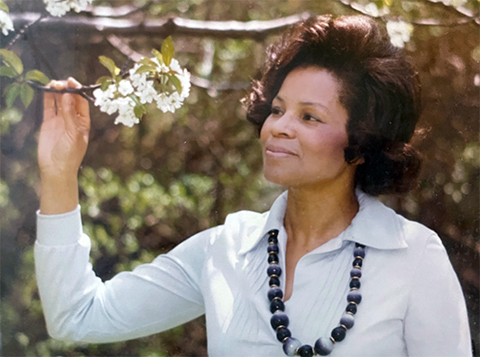 Elvira Doman moved to the Washington, D.C., area around 1977, when she became a volunteer in the public school system before settling in at the National Science Foundation, where she spent the rest of her career.
She earned a master's in biochemistry at Columbia in 1960 and then completed her Ph.D. in physiology and biochemistry at Rutgers University in 1965. (Her dissertation was titled "A study of NADH-cytochrome c oxidoreductase of beef heart.")
She returned to Sloan Kettering in 1965 for postdoctoral studies before moving to the Rockefeller University to become first a postdoc and then a research associate at the Population Council, which was housed on the campus at the time.
Doman taught as a part-time lecturer at Douglass College, which was then the women's division of Rutgers, from 1970 to 1973 before becoming an assistant professor and the chief adviser for pre-med students at Seton Hall University, also in New Jersey.
Carman, now a Rutgers professor and the director of the Rutgers Center for Lipid Research, was a student of Doman's at Seton Hall.
"When I was a master's student, the first time that I did any independent research, she was down the hall," he said. "She would give me advice about doing biochemistry. She gave me encouragement and was friendly. She made me feel comfortable."
Doman, in fact, gave Carman a copy of her dissertation to use as an example when he was working on his, and she served on his master's thesis committee.
"What I didn't realize at the time," Carman said, "is that she must have had a very hard time there. It was very tense, and I had no idea how she felt as a woman. As I think back, it was all men, and women were not treated that great. And certainly Black people weren't treated that well."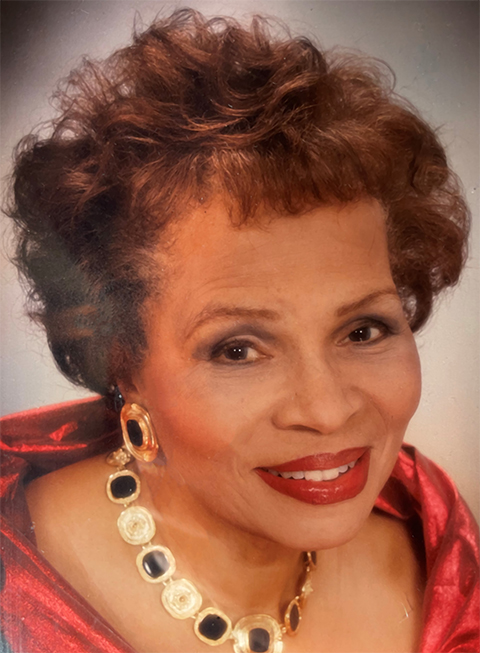 When Elvira Doman retired from the National Science Foundation, she remained involved with numerous mission-driven organizations. She was a lifetime member of the National Association for the Advancement of Colored People and continuously advocated for her alma mater, Hunter College, for example.
But Doman kept her experiences to herself, Carman said. "She was not nurtured whatsoever. It was always an uphill battle, but she never complained to me. She never let on. Whenever I talked to her, she was always talking about how proud she was of me."
A new direction
In 1977, it seems, Doman was denied promotion and left academia. A proud product of public education, she chose to volunteer for the Washington, D.C., school system.
A year later, she joined the NSF as an assistant program director for the regulatory biology program. At the agency, she rose through the ranks, ultimately serving as program director for the integrative animal biology program within the Division of Integrative Organismal Systems.
She served on the NSF's Black history committee, acted as an equal employment opportunity counselor and organized research funding workshops.
Her 21 years of service at the NSF earned her several awards, including the Director's Equal Opportunity Achievement Award twice.
Role reversal
Doman and Carman stayed in touch as the years went on. Carman sometimes visited Doman when he was in town to serve on National Institutes of Health study sections. "We got to know each other playing tennis. She was competitive, but also very warm and nurturing," he said. He'd ask for her advice about research ideas and grant writing.
Doman even did a sabbatical as a visiting scientist in Carman's lab in 1989.
"I've had other people spend time in my lab, but it was kind of unique for me that she was my teacher," he said. "We reversed roles. She had not worked with lipids and the kind of stuff that I was doing and she learned all that stuff."
Carman added: "She befriended everybody. She had lunches at her apartment that she invited us to. She was always being good to students."
Decades of outreach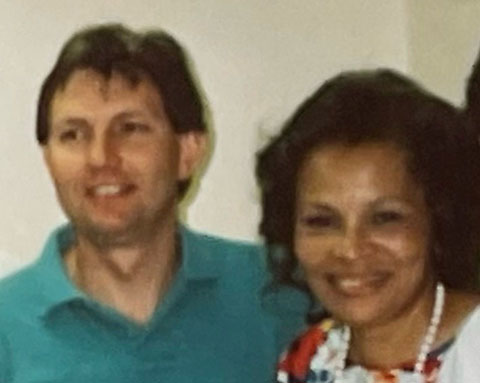 George Carman and Elvira Doman during her sabbatical at Rutgers. Carman recalled: "I've had other people spend time in my lab, but it was kind of unique for me that she was my teacher. We reversed roles."
Doman led several initiatives, at the NSF and beyond, to increase participation in science by members of historically marginalized groups.
She was president of the D.C. Metropolitan Organization of Black Scientists from 1990 to 1993.
In 1994, she helped organize an event put on by an organization called Minorities in Science and Technology. She told a Washington Post reporter in attendance, "Nobody in my family was a scientist and no one had exposed me to this opportunity. Now that I am a scientist, I would like to have others share my love of science."
Doman was a lifetime member of the National Association for the Advancement of Colored People and in 2000 won the Mentor of the Year Award from the University of Maryland at Baltimore County for her contributions to the Meyerhoff Scholars Program, which works to increase diversity in science, technology, engineering and related fields.
Still busy in retirement
Doman retired from the NSF in 1999 after 21 years but continued her many service activities.
She sang in her church choir and had numerous volunteer appointments, some relating to science and others relating to her faith.
All along, Hunter College remained dear to her.
Shortly before retirement, she had become the recording secretary of the National Capital Area Chapter of the alumni association. In 2004, she sent a letter to Chemical & Engineering News thanking the publication for writing about the school. She listed her credentials and accomplishments, saying: "All of the above was accomplished by a person who was 'female, minority, and poor.' I am indeed grateful for having been a Hunterite."
In 2006, Hunter College inducted her into its hall of fame.
Exponential impact
Carman mentioned in his 2021 Journal of Biological Chemistry "Reflections" article that it was Doman who encouraged him to pursue a research career in biochemistry. He wrote, in part, "I can never repay my mentors for supporting my career, except to 'pay it forward' to my own mentees whether or not they receive formal training under my tutelage."
When Doman was eulogized in late October at the Peoples Congregational United Church of Christ, the officiant noted that tidbit while talking about Doman's impact over generations.
The officiant read from Carman's article, adding: "Dr. Doman poured into him, and her pouring into him encouraged him to pour into all of these other people that she would never meet. That's a legacy."
Doman was married twice and is survived by a daughter, a son and three grandchildren.
Enjoy reading ASBMB Today?
Become a member to receive the print edition monthly and the digital edition weekly.
Learn more
Get the latest from ASBMB Today
Enter your email address, and we'll send you a weekly email with recent articles, interviews and more.
Latest in People
People highlights or most popular articles