Diversity
The Meyerhoff Scholars Program:
A model for increasing diversity in STEM
In the late 1980s, Robert Meyerhoff, an MIT-trained engineer turned Baltimore businessman and philanthropist, turned his attention to changing negative narratives about black men and increasing their participation in the science, technology, engineering and mathematics fields.
Meyerhoff joined forces with a black university administrator, Freeman A. Hrabowski III, who would go on to become the president of the University of Maryland, Baltimore County. Together, they initiated a bold one-year experiment: to reproduce the supportive environment Hrabowski had experienced at Hampton Institute, now Hampton University, a private historically black university, at the predominantly white UMBC.
Some three decades later, the resulting Meyerhoff Scholars Program, or MSP, is a national model for how to increase diversity in science.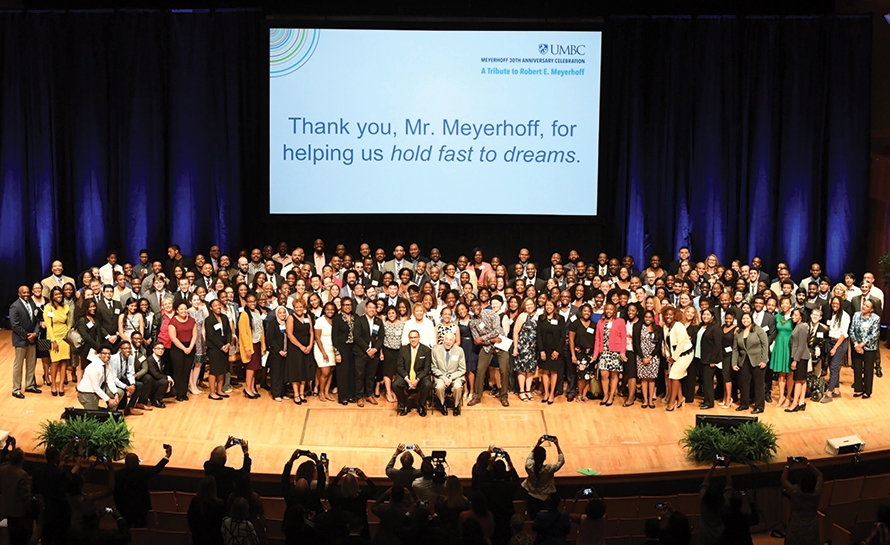 Meyerhoff Scholars Program
Program founder Robert E. Meyerhoff and Freeman A. Hrabowski III, president of the University of Maryland, Baltimore County, sit center stage surrounded by program graduates and staff at the 30th anniversary celebration of the Meyerhoff Scholars Program.
The MSP has tracked outcomes for its more than 1,200 graduates since 1993. A student who accepts an invitation to join the program is five times more likely to attend or graduate from a STEM Ph.D. or M.D.-Ph.D. program than a student who is invited to join the MSP but chooses another undergraduate program. As of 2019, the program's alumni had earned 319 Ph.D.s, including 59 M.D.-Ph.D.s and 147 M.D. or D.O. degrees, as well as 280 master's degrees, primarily in STEM fields. Most of these degrees are from prestigious institutions such as Harvard, Stanford and Yale.
The first MSP class, referred to as M1, was 19 black men from Maryland. Meyerhoff financed their tuition, fees, room and board, and books. He also took a great interest in them, their college experience, and their backgrounds and personal circumstances, and that first year convinced him to continue his support of the program. Black women were admitted into the MSP starting with M2.
In the late 1990s, following the Supreme Court's decision to uphold a federal appeals court ruling that struck down a scholarship program limited to high-achieving black students, the MSP was opened to people of all races and backgrounds who are interested in increasing diversity in science.
Keith Harmon, director of the program since 2012, explains why MPS embraced this change. "If we want to change the narrative and landscape — we need everyone at the table to understand the issues and do part of the work," he said.
The MSP experience begins before a student starts freshman year, with the six-week residential Summer Bridge program. Members of the new class live together in one building and take two credited classes: a math course and Race, Science and Society, a course designed and taught since 2013 by psychology professor Shawn Bediako to examine critically how these three constructs inform and influence one another.
"All students — regardless of their background — live in a social context that basically tells them the same thing about power, who has power and who should have power," Bediako said. "They process these messages differently, however. Some students have internalized these messages and are motivated by a desire to prove themselves and their worth. Some students have externalized these messages and are motivated by a desire to change the system so that it is more equitable.
"My goal for this class is to give students the vocabulary to speak about systems of inequity and reflect on how those systems show up in society — particularly through the process and practice of science."
As part of the Summer Bridge program, Harmon said, students also attend seminars and talks designed to prepare them for the academic rigor and collaborative learning at the UMBC by introducing them to best practices for undergraduate success, including learning styles, time management and networking.
"We help the students and the parents understand the sacrifices and the dedication it takes to be successful in STEM," Harmon said. "We set high standards for them, but we will not expect any less than we resource them for."
Mitsue Wiggs, the MSP assistant director and Summer Bridge coordinator, emphasizes that in addition to academic excellence and undergraduate research, community service and civic engagement are core values of the program. As part of a for-credit class called the First Year Experience, incoming freshmen engage in a semester-long service-learning project with one of more than 100 nonprofit organization in the Baltimore area.
"It has been really successful for us to have them engaged early in their process and to really start to understand the responsibility and the benefits of serving their community," Wiggs said.
Nicole Attram, an MSP freshman majoring in mechanical engineering, volunteered with a program called Reading Partners. She tutored elementary students who were behind grade level in reading to help improve their skills. "I chose this volunteer site because I had a difficult time learning to read when I was younger," she said, "and I thought it was only right for me to help someone as I was helped."
The institutional commitment of senior administration and UMBC faculty is the secret sauce to MSP success, Harmon said. "We would not have the success we had, had it not been for the commitment of our faculty, especially the STEM faculty who take students into their labs and train them and teach them to think critically and deeply about the challenging problems within STEM."
Darin Gilchrist, a senior majoring in biochemistry and molecular biology, recalls that prior to becoming part of the MSP, he was interested in science but really didn't know what research was. "I don't know if I would have done undergraduate research without MSP," he said. Once at UMBC, he followed the MSP's recommendation and did undergraduate research for three years with Howard Hughes Medical Institute investigator Michael Summers and this past summer at Dana-Farber Cancer Institute at Harvard Medical School. Gilchrist is now applying to M.D.-Ph.D. programs and has interview offers from New York University, Columbia University, the University of Maryland and the University of Texas Southwestern Medical Center.
"MSP community is like a family, which I really enjoyed," Gilchrist said. "I thrived with the support from the staff and the other MSP students and alumni who helped me through my struggles, helped plan my next steps and shared my good news with me. I have no doubt that I am more successful today because of MSP."
Enjoy reading ASBMB Today?
Become a member to receive the print edition monthly and the digital edition weekly.
Learn more
Get the latest from ASBMB Today
Enter your email address, and we'll send you a weekly email with recent articles, interviews and more.
Latest in Careers
Careers highlights or most popular articles