In Memoriam
In memoriam: Frank F. Davis
Frank F. Davis, a biochemist who 50 years ago came up with pegylation, a drug delivery system now used in mRNA vaccines, died May 19, 2021. He was 100.
Davis knew that little changes make a big difference.
Some medicines are so conspicuous, or so obviously not part of the human body, that the immune system attacks them before they have a chance to do much. Others are so small that the kidneys clear them from the bloodstream in a couple of days.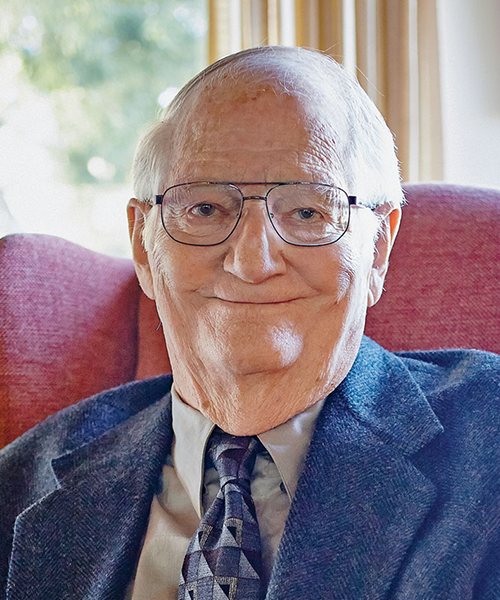 Frank Davis
Davis had the idea to attach drugs to a long, water-loving molecule such as polyethylene glycol, or PEG.
When attached to lipids, PEG helps coat drugs in an oily layer that water then surrounds, so the kidneys don't quickly purge the body of its medicine. And, since the edge of cells are made of lipids, a cell is more likely to say, "Come right in."
PEG has been used to deliver cancer drugs and to treat what's known as "bubble boy disease" (an immune deficiency so severe that even a small infection can kill), and is now in the mRNA vaccines against COVID-19. (Some people have an allergy to PEG; the CDC recommends they ask their doctor about the availability of different vaccines.)
Interviewed by the New York Times in 2001, Davis said, "I have a great feeling of satisfaction that something I did finally worked out." He had patented the idea with former graduate student Abraham Abuchowski in 1979 and started a company in the 1980s, before others became convinced. In his final year, he wrote about the impact of vaccines against a host of diseases, reducing infant mortality in the U.S. from one in 10 in 1900 to less than one in 100 in 2000.
You could say that Davis was a scientific hipster. He studied nucleic acids before they were cool, he made his own sourdough (little changes make a big difference), and he never got a smartphone. Almost 20 years before mRNA vaccines, he wrote that he was "deeply impressed and indeed humbled by how pegnology has grown."
Davis came from a poor background and had a wealth of experience before he became a scientist. Born in Pendleton, Oregon, July 23, 1920, he left his grandfather's farm after a childhood not without tragedy and repaired planes as a mechanic in World War II. With the G.I. Bill he enrolled in a chemistry program in Hawaii, completing his doctorate in biochemistry at Berkeley in his mid-30s. It was "the first time in his life that he was challenged at the right level," daughter Ann said. He later moved to Rutgers as a professor of agricultural biochemistry because Berkeley didn't consider people over age 29 for tenure track.
He is survived by his daughter, Ann; his son, Paul; and six grandchildren and great grandchildren.
Davis, whose research extended the lifespan of treatments, seems to have lived an extended life himself.
Enjoy reading ASBMB Today?
Become a member to receive the print edition monthly and the digital edition weekly.
Learn more
Get the latest from ASBMB Today
Enter your email address, and we'll send you a weekly email with recent articles, interviews and more.
Latest in People
People highlights or most popular articles