In Memoriam
In memoriam: Richard Duncan Dallam
Richard Duncan Dallam, a member of the American Society for Biochemistry and Molecular Biology since 1958, died July 2. He was 95.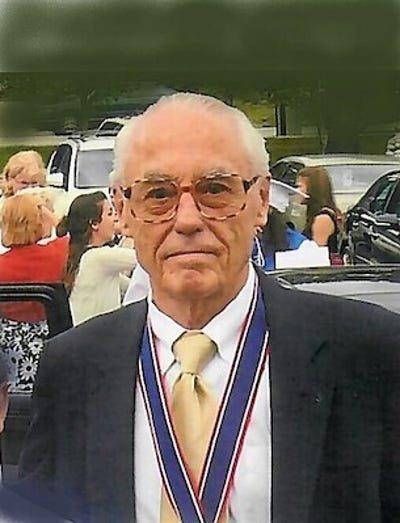 Richard Duncan Dallam
Born Dec. 12, 1925 in Kansas City, Missouri, Dallam enlisted in the Army Air Force Cadet Corps at the age of 17. According to an obituary, as a B-29 tail gunner, he flew his final mission on Aug. 14, 1945, the day the U.S. dropped atom bombs on Nagasaki and Hiroshima; the B-29s continued the attack for 24 hours until Japan surrendered — the largest and last bombing mission of World War II.
Dallam did undergraduate studies at William Jewel College and Rockhurst College before earning a Ph.D. in biochemistry from the University of Missouri. He did postgraduate work at the Massachusetts Institute of Technology and the Rockefeller Institute, then joined the faculty at the University of Louisville School of Medicine, where he taught and did research for 40 years, retiring as professor emeritus in 1993.
After early research in the chemical composition of cell nuclei, Dallam's main interest into the 1960s was the complex biochemistry of oxidative phosphorylation, the process by which energy derived from sugar or other nutrients is used to make ATP. He studied the role of quinones, or K vitamins, which we now know act as lipid-soluble electron shuttles between steps in the electron transport chain. He was also interested in the role selenium plays when incorporated into cytochrome proteins — finding that it was incorporated in selenocysteine and seleniomethionine. In later years, he published on the impact of acid rain on sulfate metabolism in crop plants.
In 1961, the American Heart Association designated Dallam an established investigator for his work on intermediary metabolism. He was a founding member of the Biophysical Society.
Dallam and his wife, Ginny, owned farms in Lagrange and Simpsonville, Kentucky, where for 25 years they raised cattle and quarter horses. For several years, they showed their ponies hitched to an Amish farm wagon in the Kentucky Derby's Pegasus Parade.
Join the ASBMB Today mailing list
Sign up to get updates on articles, interviews and events.
Latest in People
People highlights or most popular articles