BMB in Africa
Becoming a biochemist for global change
My mother was 35 years old when she died in 2007. She developed an acute pyogenic liver abscess, and I remember her lying in a hospital bed in Lagos State, Nigeria, with a bloated abdomen, looking weak and pale. Despite several therapeutic interventions, she could not survive once a drug-resistant and hypervirulent bacteria, Klebsiella pneumoniae, invaded her body.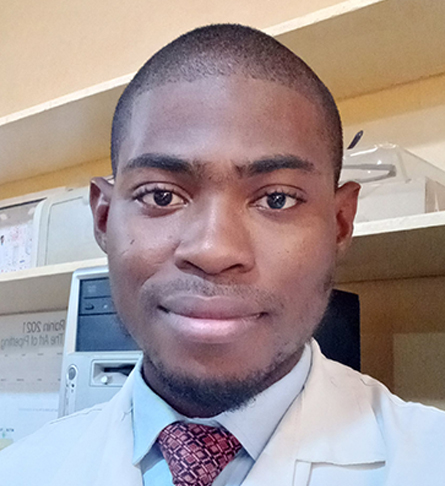 Courtesy of Victor Nweze
Victor Nweze is a research assistant at the University of Nigeria. His lab specializes
in drug discovery research from natural products and drug delivery formulations.
I was just 10 years old then and wasn't sure about my future. Like many of my friends, I wanted to be a medical doctor, inspired by the movie "Gifted Hands" about the U.S. neurosurgeon Ben Carson.
As a young teenager, I did some research and learned that beta-lactamase and cabapenemases were the proteins most responsible for the drug resistance and hypervirulence of that bacteria. As a result, I decided to become a biochemist with a research interest in antibiotic resistance and drug discovery. My goal is to save millions of lives worldwide.
Science brings wonderful memories of my mum — like eating her delicious melon soup — and this ignites my zeal to make impactful discoveries. I conduct drug discovery experiments using natural products from local plants such as the climbing shrub Chasmanthera dependens, the neem tree Azadirachta indica and the almond tree Prunus dulcis to uncover their medicinal potential.
For instance, at the peak of the pandemic in 2020, I used bioinformatics tools to find that the glycoside quercetin-3-O-rutinoside from P. dulcis inhibited the spike glycoprotein of the SARS-CoV-2 virus. This may alter the protein conformation and prevent viral internalization through the molecular interaction with angiotensin-converting enzyme-2 of the alveoli in the human lungs.
Courtesy of Victor Nweze
Victor Nweze and his mother at an event in Lagos State, Nigeria, when he was 2 years
old. She died when he was 10.
I aim to contribute new knowledge to science despite the economic challenges in my country. Doing real science anywhere comes with challenges, but conducting research in Africa has peculiar difficulties that can discourage our attempts; hence I often feel like a frustrated and disabled scientist even though I'm brainy.
One such challenge is the lack of stable electricity. Some time ago, I conducted a chain experiment on the drug release of a drug-loaded liposomal formulation using an electrical magnetic stirrer hot plate for 12 hours at two-hour intervals of buffer collection and replacement at an equal volume of 5 milliliters. At exactly 1:10 a.m., without any warning, the electricity shut down. This altered the constant revolution — I had to improvise by hand-stirring with a spatula for three hours while sweating profusely in the dark and being attacked by female Anopheles mosquitoes. My entire day was wasted, I felt enervated from the hand-stirring and, most importantly, I could have gotten malaria. I had to cancel the experiment while I awaited the miraculous moment when the electricity would turn on again, hoping my research wouldn't be interrupted by another sudden power outage.
Another difficulty is insufficient research funds. When I was working on my undergraduate research thesis, I felt excited to be doing my first study in the lab and worried about funding the research. No research grants were available, and as a student, I did not have sufficient money for my thesis work in the lab, which cost more than 500,000 Nigerian naira (over $1,000). I needed to buy chemicals from Sigma, devices such as bucket centrifuges and magnetic stirrers, and a few expensive reagents. So I enlisted a few of my colleagues from my institution to share some costs (we all have to pay for most of our own research supplies); however, this depended on us needing similar supplies for our research.
In the face of such challenges, I've never wanted to quit. These experiences prove my passion for one day having a scientific impact, and they have shaped me into a rugged, hardworking, resilient and intelligent biochemist for global change.
Enjoy reading ASBMB Today?
Become a member to receive the print edition monthly and the digital edition weekly.
Learn more
Get the latest from ASBMB Today
Enter your email address, and we'll send you a weekly email with recent articles, interviews and more.
Latest in Opinions
Opinions highlights or most popular articles