Jobs
How to find a postdoctoral research position
If you're getting a Ph.D. and you want to stay in academia, you might be thinking about doing postdoctoral research. While postdoc positions vary, the main idea is the same: You are no longer a student but still need more training to become independent, so you work in a new lab for a few years to get deeper or broader expertise and develop more independence.
You can also use a postdoctoral stint as a way to change fields or model systems and to acquire new skills. Postdoctoral positions in many cases are a springboard for future independent research as a PI, but you can move into industry or other careers afterward, too.
Throughout my Ph.D., I always found the postdoc job search mysterious. How do people find postdocs? After talking to postdocs and PIs I knew, attending info sessions, and a lot of Googling, I've discovered that there seems to be three main ways Ph.D.s find postdoc positions: networking, cold emails and job postings.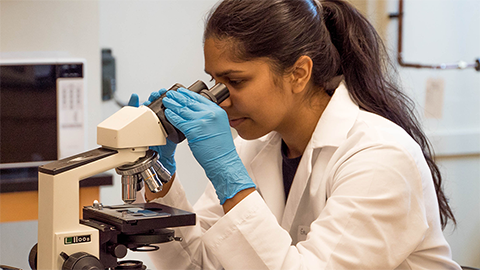 Photo by Trust "Tru" Katsande on
Unsplash
Networking
My gut reaction when I hear the word "networking" is often, "Ohh, nooo," and I'm reminded of all the times I've been awkward at social events.
However, networking can take many forms that fit different personalities. It might be the classic wine-and-cheese event after a symposium, which is often what comes to my mind for me. But there are other networking opportunities. Maybe someone stopped by your poster at a conference and asked good questions and you had a really useful conversation about your work. Or maybe after a seminar you got to attend a lunch with the speaker and you got along and found them really interesting. Situations like these could be the start of a future professional relationship.
The hard part sometimes, for me at least, is following up: emailing after or connecting on LinkedIn and not letting the relationship die out. But that part is important! A friend of mine met his current postdoc PI when he was a Ph.D. student at a conference. He told her that he was interested in her work, they stayed in touch over the following year as he finished his Ph.D., and then he joined her lab as a postdoc.
Networking can also be word of mouth. Your PI, a committee member, or friends at other institutions might know someone who is looking for a postdoc with your skills.
In all of these cases, it is helpful to be open with people that you are looking for a postdoc and what field you're excited about.
Cold emails
By "cold email," I mean emailing someone you have never met or have no connection to. Most PIs will tell you they get cold emails all the time from people looking for postdoc positions. The advantage here is you can just look up labs online, find some that appeal to you, and reach out! The disadvantage is that it's hard to set yourself apart without face-to-face interactions, and you don't know if they are even looking for a new postdoc. But plenty of people get their post docs this way.
The advice that seems to come up a lot from talking to PIs, going to info sessions, and listening to postdoc Q&As is: follow up! If you don't hear back in a while, write again (politely). Show that you're not just throwing tons of mud at the wall and don't care what sticks.
But what to put in that first (or second) email? Every PI is looking for something different, but there are a few themes that come up a lot: Show that you've read their papers, understand them, and like the work! Tell them what you can bring to their lab, why you chose them, and what you hope to get out of working in their lab.
Job listings
Yes, PIs advertise their postdoc openings!
Sites like Indeed.com often have academic postdoc advertisements, and so do university employment pages and lab websites, though, unless you already have an idea of who you are interested in, this can be tedious. At conferences, sometimes PIs will advertise postdoc positions available in their labs at the end of their talks.
A benefit of applying to a job posting, as opposed to cold emailing is that, like some of the examples below, the advertiser often lists specifically what skills they are looking for, as well as what they are willing to train, and what candidates should be interested in even if they might not have the skills yet. This can take some of the guesswork out.
It seems worth mentioning that, like any other hiring manager, every PI is looking for something different. Someone might be laser focused on hiring a postdoc with a very specific skill set, in which case you are either a match or not! In other cases, a PI might care less about skills and instead be looking for a personality or thinking style — or for someone they simply think can flourish in their lab.
In other words, if you get turned down or ignored, it doesn't mean you aren't going to find a good position; there is certainly a good fit out there for you!
Some current postings for postdocs are below:
Northeastern University in Boston is looking for a postdoc to study brain electrophysiology. Candidates should have related experience. The postdoc will receive training in cell-culture methods and will be expected to attend meetings and help papers and grants.
Cold Spring Harbor Laboratory in New York is seeking a postdoc to study host responses to cancer. Applicants should have a deep understanding of testing hypotheses, an interest in cancer and immunology, as well as expertise in molecular biology.
Baylor College of Medicine in Houston is seeking a postdoc to study metabolic changes in cancer. Candidates should have a Ph.D. in biochemistry, molecular biology, cancer biology or metabolism. This posting emphasizes the need for critical thinking skills in addition to molecular techniques.
Enjoy reading ASBMB Today?
Become a member to receive the print edition monthly and the digital edition weekly.
Learn more
Get the latest from ASBMB Today
Enter your email address, and we'll send you a weekly email with recent articles, interviews and more.
Latest in Careers
Careers highlights or most popular articles