Jobs
Taking vacations as a Ph.D. student
Something that stressed me out as a Ph.D. student was figuring out how to navigate taking vacations and days off. When I worked as a technician, I had a set amount of days that accumulated with every week that I worked, so it was clear how much time I could take and when I could take it. But as a PhD student it was ambiguous. There wasn't a set amount that accumulated over time, so I never fully understood how to take days off.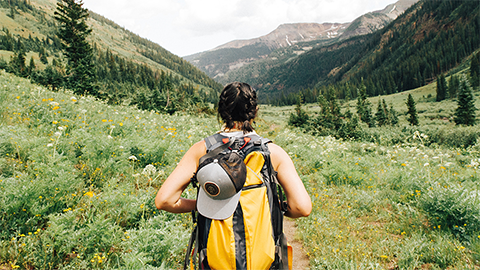 I loved my work, and I wanted to do a good job, graduate in a reasonable amount of time, and make my PI happy. But I was also a person, like everyone else, and I wanted to take vacations sometimes. I couldn't figure it out: Was I essentially asking for a favor whenever I asked for days off? Or, conversely, was I an idiot by not taking advantage of this unusually free time in my life because I didn't take vacations all the time?
I tended to lean toward feeling guilty and awkward whenever I asked for time off. I often just thought maybe I didn't deserve vacations if my work wasn't flying along smoothly, and there were always people whose work was going much better than mine. I think many of my fellow students felt similarly. I even saw students who would plan a long-awaited vacation but feel so nervous about asking their PI for the days off that they would end up only telling their PI at the very last minute when they couldn't escape the conversation anymore.
For this week's column, I wanted to look into the details of taking vacations as a Ph.D. student. I asked five PIs I know about Ph.D. students taking time off for vacations during their studies. It is entirely a nonrandom selection of PIs: They're all PIs who I knew and who were willing to answer my somewhat annoying questions (so perhaps I'm skewing the data toward friendly PIs); but regardless, Ph.D. students may be happy to hear that no PI I asked said Ph.D. students should not take vacations during their studies.
One thing that became immediately clear is that each PI's policy and expectations are slightly different. Also, no one I spoke with had their expectations written down anywhere as an official policy, usually in order to be adaptable to any given situation and any student. I think the biggest takeaway from this is that it is essential for a student to get past the awkwardness and talk to their own PI about what their expectations are.
While no PI said they would deny time off just because a student was stalled in their work, especially because time off can ideally be refreshing and recharging, Mimi Shirasu-Hiza at Columbia University pointed out that "inevitably, the periods right before and after vacation are less productive than optimal," so she would encourage students to be aware of picking up their progress and work when they get back and to not take excessive vacations so that they're left with no real productive time!
A few concepts came up frequently. Ph.D. students learning time management was one of them, as it's important to be able to balance your research progress and career goals with your personal life. The restorative effect of days off was another.
Luke Berchowitz, a PI at Columbia described his take this way: "I want people to be happy and productive, so I let them handle their own schedules. Everyone knows how competitive science is, and they can be the judge of how hard (or not) they think it's necessary to work to achieve their goals."
Regarding how far in advance to ask your PI for time off, most wanted at least a week of notice. However, most also acknowledged that each situation is different. Taking a long weekend is different from asking for a month. They also acknowledged that sometimes things come up at the last minute and those opportunities can still be taken if labmates aren't going to be over-burdened by your leaving. On the flip side, more notice and planning might be useful in cases where you're having trouble scheduling experiments and need more guidance to make sure you will still be getting good work done.
When asked what could be annoying about a student taking time off or something students should avoid doing, many PIs brought up the importance of ongoing experiments and being considerate to your lab mates. Make sure cell lines or animals will be cared for in your absence without overly burdening other people. Check with your lab mates and make sure people don't mind stepping in when needed. A few also mentioned taking into account the schedule of lab activities. If your lab is one in which getting papers or grants together is an all-hands-on-deck activity, for example, be aware of those schedules and don't leave your lab mates high and dry at a peak work time.
The comments from all the PIs seemed to converge on the personal responsibility of each student to assess a reasonable amount of time to take off to relax and refresh, while still making progress on their work and being considerate to their lab mates.
I wish I'd done the research for this column while I was still a Ph.D. student, because I definitely would have wanted to talk to my boss more about her expectations, instead of assuming I knew what they were!
Enjoy reading ASBMB Today?
Become a member to receive the print edition monthly and the digital edition weekly.
Learn more
Get the latest from ASBMB Today
Enter your email address, and we'll send you a weekly email with recent articles, interviews and more.
Latest in Careers
Careers highlights or most popular articles