Journal News
From the journals: JLR
We summarize a selection of papers recently published in the Journal of Lipid Research.


Plant stanol shows promise for rare disorder
Niemann-Pick type C disease, or NPC, is a rare inherited lipid metabolism disorder caused by mutation in NPC1 or NPC2 genes responsible for the transport of cholesterol in lysosomes, membrane-bound organelles that contain digestive enzymes. When transport out of the organelles is impaired, cholesterol builds up inside. Common symptoms of NPC include nerve disorders, liver damage, weight loss and inflammation. No cure exists, and the disease can be fatal.
Plant stanol ester supplements have been beneficial against cholesterol accumulation and inflammation in nonalcoholic steatohepatitis, or NASH, and atherosclerosis. Plant stanol esters look a lot like cholesterol at a molecular level and help to block cholesterol absorption in the body. They are found naturally in nuts, seeds and legumes as well as in stanol-fortified margarine spreads, cereals and other foods that are widely available.
In a paper published in the Journal of Lipid Research, Inês Magro dos Reis of Maastricht University and a team of European researchers describe their recent work on the effects of stanols on mice with dysfunctional NPC1 protein. After feeding the mice a plant stanol–enriched diet for five weeks, the researchers observed a significant lowering of liver damage, cholesterol accumulation and inflammation, as well as a shift toward an anti-inflammatory blood profile. This improvement was more pronounced at higher stanol doses.
The study indicates that dietary supplements of plant stanol esters could be an effective way to reduce damage related to cholesterol storage. Researchers now need to investigate the appropriate doses and side effects of plant stanol for use in humans with NPC.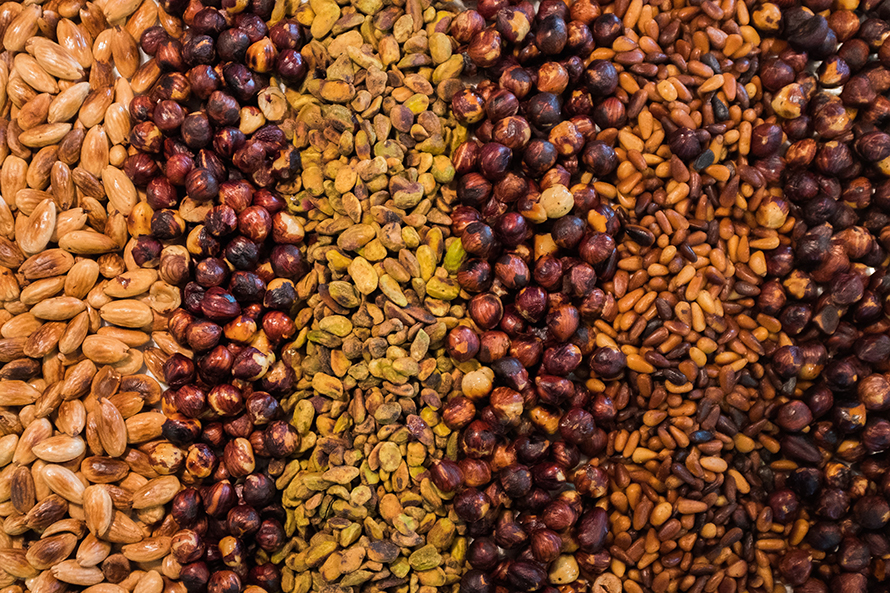 Nuts are natural sources of plant stanol esters.
Analyzing the lipid profile in atherogenic dyslipidemia
Low-density lipoprotein, or LDL, often has been called the "bad cholesterol." Excess LDL accumulates in the walls of arteries, progressively leading to atherosclerotic plaque formation. The rupture of such plaques triggers a thrombotic reaction that can block blood flow to the heart or brain, causing a heart attack or stroke. Factors such as genetics, a high-fat diet, lack of physical activity, obesity and diabetes can contribute to high LDL. To lower LDL, many physicians prescribe statin drugs, which block the function of a key enzyme in liver for cholesterol synthesis.
Atherogenic dyslipidemia is a clinical condition in which patients have high levels of both LDL and triglycerides with low "good cholesterol," or high-density lipoprotein. In a study published in the Journal of Lipid Research, M. John Chapman and a team of international researchers analyzed the effect of statin treatment on 12 obese, hypertriglyceridemic hypercholesterolemic men for 180 days. They report that the treatment reduced absolute plasma concentration of all 23 lipid classes in LDL except the lipotoxic ceramides.
The authors also observed specific enrichment of bioactive lipids — LPC, LPC (0) and LPI — in the small dense LDL subclass, which is highly atherogenic. These three bioactive phospholipids are known to drive inflammation and could therefore favor fatty plaque formation in blood vessels. These data suggest that the bioactive lipid signature in highly atherogenic LDL could be a potential biomarker for atherogenicity in cardiovascular disease.
Ether lipids and fatty acids in disease
Ether lipids, or ELs, are a special class of phospholipid in which the sn-1 position of the glycerol backbone has a lipid attached by an ether or vinyl–ether bond and the sn-2 position is enriched for polyunsaturated fatty acid, or PUFA. ELs play important roles in cell signaling, cellular differentiation and membrane trafficking. Some cellular effects of ELs could be downstream of their role in regulating ion channels, which are embedded in lipid membrane.
In a recent review published in the Journal of Lipid Research, Delphine Fontaine and colleagues at the Université de Tours, France, summarized the role of ELs and associated fatty acids, or FAs, in neurological diseases, cardiac abnormalities and cancer biology. The review emphasizes the role of ELs in ion channel regulation because both are involved in human disorders.
FAs derived from ELs are a major component of neuronal membranes and regulate membrane ion channels important for neurotransmissions. FA deficiency is involved in neurological disorders. Diets rich in n-3 PUFAs are beneficial for heart disease patients. EL-derived PUFA helps regulate ion channels in the heart to prevent arrhythmia. EL-derived FAs are also involved in cancer cell proliferation, metastasis and apoptosis, and FAs are used as a biomarker in breast, prostate and lung cancer. The authors propose that EL-regulated ion channels could have an important role in cancer progression. Future investigation will help delineate the exact pathways and molecules involved.
Join the ASBMB Today mailing list
Sign up to get updates on articles, interviews and events.
Latest in Science
Science highlights or most popular articles