Journal News
From the journals: JBC
We offer a selection of papers on a variety of topics recently published in the Journal of Biological Chemistry.


Zinc triggers a tau transformation
Alzheimer's disease is characterized by brain cells that wither and die, resulting in loss of memory and other mental faculties. Tau is a soluble microtubule-associated protein that, under pathological conditions, accumulates and aggregates, causing intracellular inclusions known as neurofibrillary tangles, a hallmark of Alzheimer's. Recent studies have indicated that tau is capable of forming liquid droplets after undergoing liquid–liquid phase separation, or LLPS. This process can induce the formation of pathological tau, which then propagates from neuron to neuron, inducing tau aggregation. However, how LLPS of tau is stimulated remains unknown.
Growing evidence indicates that the level of zinc ions is elevated in vulnerable regions of brains with Alzheimer's disease. In a recent paper published in the Journal of Biological Chemistry, Virender Singh and colleagues at Case Western Reserve University sought to determine whether abnormal zinc homeostasis plays a role in the origination of Alzheimer's. Using recombinantly expressed tau proteins, turbidimetry — the measurement of particle concentration by light scattering — and fluorescent microscopy, the researchers observed that zinc strongly promotes LLPS of tau. Once formed, the highly dynamic tau droplets retain their liquidlike characteristics for several hours, and they are abolished by the addition of a metal chelating agent. The authors demonstrated that replacing select amino acid residues from tau protein eliminated zinc's ability to induce LLPS. Exposure of tau to other divalent metal ions such as magnesium, cobalt, nickel and iron did not induce the same response.
The researchers suggest that zinc could accelerate tau's propensity to aggregate. Moreover, in contexts of cellular stress, zinc may influence the abnormal interaction of tau with other proteins, thereby disrupting normal cellular function. These findings provide new insights into the link between abnormal zinc homeostasis and the pathogenic process in Alzheimer's disease and other tauopathies.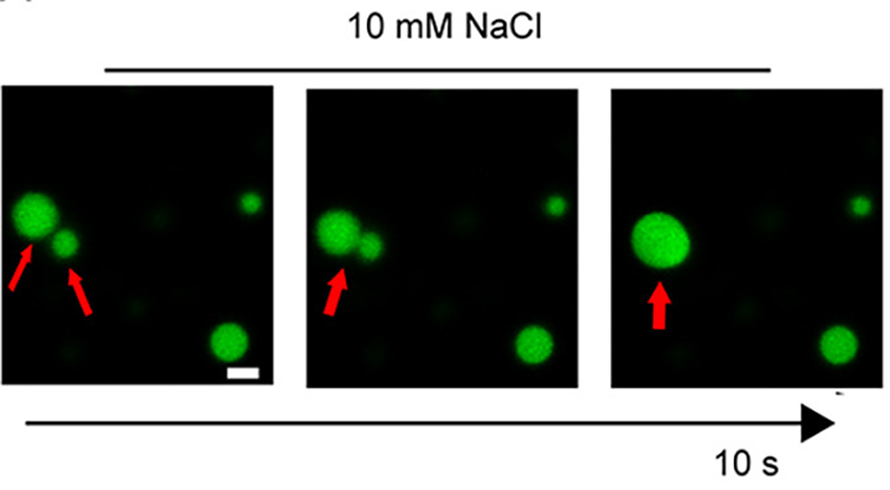 Virender Singh et al./JBC
A panel of representative images depicting fusion events of tau droplets induced by the addition of zinc.
A new target to tackle hard-to-treat cancers
Treatment of patients with triple-negative breast cancer, or TNBC, is hindered by a dearth of therapeutic options. This is because TNBC cells lack estrogen receptors, progesterone receptors and excess human epidermal growth factor receptor 2, better known as HER2 receptors, and thus do not respond to traditional hormonal therapies or interventions targeting HER2 receptors.
In recent work published in the Journal of Biological Chemistry, Renee Geck of Beth Israel Deaconess Medical Center and collaborators used metabolomics profiling to show that TNBC cells grown in culture dishes, when exposed to cytotoxic chemotherapy drugs, display alterations to arginine and polyamine metabolites, suggesting changes to polyamine metabolism. The authors demonstrate that this occurs through a reduction of the polyamine biosynthetic enzyme ornithine decarboxylase, or ODC, and that ODC inhibitors sensitize TNBC cells to existing therapies.
These results suggest that by targeting ODC, TNBC cells might become responsive to cancer therapeutics that are effective in other cancer subtypes.
New insights into the consequences of a retina protein mutation
Retinal degeneration is a leading cause of incurable low vision and blindness worldwide. Mutations in the retinaldehyde-binding protein 1, or RLBP1, gene, which encodes for the visual cycle protein cellular retinaldehyde-binding protein, better known as CRALBP, cause an autosomal recessive form of retinal degeneration. However, the functional consequences of these mutations have not been well studied.
Jose Ronaldo Lima de Carvalho Jr. and colleagues at Columbia University investigated the significance of RLBP1 mutations through an analysis of siblings with RLBP1 mutations, their asymptomatic carrier parents and Rlbp1/Cralbp–/– knockout mice, which do not produce RLBP1 or CRALBP. Using a range of functional assays, the authors observed that the mutant mice and human siblings with RLBP1 mutations had retinal pigment epithelium and photoreceptor abnormalities and reduced levels of 11-cis-retinal, a vitamin A derivative critical for light detection. The authors found that mutation carrier parents show a reduction in 11-cis-retinal, demonstrating visual cycle deficiencies though they reported no symptoms.
These findings, reported in a recent paper in the Journal of Biological Chemistry, expand the defined phenotype of affected individuals, uncover a previously unreported phenotype in carriers of RLBP1 mutations and show consistencies between affected humans and Rlbp1/Cralbp–/– mutant mice.
An energy-regulating enzyme needs nutrients
AMP-activated protein kinase, or AMPK, is a sensor that helps cells adapt to changes in nutrition to maintain cellular energy states in the liver, but what exactly AMPK is sensing has not been clear.
In recent work published in the Journal of Biological Chemistry, Camille Huetof the University of Paris and the National Institute of Health and Medical Research in France, along with collaborators, sought to uncover the factors responsible for AMPK activation. Using mouse liver cells grown in culture dishes, the researchers showed that glucose availability activates AMPK, while changes in levels of the hormones glucagon and insulin had no effect on AMPK. Furthermore, they showed that glucose deprivation and the deficiency in AMPK activity exacerbate the reduction of cellular ATP.
These results suggest that nutritional changes rather than hormonal variation sensitize AMPK to the energetic strain associated with fasting and that this effect is critical for regulating energy in liver cells.
Enzymes, TB and allostery
Allostery, the process by which proteins transmit effects from one site to a separate, often distant functional site, can help enzymes meet the metabolic demands for their end products. Better understanding of this phenomenon helps researchers understand biological processes and catalyzes the design of new drug treatments.
In a paper published in the Journal of Biological Chemistry, Wanting Jiao of the University of Canterbury and collaborators examined 3-deoxy-D-arabino-heptulosonate 7 phosphate synthase, or DAH7PS, an enzyme central to amino acid synthesis in Mycobacterium tuberculosis, the bacteria that causes tuberculosis in humans. The authors showed that a single amino acid substitution abolished the allosteric communication in DAH7PS, but it did not affect its catalyzing abilities.
These results provide insights into the delicate dynamics of enzyme regulation and may lead to the discovery of new treatment options for TB.
Enjoy reading ASBMB Today?
Become a member to receive the print edition monthly and the digital edition weekly.
Learn more
Get the latest from ASBMB Today
Enter your email address, and we'll send you a weekly email with recent articles, interviews and more.
Latest in Science
Science highlights or most popular articles