Journal News
Team Cryo ices Mass Spec's hopes in JBC Methods Madness tourney
In its inaugural Methods Madness tournament, the Journal of Biological Chemistry pitted influential research techniques against one another in a three-week competition for methods glory, and at 12:01 p.m. EST on March 31 cryo­–EM/ET gave structural biologists around the world something to cheer about, beating mass spectrometry 51% to 49% —​ a margin thinner than shaved ice.
Sixteen prominent methods, eight legends and eight rising stars, spanning the scope of biological chemistry were matched up, and you, the people who do the work, decided with your votes which would be crowned the tournament champion. In addition, our Methods Madness bracket challenge ended in a tie between two worthy contenders.
The loss was heartbreaking for Team Mass Spec, which was led by a man on a (SE)QUEST for greatness, John Yates at The Scripps Research Institute, as well as the Garcia lab, a proteomics powerhouse at the University of Pennsylvania Perelman School of Medicine.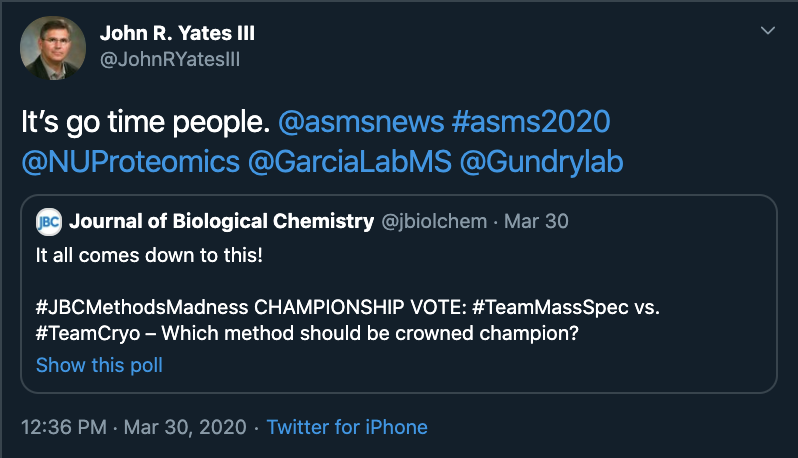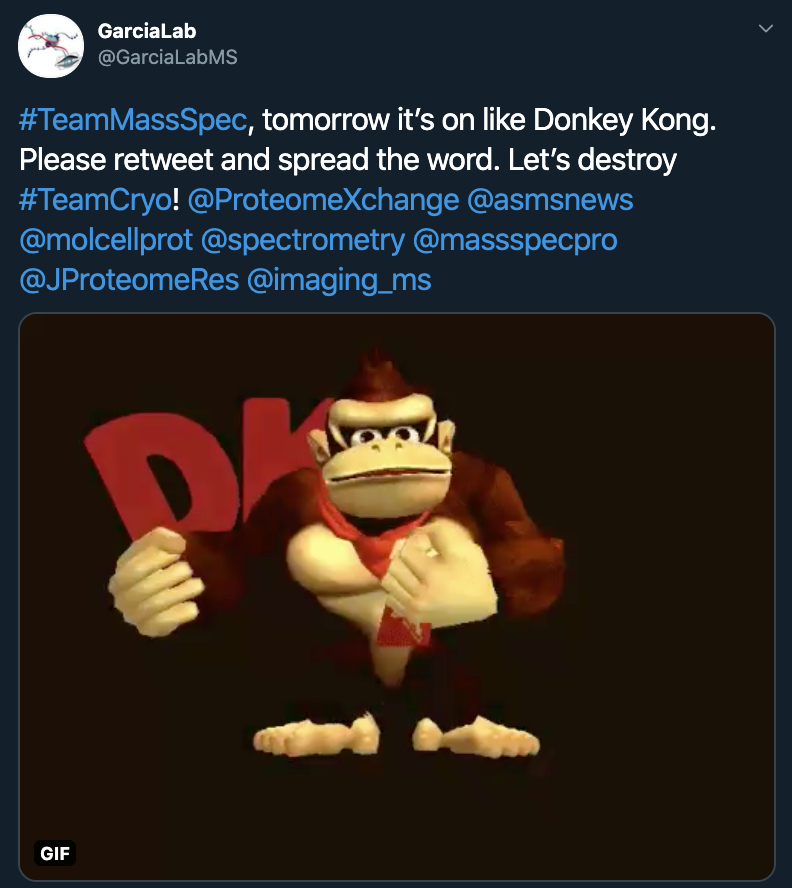 Team Mass Spec came charging out of the gates and took an early lead. However, that lead began to fragment as Team Cryo resolved their issues with low voter turnout and revealed a structured plan to climb back in the race. After a topically relevant rallying cry from the Ice King himself, Sjors Scheres at the MRC Laboratory of Molecular Biology, Team Cryo reconstructed their playoff hopes, setting the stage for a plot of intensity that would come down to the final moments of voting.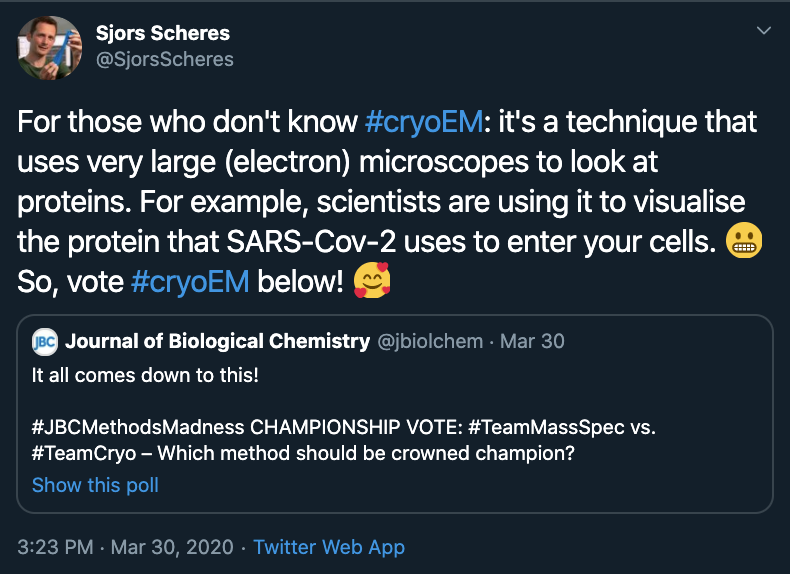 With the two teams charged up, smack talk between them drew in even more supporters from both sides.


The final showdown between cryo–EM/ET and mass spectrometry ended in dramatic fashion. With less than one hour left in voting, Team Cryo saw a surge of support that helped them take the lead. While they fought valiantly, Team Mass Spec was not able to amass enough support to overcome the deficit.
Gracious in defeat, Team Mass Spec has already begun to formulate plans for payback as they look ahead to next year.
With 4,076 participants in the final poll, the contest more than doubled the voter total of the next-closest tournament matchup and gave us a scientific showdown that we won't soon forget!
Bracket challenge ends in a tie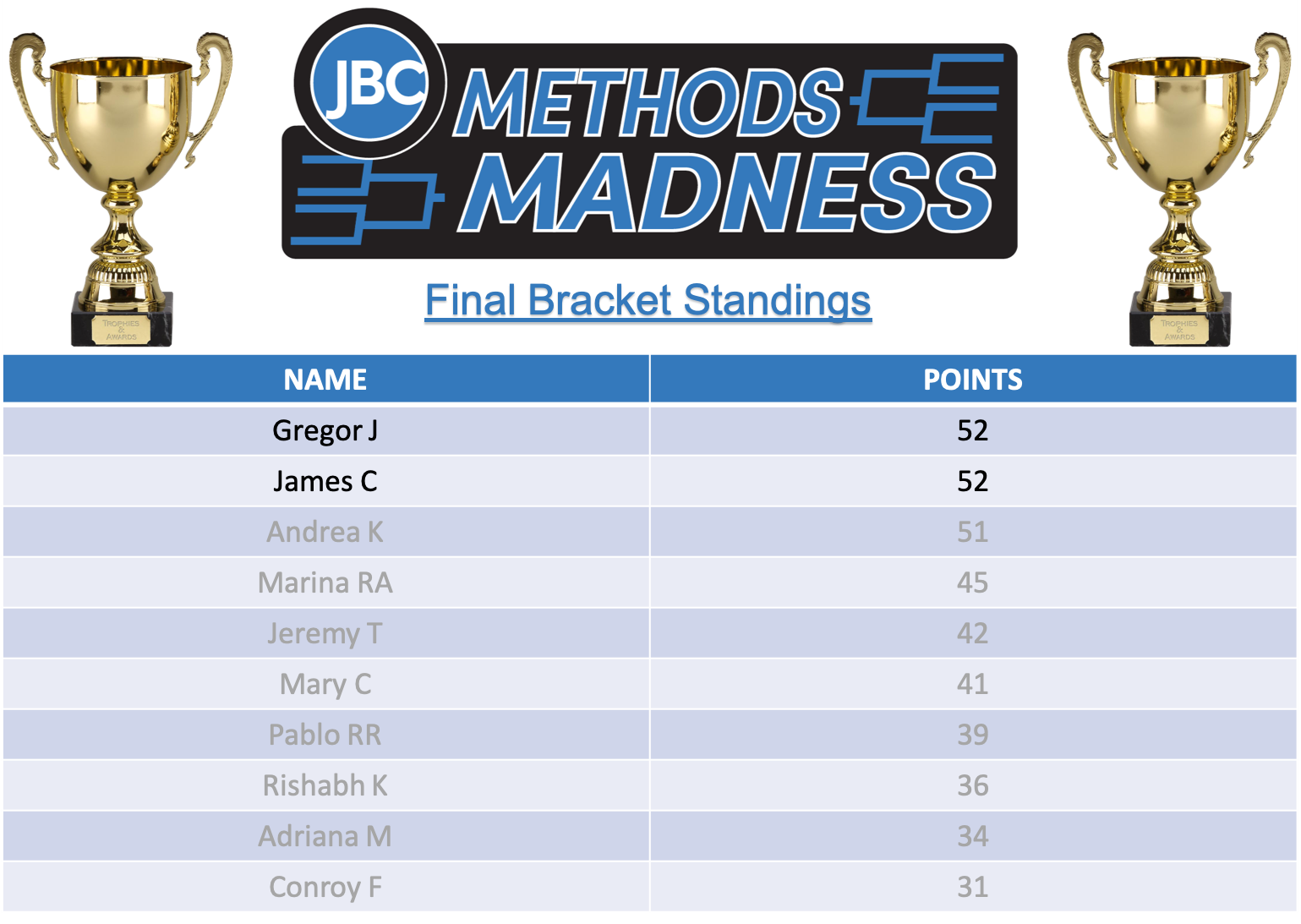 In the final round, three contestants remained in contention to win the tournament bracket challenge. With Team Cryo winning, we saw several changes in the standings. Mary C. could have won it all had Mass Spec won, but close only counts in horseshoes and hand grenades.
In this inaugural challenge, we have the unique honor of naming two people as bracket champions. Congratulations to Gregor Jose and James Cluff!
We interviewed the winners after the competition. They told us a little about themselves, their bracket pick strategies and their scientific inspirations.
Gregor Jose, Indian Institute of Science Education and Research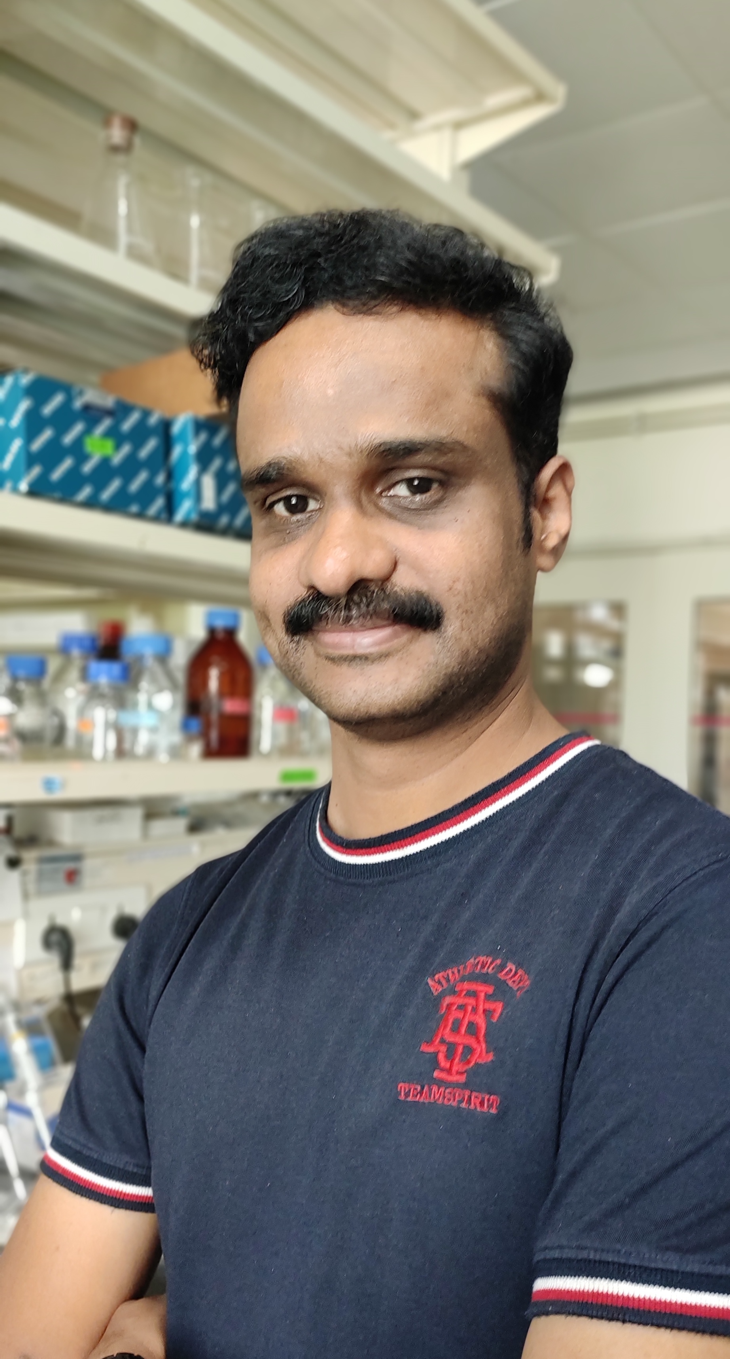 Gregor Jose
Tell us a little about yourself and your research.
I am a postdoc in the Pucadyil Lab at the Indian Institute of Science Education and Research, Pune, India. The primary focus of my research is to develop novel methods to study lipid–protein interactions. Recently, we have developed the PLiMAP method, which can be used to analyze the lipid-binding specificity/affinity of target proteins. Currently, I am working on methods to map lipid–protein interfaces using mass spectrometry.
What was your strategy for making your bracket picks?
For the first round, I considered the scientific impact of the method and the size of the user base for selecting the winners. Second-round selections were based entirely on the popularity of the individual methods. For the semifinals, after long deliberation, I selected mass spectrometry and cryo–EM/ET. For the finals, I completely trusted my gut feeling and chose cryo–EM/ET as the winner.
For which matchup did you have the hardest time choosing a winner?
Mass spectrometry vs cryo–EM/ET.
What was most exciting about the JBC Methods Madness tournament?
The whole tournament was exciting. During the current coronavirus lockdown in India, this was a pleasant distraction. I really loved the enormous enthusiasm shown by researchers in supporting their favourite methods.
What do you find most exciting about scientific research?
I always enjoy the thrill of discovering something new, which is awaiting me at the end of every experiment.
James Cluff, Brandon University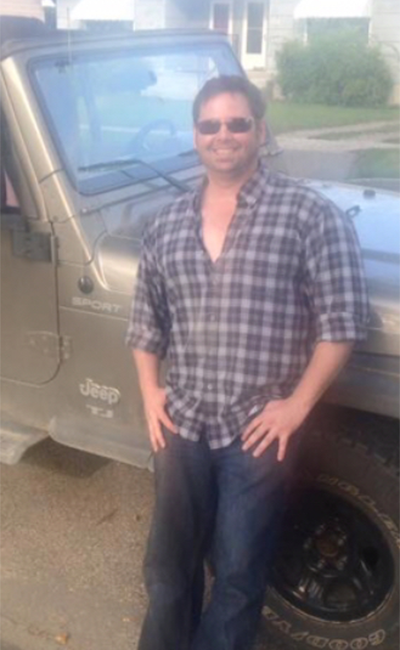 James Cluff
Tell us a little about yourself and your research.
I'm a master's of science student in Brandon, Manitoba, Canada. We're in the process of identifying the proteins that act as a regulatory hub for cellular growth through ribosome biogenesis that are present in the small subunit processome.
What was your strategy for making your bracket picks?
I wondered how much data each method provided, such as linear data (sequencing) versus three-dimensional data like cryo–EM. I figured that if a method gave you one answer, why not use a method that gave you more than a one-dimensional answer?
For which matchup did you have the hardest time choosing a winner?
Oh, that's a tough one. They were all difficult, but I guess it would be between PCR and NMR. Such widely used methods. Both have their pros and cons.
What was most exciting about the tournament?
It was all in good fun and was reminiscent of a hockey pool … which I always lost and had to buy everyone beer.
What do you find most exciting about scientific research?
It's a bug. Even when you finally get to a conclusion, there's another question or method that sends you down the rabbit hole. I still blame my supervisor to this day for this roller coaster of a direction in my life. He should be the one buying the beer.
Enjoy reading ASBMB Today?
Become a member to receive the print edition monthly and the digital edition weekly.
Learn more
Get the latest from ASBMB Today
Enter your email address, and we'll send you a weekly email with recent articles, interviews and more.
Latest in Science
Science highlights or most popular articles